NSBA Conference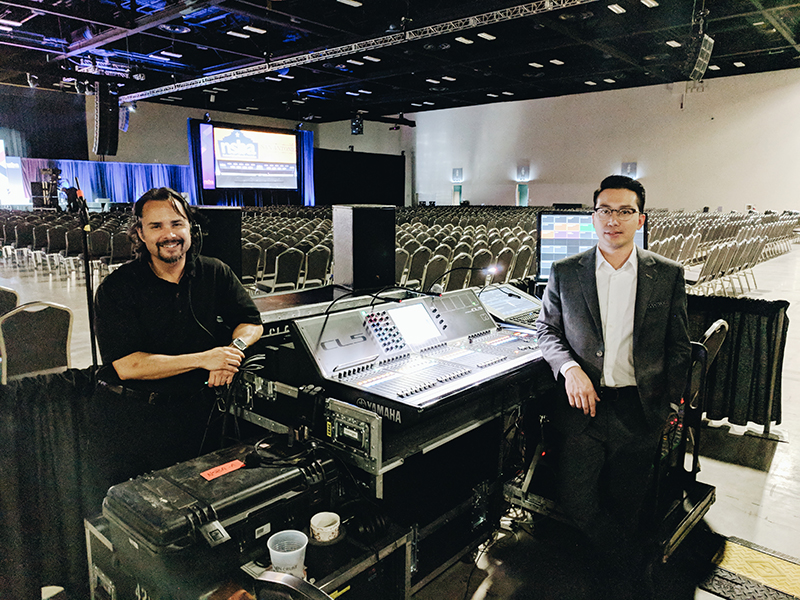 Sound Co
Video West Inc.
Venue
Henry B. Gonzalez Convention Center
San Antonio, TX
Crew
FOH Engineer: Nick Phrasavath
Systems Engineer: Nick Phrasavath
Production Manager: Wayne Stockton
System Tech: Jay Feretto
RF Coordinator: Jay Feretto
Gear
FOH
Console: Yamaha CL5
Speakers: Mains: (24) L-Acoustics K2, Outfill: (12) KARA; Front Fill: (6) dV-DOSC; Subs: (16) KS28; Delay: (8) K2;
Amps: L-Acoustics LA12X
Processing: LA Network Manager
Power Distro: Motion Labs
MON
Console: Midas XL88
Speakers: (8) L-Acoustics X15
Mics: Shure
Event Details
The NSBA Annual Conference & Exposition is a national event that brings together education leaders for more than 250 educational programs including three general sessions designed to give educators new ideas and tools to help drive their districts forward. The 2018 event was held in San Antonio from March 7-9. Pictured above are, from left, Jay Feretto and Nick Phrasavath.
Leave a Comment: