Sennheiser ew 500 G4 Wireless Mic System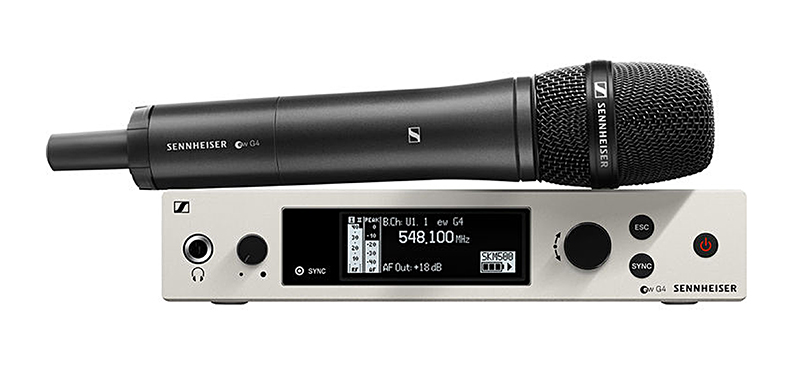 Sennheiser is no stranger to wireless technologies that pros can depend on, ranging from entry-level systems to its flagship System Digital 6000. Over the past years, one of its most successful RF series has been the evolution G3 line, which includes not only wireless mics, but also IEM transmission hardware. The G3 series was intended to provide solid, dependable performance from mid-priced offerings. Recently, Sennheiser continued to build on that legacy, unveiling the first products in its next-generation G4 line, and we had to check one out.
Operating in the U.S. within the (completely legal) 470 to 558 MHz UHF band, the GW1 ew 500 wireless G4 handheld mic system we tested has an e965 capsule. This, the G4's top of the line package, carries a $1,295 street price and includes the half-rack EM 300-500 G4 single-channel, dual-diversity receiver with rackmount kit; SKM 500 G4 handheld transmitter; and the MMK-965 — an interchangeable cardioid / supercardioid capsule based on Sennheiser's flagship e965 condenser vocal mic. Options in the G4 system are many, and these include rechargeable battery packs, bodypack transmitters (with a wide array of available headworn and lavalier mics) and a selection of other capsules for from both Sennheiser and Neumann for the handheld transmitter.
One bonus of the G4 system is that its components are fully compatible with all preceding generations of evolution wireless products, so system users aren't suddenly thrust into the "sorry, but the gear you bought last year is obsolete" dilemma. This will certainly be appreciated by owners of existing systems. At the same time, there are plenty of reasons to step up to the G4 platform, including a sleek new user interface, expanded switching bandwidth and higher RF output power (up to 50 mW) in the 300 and 500 series.
‡‡         Front to Back
The half-rack EM 300-500 G4 receiver has a simple panel based around a black and white OLED readout, combo rotary jog wheel/data enter button, and separate switches for power on/off, sync and a useful "Escape" button. The latter is just the thing when you need to exit any submenu and want to instantly return to the top menu. Also on the front panel is a ¼" TRS stereo headphone out jack with separate level control. A few other nice touches include automatic display dimming to match ambient lighting conditions, a blue Sync LED, a bright red warning LED that glows when the transmitter is off, out of juice or somewhere out of transmission range.
The EM 300-500 G4 user interface is designed for fast, straightforward operation and menu navigation. The OLED displays the selected operation frequency, RF and audio signal levels, the lock on/off function (front panel controls can be locked out by the user), output gain of the TRS/XLR outputs and mute status, onboard EQ setting and the battery strength status of the transmitter. Additionally, the receiver and transmitter can be assigned alphanumeric names and these will also be displayed on the OLED screen. This function would be highly useful in a multi-unit rig (up to 12 can run simultaneously).
The rear panel has BNC sockets for attaching the two antennas or Sennheiser's optional antenna combiners/splitters/amplifiers/active antenna systems. Speaking of the latter, both BNC connections can also supply 12 volts for powered antennas. Audio outputs are balanced XLR or unbalanced ¼-inch and output gain is front-panel adjustable to math your console needs. An RJ-45 Ethernet port provides network access for connecting to additional control options offered by the Sennheiser's free Wireless Systems Manager software, currently at version 4.4 for PC/Mac computers.
Powering for the EM 300-500 G4 is via a 350 mA 12 VDC external switching supply that accepts any AC input from 100 to 240 volts. I'm not wild about the wall wart P.S., but it's a common type that's readily replaceable if lost, and it also opens up the possibility for using the unit in a DC-powered situation, to feed a camera, etc. Power termination is via a non-lockable barrel connector, but a cable strain relief lug next to the DC input jack keeps the connection from accidentally pulling out.
I was impressed that the package ships with a versatile rack mount system that accommodates a single unit (with cutouts for front-mounting the antennas next to the receiver, or mounting two EM 300-500 G4s side by side in a single rackspace.
‡‡         Where It All Begins
The heart of this system is the SKM 500 G4 handheld transmitter, which can come with several capsules but this package included the top-end MMK-965-1 condenser capsule. Under the sleek, beautifully finished black aluminum body is the compartment for two AA cells or the optional BA 2015 accupack battery pack — either provide approximately eight hours of operation. At the base of the unit is a backlit ¾- by 1-inch LCD screen that displays the current frequency, frequency bank and channel number, metering of AF level, transmission status, lock status, pilot tone transmission, muting function and battery status.
The transmitter features wireless infrared synchronization to set channels between it and the receiver. Its 470 to 558 MHz operation equates to 88 MHz of bandwidth — 3,520 frequencies in all, and finding some clear airspace wasn't a problem. Output power can be set to 10 mW, 30 mW or a blazing 50 mW, although this is not a case where more power is necessarily better. Sometimes an over-powered transmitter will simply create more RF reflections from distant surfaces. In most instances (with good line of sight between the antenna and mic) 10 mW was fine, or occasionally 30mW, but it's nice to have that 50 mW horsepower available for difficult or extremely long-distance situations.
The MMK 965 cardioid/supercardioid capsule is impressive. For anyone familiar with the hardwired e965 version, you will right at home. Unscrewing the removable grill on the capsule reveals two recessed switches. One is for the polar pattern change; the other enables a -10 dB pre-attenuation switch. The capsule performance is identical to the wired model with exception that the wireless version lacks a third switch for a highpass filter. As the receiver has onboard "EQ" (it's actually just switchable HP and a shelving HF boost), the need for onboard bass rolloff on the transmitter is not entirely necessary.
‡‡         Ready to Go
Operations are fairly simple, but I had a few questions such as locking/unlocking the unit, scanning frequencies and the channel sync procedure, so I went to the included documentation. However, it's printed on a tiny baseball-card sized booklet that folded out to a huge poster with microscopic type in 17 languages. Fortunately, it's also available as a free downloadable app and as a standard-size PDF doc, which were pretty clear and had all the answers.
Thus equipped, I was up and running in minutes. The first thing I noticed was the mic's solid feel and heft — nearly 22 ounces. No problem for a macho metal vocalist, but singers with delicate hands may find this a little on the zaftig side. Whether with the wired or wireless 965, it's important to note the (quite noticeable) differences between the cardioid and supercardioid settings — the latter is very tight with a rapid falloff once you're off-axis and deep nodes at the 120-degree marks, for high gain-before-feedback with monitors placed off to the side. The cardioid setting's more forgiving, medium-wide front lobe is ideal for singers who move around the mic a lot. Sound-wise, the cardioid has a more aggressive (about +4 dB) presence peak starting about 5k — great for male vocals — while the supercardioid has a gently rising (2 – 3 dB) MF/HF boost that begins around 2.5k, and more suited for female singers and smooth vocals.
From an RF perspective, I had no complaints about the ew 500 G4 system, which provided near-straight wire performance with no audible companding whatsoever. Meanwhile, dropouts were nonexistent, in every instance. Hey, I'm liking this one.
At a Glance
Versatile, Affordable Pro Wireless
Sennheiser's ew 500 G4 wireless system is a compact, easy-to-use and flexible wireless package that operates in the 470-to-558 MHz UHF band. It provides solid RF performance and straight-wire audio equivalency at a price production pros will appreciate.
Sennheiser ew 500 G4
PROS
Clean RF operations
88 MHz of available UHF bandwidth
Great sounding
Wide variety of available capsules for handheld
CONS
Handheld transmitter is a bit heavy
Inconvenient print documentation format
STATS
Operating Principle: True diversity
U.S. RF Frequencies: 470 MHz to 558 MHz
Frequency Response: 40 Hz to 20k Hz
Max Operating Range: 300 feet
Max Battery Life: 8 hours on two AA cells
Power Supply: External, 100 to 240 VAC
Street Price: $1,295, with MMK-965 capsule
Manufacturer: Sennheiser
More Info: www.sennheiser.com
Leave a Comment: