The 2018 Coachella Valley Music and Arts Festival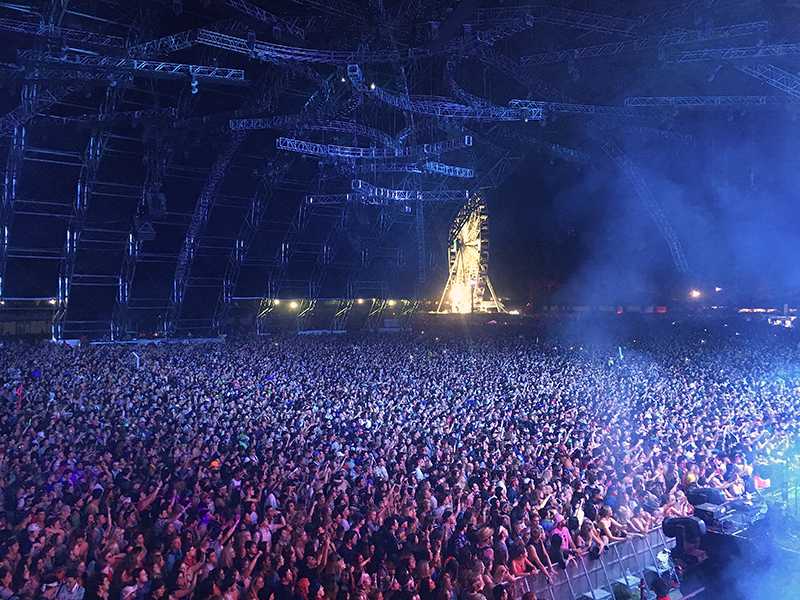 Launched in 1999, the Coachella Valley Music and Arts Festival — held annually over two three-day weekends (this year it was April 13-15 and 20-22) — has gone from a very large event to a very large mega-event, drawing more than 250,000 music fans to the 330-acre Empire Polo Club grounds in Indio, CA. Due to its desert location —approximately 125 miles east of Los Angeles — spring is an ideal time of the year for such events, where rain is unlikely and the weather is warm (typically upper-80's) and well below the searing 105 to 120 temperatures common in the summer. All of this is good news for fans, artists and crews.
One of the major attractions at this year's festival was Beyoncé, who was scheduled for last year but bowed out due to the pending arrival of twins (she was seven months pregnant at the time). In a performance as elaborate as a Super Bowl halftime show, Beyoncé put on a spectacular presentation with guest appearances by her husband Jay-Z and a surprise reunion with Destiny's Child. Beyoncé went on to make history as the first woman of color to headline in the festival's nearly two-decade run, but this year's event definitely offered a full palette of diversity.
Artists appearing at Coachella 2018 included The Weeknd, Alt-J, Jamiroquai, Eminem, Odesza, HAIM, Tyler the Creator, Post Malone, the War on Drugs, St. Vincent, Vince Staples, Fleet Foxes, Nile Rodgers & Chic, SZA, Kygo, Jean-Michel Jarre, The Neighborhood, Migos, A Perfect Circle, BØRNS, Hayley Kiyoko, Nothing But Thieves, PVRIS, Portugal the Man, Cardi B., David Byrne and Miguel — to name just a few acts appearing on the seven stages.
Also returning to reprise its role as the sound provider for the festival was Camarillo, CA-based Rat Sound, which has handled audio for 18 of the event's 19-year history. The origins of the festival go way back to a 1993 Pearl Jam show at the Empire Polo Club — the first event at the site — and the success of that concert (with audio by Rat Sound) proved that the venue could support large gigs. This convinced promoters Goldenvoice that a festival was viable. "We didn't do the sound for the first year," recalls Rat Sound co-founder and president Dave Rat, "but the next year we did a couple stages, then three stages, then they asked us to do all five stages, then six… then to seven, where it is now."
‡‡Big Gig, Big Sound
The event is massive, but could it get any larger? "Well it could always get bigger, but he main problem now is that it sells out and they can't get everyone in who wants to go," says Rat. Either way, seven stages and 125,000 people per weekend is a tall order, and Rat's social media posts leading up the festival mentioned that he "only" needed to bring some 847 speakers (almost entirely made of L-Acoustics enclosures) to the show. "And that was just the main cabinets — not including sidefills and wedges."
Rat has long been a fan of the L-Acoustics systems, so it was little surprise that he turned to them for Coachella. "L-Acoustics is an established, worldwide known product that is not only highly desired on band riders for a diversity of artists, but it also has the reliability and performance that is required for an event of this type."
The Systems
Coachella's biggest two stages were the Main and Sahara stages, followed by the Outdoor Theatre, Mojave, Gobi, Yuma and Sonora tents.
The Main Stage had eight L-Acoustics K1SB flown subwoofers over 12 K1 over four K2 on the inner, and 12 K1 over two K2 in the air — per side. The delay system for the main P.A. consisted of a row of four towers with 12 K2 on each, a second row of three towers with 12 k2 on each and a third row of three towers with 12 k2 on each. Plus four towers for the VIP section with nine K2 on each plus one more delay/VIP tower with 12 K2. The result was a humbling total of 168 L-Acoustics K2 — for just the main stage field.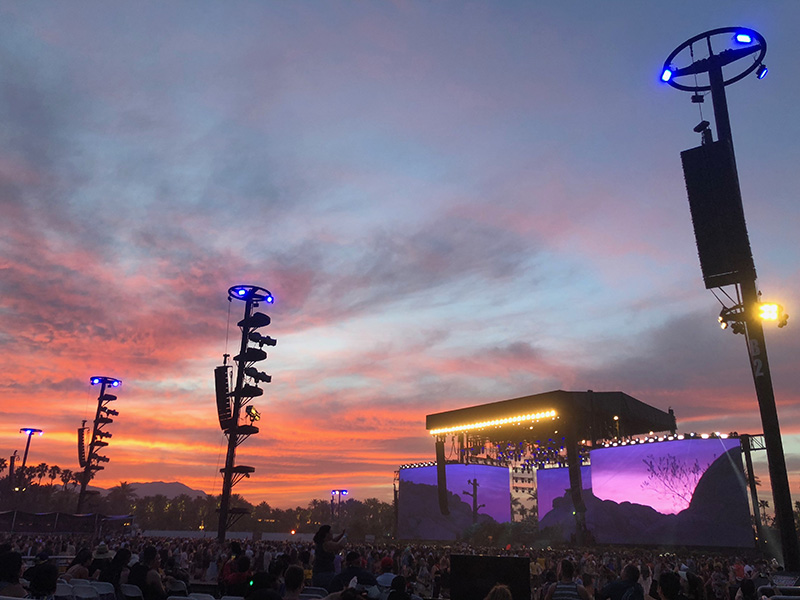 The number of delay structures may seem a bit high, but was something the management definitely favored. "Instead of using conventional delay towers with sightline issues, they invested in the infrastructure necessary to do that, pouring concrete footings in the ground and dropping the poles in the holes. Each delay cluster has underground conduit with fiber and Cat-5 going out to it —all networked together so we can get anything (signals) to go anywhere."
The other advantage of multiple closely-spaced delay stacks is that the overall volume of both the main P.A. and the stacks themselves can run lower for less sound bleed, while the closer proximity of the attendees to the source can create a more intimate listening experience — in this scenario, everybody wins.
It's a situation where there are multiple advantages. "Years ago, I suggested putting in more delay clusters," Rat recalls, "to make the system sound better and make it more wind-tolerant. Or not having the stages overlap each other and cause distress to the other performing artists. They [the festival promoters] didn't get it at first, but eventually they got it, and they now can't get enough delay clusters. They see the beauty of them and love it.
"The festival is very supportive of things that will improve the Coachella experience," Rat adds, "and if we give them a good reason to do something, they will work with us to implement it."
‡‡         The Sahara Tent
This year's Sahara Tent was a monstrous 300 by 300 foot structure. Flanking the stage were four main hangs of ten L-Acoustics K1 over four K2 with eight K1sb subwoofers behind each. The delay field was comprised of six arrays each with six K2 and four K1sb — all at 50-foot trims. Front fills were handled by 16 Kara boxes, while the subwoofer component included 16 KS28, 32 SB28 (16 of which were at FOH), with 16 double-18 Rat subs as rear sub fills and 18 Rat Sound SuperSubs. (Scroll down for sidebar with more on the SuperSubs.)
‡‡         The Outdoor Theatre
The Outdoor Theatre Stage ran two hangs, each with 10 L-Acoustics K1 boxes over four K2, with three blocks of eight SB28 for subs, six hangs (each with six V-DOSC) for delays and 12 Kara and four ARCs providing front fill.
Reactions to the Coachella experience from visiting FOH engineers were overwhelmingly positive, such as Lance Reynolds, who mixed indie rockers alt-J at the Outdoor Theatre Stage. According to Reynolds, "the Rat system technicians set up and tuned the system perfectly, which made the day easy. Mixing on the K1 system is always a pleasure, and the combination of Rat and L-Acoustics always makes me look forward to Coachella. Basically, it's plug and play… and sounds awesome from the first note."
‡‡         A New Twist
Early on, a decision was made to standardize on DiGiCo consoles — specifically the SD 10 and SD 12 models. "When you are doing that many stages in the middle of the desert, where onsite access is so challenging, it's good to have a baseline console," Rat explains. "When we went from analog to digital, we standardized on the Avid brand. Last year, we decided that the Profiles had been around for a long time and after looking at diversity, reliability and manufacturer support at this point in time, we switched from Avid to DiGiCo."
Rat Sound's systems coordinator Jon Monson came up with the idea of setting up different consoles in the production area. "Jon had some concerns that there were some engineers who weren't familiar with DiGiCo, so we got some extra consoles in there," Rat adds. "People could try them out and set up their show files and make the transition as seamless as possible."
Founded more than 25 years ago, console sales/rental specialists Hi-Tech Audio supplied most of the DiGiCo boards used at Coachella, and company principal Louis Adamo was available throughout the festival, along with DiGiCo's Taidus Vallandi and Matt Larson to offer support and assist any engineers who were new to the DiGiCo platform.
"It was really cool having the SD-10 and SD-12 in the production office," Rat says. "The engineers really appreciated the gesture, and we also got to meet all the engineers beforehand, and we could discuss other aspects of the show. It definitely increased the connection between Rat Sound and the various artists' technicians. The consoles were kind of a carrot, but everybody came by to hang out, and of course we had to dole out Rat swag to everyone. That was enjoyable."
While the majority of consoles used were DiGiCo, a few other boards were in use, with Allen & Heath C1500 dLive systems employed by artists including Hayley Kiyoko and The Neighborhood. The C1500's small footprint is well-suited to festival environments, where it can be more easily accommodated into an already full FOH position. And in the spirit of providing equal time, an Avid Profile was also available onsite.
Rat was pleased about the decision to go with the mostly DiGiCo/L-Acoustics package. "DiGiCo is a highly demanded manufacturer of choice in the digital console world," he stated. "The product line's diversity and reliability, plus worldwide availability, made it an excellent choice. Furthermore, both L-Acoustics and DiGiCo provided an exemplary level of product support that is fundamental for an event of this size and complexity. I cannot stress enough how important and useful the manufacturer product support is."
‡‡         Weather
Unfortunately, there are some things that even tech support can't handle. "Weather is a concern," says Rat. "Some years, it's been a minor concern and other years it was a major concern. Sometimes it gets cold, but typically, the main issues with weather are wind and heat. In past years, we had to order pallets of dry ice and fans to keep those old conventional amps cool, but with these new L-Acoustic and Powersoft amps, those thermal issues have gone by the wayside. We do have heat concerns with consoles and computers getting hot. Wind is a predominant challenge, but that is well under control. Safety is of utmost importance, and when P.A. and delay clusters start swinging around, we may have to drop those down and tie them off. But P.A. up or down, we keep rolling."
‡‡         Planning is Essential
No big, complex event happens overnight. "Some of the planning begins months ahead of time, where we start looking at designs and logistical issues, and as we get closer, we start looking at how much gear we are going to need, how much we will purchase or sub-hire," note Rat. "We can be like a giant vacuum cleaner, snapping up all our gear and things from everybody within hundreds of miles radius in the L-Acoustic domain. Then Jon [Monson] comes in and gets it all organized. We'll physically start prepping stuff a couple weeks ahead of time — we might prep a stage and load that into a truck and have the trailer pulled away from the shop, then prep another stage and send it away. There are a couple weeks of that and then about a week before the festival, the trucks start showing up onsite, we begin setting up stages and doing sound checks. We're also renting 25 or 30 houses in the area for our crew — we had 65 or 70 people working the festival this year."
However, there is one thing that can really make a difference and that's a team effort. "It's so rare and wonderful in this industry to have the pleasure and honor of working with people who truly care about what they are doing. And with Coachella, the hands-on people who are making the festival happen really, really care about every detail, whether it's how the palm trees look from the stage, or what's in the visual sightlines, to the ambiance, the accessibility, the water, and what they can do to make it sound better."
"I've worked a lot of festivals throughout the world — both as a sound vendor and as an engineer — and the Coachella Festival is in the top echelon — one of the best. They do a great job and they truly care. It's a passion for them and to work with other people who are passionate about what they do is what makes it all worthwhile.
"I've already done big in my life and now I want to do 'cool.' I want to spend my time making great speakers and going surfing — low stress and lots of fun."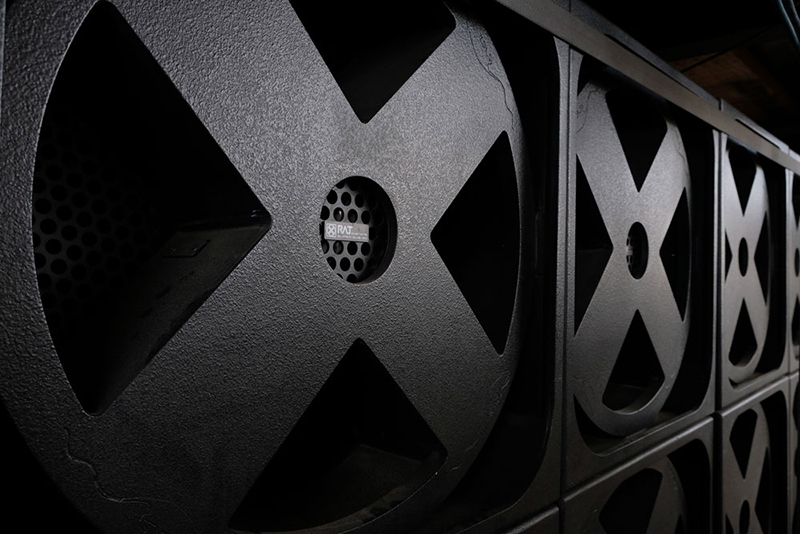 A Look at the SuperSubs
Combined with the more conventional subwoofers inside the Sahara Tent were the 18 Rat Sound SuperSubs, which are curious-looking 32x32x42-inch boxes with mysterious X-shaped baffles.
"The SuperSub is as loud as two to three very high-quality, double-18 subs, but takes up nearly the same truck space as one," says Rat Sound's Dave Rat. This approach puts out tremendous bass from a small package, and can also save a significant amount on trucking.
"My inspiration for designing the SuperSub came from seeing Powersoft's M-Force moving motor product," Rat says. M-Force is an innovative transducer based on a patented moving-magnet, linear motor structure that differs from a traditional moving coil, leverages its unique design to deliver remarkable power handling, reliability and maximum SPLs.
"One of the things that makes the SuperSub design unique is that I used an aluminum tube. The perimeter of the cone is mounted to this ring on the inside of an aluminum tube and the motor is mounted to this huge wooden X that's eight inches deep and it transfers the energy from the motor to the cone in this 30-inch diameter metal tube and back to the motor.
"Each SuperSub is a bandpass design with very long ports that approach almost transmission line-type characteristics due to the length. So by putting the M-Force motor in the tube and the tube in a square box — and making the ports the corners — I get really long ports in a very rigid, high-Q enclosure. This rigidity, lack of box resonance, long port length and bandpass enclosure design, all combine to create an attractive subwoofer with amazing low frequency response, very high output and clear and defined output in the upper bandwidth."
The M-Force motor driving the cone has an impedance of 0.26 ohms — it's very low and not many amps can drive it. The amplifier has 15,000 watts of peak power and can drive that quarter-ohm load without a problem. In that range, cable length becomes a temperamental factor, so it was important to that the design be self-powered.
So would Rat consider building these as a commercial product? "There has been so much interest that I am considering in doing it as a commercial product," he says. "And it goes down to 23 Hz at substantial sound pressure levels. It is unique and impressive enough that there would be a demand and it would be useful in many situations."
CORRECTION: A photo of FOH engineer Kyle Hamilton misidentified the artist he was mixing. It was SZA, not Beyonce. FRONT of HOUSE regrets the error.
Leave a Comment: