Rascal Flatts "Back to Us" Tour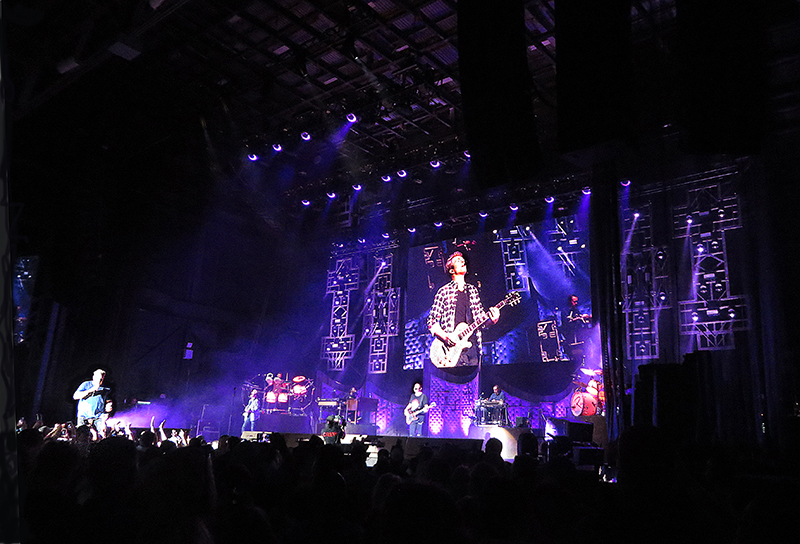 Rascal Flatts tours tend to run together, FOH engineer Jon Loeser explains, as the band is always touring. "It's also always evolving, going from having a large band to stripping it way down. This latest touring cycle is building the band back up. There are new arrangements of classic hits with added electronic and percussion elements. Spicing up of older songs has made them more interesting and fun." In addition to the trio (guitar/vocals, lead vocals, bass/vocals), there's a drummer, a percussionist doubling on guitar, a keyboardist and a pedal steel/banjo player.
The biggest challenge of the current run is the variety of rooms they're playing. Otherwise, it's about keeping up with lead singer Gary LeVox. He has that trademark dynamic voice, but also likes to mix it up with the crowd, thus is always bending over for high fives, etc. "In mid-phrase, a girl will scream into his mic and there's nothing I can do about that!" Loeser laughs. "I ride his vocals the whole night."
‡‡         Shooter to Prince
Growing up in suburban Nashville, Loeser was that kid who played bass in garage bands and "always saved my money up to buy gear." This led him to doing sound for other local bands. He attended what is today the SAE Institute, and got an internship at Allstar Audio. Soon, he was mixing festivals and one-offs. He was hankering to go on the road, so when a friend told him Sound Image's Nashville office was growing, he knocked on that door. "I met with production manager Hugh Johnson, who gave me a job as a monitor tech on a Vince Gill tour in 2005, and I've been with Sound Image ever since." From Gill, Loeser went out with Shooter Jennings for four years. "Shooter's where I cut my teeth touring, and those were a lot of small clubs, working with 'audio gear du jour' in those places," he says. Then it was Olivia Newton-John, followed by Colbie Caillat. He lived to tell about a six-month stint with Prince — in 2011, on part of his "Welcome 2 America" tour — and joined Rascal in 2012.
Loeser mixes on a Studer Vista 5 SR. "They only made this one model to go on the road, and don't make it any more," he says. Sound Image bought the console for Rascal as a specific request by their previous FOH mixer. Sound Image provided two of them back in 2007 — for FOH and monitor world (monitor engineer Stewart Delk now mixes on an Avid Profile). "I was told this is what they were using, and before I request something else, I should give it a try. I sat in the shop mixing with multi-track files and ended up loving it. There have been a few updates, and it has a new motherboard, and it works great." Studer has been good about the updates. "They've kept it current despite being a 10-year-old console. The sound quality is amazing, and if there's a negative, it's so clean."
Loeser relies on a few outboard toys, including the Waves MGO Soundgrid converter, Waves Server One and a Lucid GENx192 clock. "I have 128 channels in two MADI streams, with 78 allocated for multitrack recording every night through a Mac Mini for Waves Tracks Live," he explains. "The other 50 channels are available on another Mac mini for Waves Soundgrid Multitrack plug-ins. I use Waves NLS pretty much on everything. I think it really warms up the console sound and makes it a little more musical — dare I say more like an analog console?"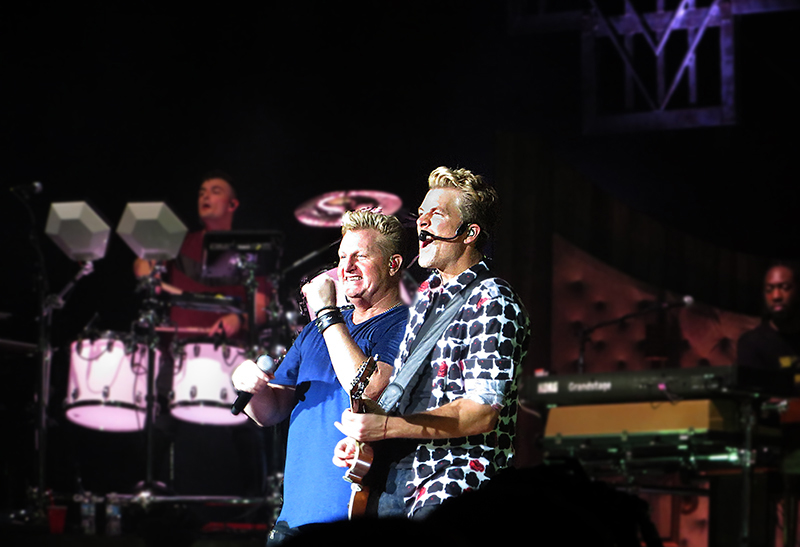 ‡‡         System Components
Rascal Flatts tours with a JBL VTX system — specifically 60 VTX-CSs, with 18 JBL S28, 12 JBL G28s and 12 JBL VT4886s. "That's my preferred P.A."
Vocals are key to Rascal Flatts' sound, and Loeser has LeVox on a "regular" SM58. "It's the best thing for rejection." They've tried others, but those didn't suit his voice and/or picked up too much of everything else on stage. The other two of the trio use Shure SM35 headsets. "It sounds great for a headset, but sometimes I have to filter those to make them sound more natural."
The drummer/bandleader, Jim Riley, has cut back on drums this tour, going with a Ludwig Vistalite 4-piece. "This kit is a little more temperamental and can be susceptible to heat, but mic-wise, we're pretty simple. We got away from the Beta 98s and started experimenting with dynamic mics (Sennheiser e904s) on the toms. Jim is a heavy hitter, so we have to make sure there's no clipping or popping." Otherwise, it's Betas 91 and 52 on kick, SM7B on the snare top with a SM57 on the bottom, a KSM 137 on the hi-hat and SM81s on overheads. On the guitar amp, a Royer 121 ribbon mic is paired with a SM57. For Leslie organ, they use an SM7 on the low and some Beta 91s mounted in the case. "When mounted in the proper place, the 91 has the most natural sound for that and always sounds great."
‡‡         Monitor World
Hailing from Oneida, TN, Stuart Delk graduated from Middle Tennessee State University's (Murfreesboro, TN) recording industry program. He worked his way through school at Nashville Cartage & Sound, which was a full production facility. "One day Deryl Dodd came in from Texas to rehearse, and needed a sound guy," Delk recalls. "I went out with him and have been touring ever since." Tours with Gary Allan, Lila McCann, Ty Herndon, Sons of the Desert and Tim McGraw in various capacities followed, as did a stint with Clair Brothers. He's been with Sound Image since 2008.
Opportunity sometimes knocks at an odd time. When Rascal Flatts was just starting to take off, they were booked for an acoustic show near the World Trade Center. "When 9/11 happened, the monitor engineer freaked out and locked himself in his house. No one could get him out." Delk's roommate at the time was Rascal's merch guy and got a frantic call from the band's manager asking if he knew of anybody who could do the gig. Delk took the job, and has been with them ever since. "It was only the second time I did monitors, as I usually did FOH. But I like doing monitors because I deal with people who know exactly what they want, and you don't have any Tom, Dick or Harry coming up and telling you how to do your job." Looking for an "opportunity to grow," Delk recently stepped up his duties at Sound Image, becoming an account executive.
Concerning the Rascal evolution, Delk says the band went out with 24 trucks at one time. "The band has also been through stages in terms of numbers and types of players. Once they had female background singers, but realized they were taking away from the harmonies of the guys on stage." What Delk mixes on has evolved as well. He started with an Allen & Heath 5000 and then went to a Midas XL4. "Then the band grew, as did the need for inputs — at one point I worked on two Yamaha PM5000s, which took up a large footprint." Then came that Studer, which "was the first digital desk I used that sounded like analog, and didn't color the sound." Eventually one of the trio in the band pushed for a Profile, and that's what we're using today. "I like it. It has good ergonomics."
Listening is all Jerry Harvey Audio JH-16 IEMs, via 10 channels of Shure PM 1000 hardware. Wireless is six channels of Shure Axient Digital. A little extra — just piano and vocals — comes from JBL VT 4880 and VT 4889 sidefills. "The (main P.A.) line arrays are so efficient that it's really dead on stage, so they wanted a little more 'live' while performing." For the drums, Delk has an L-Acoustic DV Drum Sub, with two Clarke-Synthesis Tactile TST-429 Platinum transducers on the drum throne for emphasis.
Delk says the band's three-headed artist democracy can be a challenge. "I have to keep them all happy, but when they have a difference of opinion — like when we switched consoles — two said yes and one said no! I'm like, 'You guys have to figure it out.'"
Rascal Flatts Back to Us Tour
Crew
Sound Company: Sound Image
FOH Engineer: Jon Loeser
Monitor Engineer: Stuart Delk
Audio Crew Chief/Monitor Tech: Jeremy Overall
System Engineer: Paul Fuerstenberger
P.A. Techs: Brian Westrope, Shelby Mindar
P.A. Gear
Mains: (60) JBL VTX-II-CS, (12) JBL VT4886
Subs: (18) JBL VTX S28, (12) JBL G28,
Amps: (64) Crown iTech 12000HD
FOH Gear
FOH Console: Studer Vista 5SR
Outboard: Lucid GENx192 clock, TC 6000 effects, Waves MGO Soundgrid, Waves Soundgrid Multirack, (2) Waves Server Ones
System Drive: Lake DLP
Nearfield Monitors: JBL LSR 705P
MON Gear
Monitor Console: Avid Profile
IEM Hardware: (10) Shure PSM1000 transmitters
Drum Sub: L-Acoustics DV Drum Sub
Side Fills: (2) JBL VT4889, (2) JBL VT4880 subs
Wireless Mics: (3) Shure Axient AD4D dual-channel, with (2) AD2 handheld w/SM58 capsules, (4) AD1 beltpacks w/SM35 headset mics
Leave a Comment: