Joe Jackson's "Four Decades" Tour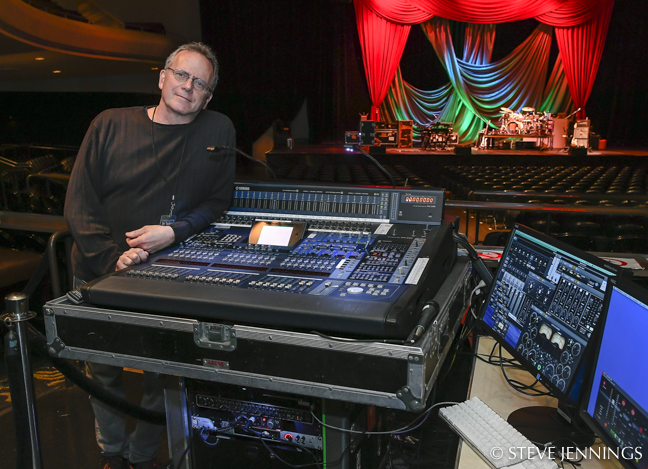 Best known for his worldwide hit "Steppin' Out" from his 1982 Night and Day album, Grammy Award-winning musician/singer/songwriter Joe Jackson is celebrating his 40 years of success with the "Four Decades" world tour that supports his new Fool album release. The U.S. segment of the 45-stop outing began Feb. 5 at the Bijou Theatre in Knoxville, TN and wrapped up March 9, 2019 at the Orpheum Theater in Phoenix. The European leg picked up a week later at the De Roma in Antwerp, Belgium and is scheduled for a final show in Dublin, Ireland at the Olympia Theatre on April 24.
Jackson was excited about the prospect of stepping out once again. "So, here comes a big tour," he explained. "We want to celebrate the fact that this is happening after 40 years — anything else would be like sulking in a room by yourself on your own birthday party. Looking for some way to organize a show out of 40 years' worth of material, I decided to draw on five albums, each representing a decade: Look Sharp (1979), Night and Day (1982), Laughter and Lust (1991), Rain (2008) and Fool (2019). We'll also throw in a couple of songs from other albums and some new covers. I can't wait. Let's party."
‡‡         At the FOH Position
Recording and mixing engineer George Cowan is out on the road with Jackson's tour. Mixing FOH (there is no monitor engineer), Cowan is back, having worked with Jackson on previous tours. Cowan's other artist tour credits include Todd Rundgren, The Dave Matthews Band, NRBQ, Earth Wind & Fire and R.E.M., among many others, along with occasional tour management and production duties. In the studio, Cowan's album resume includes Natalie Merchant, Metallica, Laurie Anderson, Iggy Pop, Suzanne Vega and Alice Cooper — to name just a few.
Cowan is currently mixing on a Yamaha DM2000VCM for the tour. It's his board, which he bought in 2006. "You name the console, I've used it," says Cowan. "This desk has eventually grown out of favor for me as it got older, because the faders were getting funky (dirty and fraught with dead spots). I used a Midas M32 for the last couple of times out with Joe, as it fits well with the stage gear we'd chosen. This time out, I wanted to bring a Universal Audio Apollo Quad 8 to use its plug-ins for inserts and reverb effects. I needed more I/O than the M32 had, in order to accommodate this. I took another look at my DM2000, because it's loaded with the I/O cards I needed and decided to restore it to its former glory by replacing all the faders. Now, it's good as new."
Cowan is running 32 inputs from the stage and can deliver 16 analog outs — 20 digital outs if needed — and at least 32 lightpipe ins/outs for external digital plug-ins. He feels he's in plug-in heaven with this setup. "Along with the Apollo Quad 8 that I mentioned, I am using a Waves Y96K Card and some of the excellent Yamaha plug-ins that came with the desk."
‡‡         In the Signal Chain
"There are so many good mics on the market now," says Cowan, who's auditioned quite a few for Joe's voice. "For a while, we liked and had used the Neumann KMS 105, but eventually were compelled to look for a mic with a tighter pattern and good off-axis rejection. We found that with the Earthworks SR40V. The top-end silkiness and fidelity remind me of a favorite Neumann U67."
Each of the vocals is treated with an insert chain consisting of UA plug-ins beginning with a Studer A800 tape saturation effect, followed by the Precision Channel Strip for EQ, Precision DeEsser and finally an LA-3A compressor.
Graham Maby's bass rig is given no less attention and Cowan likes to combine the bass DI with the miked amp. These two feeds are each treated with an insert chain consisting of the UA Studer A800 followed by the UA LA-2A. "The DI provides all the bottom I need. Therefore, I veer away from the tendency to use a fat-sounding mic on the amp, preferring instead, a fast slew rate condenser in order to capture the more subtle overtones of the amp/speaker combo," Cowan notes. "In this case, I chose an Audio-Technica 450. Incidentally, I use the UA plug-in Little Labs IBP phase alignment tool on the DI channel to mix the two signals back together. The short distance of the mic from the speaker introduces a time and phase change that is corrected using this great plug-in." After busing them together, for a final touch, he adds a bit more compression using the Waves Y96K card, and on the tunes where Maby plays a xylophone, an AKG C-414 ULS captures that instrument.
Getting guitarist Teddy Kumpel's sound is much simpler. Cowan simply uses a Cascade Fathead ribbon mic on his Supro amps.
Drummer Doug Yowell's kit is miked with a combination of industry standards and some new approaches. The kick is a Shure Beta 91A, the snare has a Sennheiser e903 on top and Sennheiser e904 underneath. Four toms and a timbale also each get an e904. For the hi-hat, Cowan uses a Sennheiser e614. "For the four cymbals, I'm using Blue Microphone Dragonfly mics," Cowan says. "These are sweet and natural-sounding, large-diaphragm condensers. They are mounted underneath each cymbal utilizing an LP Claw attached to the cymbal stand."
Cowan added that he wouldn't place the mics under the cymbals like this in a studio, as he tends to build his studio drum miking technique around a stereo image using a coincident pair overhead. "The subtleties of a carefully crafted stereo mix approach like this would be lost in a live mix situation," he says. "Other criteria dominate the approach, such as the need to improve the signal to unwanted noise (leakage from the P.A.) ratios. Placing the mics underneath and pointing them up puts the toms in the null part of the mic's response pattern, which keeps the phase and time arrival smear of multiple mic placements to a minimum. You need to take care and be aware of the possible introduction of Doppler shift due to close-miking cymbals like this, so I'm careful not to get too close."
He also applies a parallel compressor send and return set up for the kick and bass that utilizes UA's Shadow Hills Compressor model. "I have the UA 1176 LN inserted on the guitar. The Apollo reverbs I use are the EMT 140 on vocals and the EMT 250 on drums. For additional reverbs, I use Yamaha Rev X Hall and Rev X Plate. The stereo master mix bus has an insert using the Yamaha VCM emulation of an Ampex Tape machine followed by the Yamaha VCM emulation of a stereo dbx Model 260 compressor." A Mac Mini server in his rack runs the Apollo Console app, Livewire Professor, Pro Tools and Smaart.
Cowan cut his audio teeth, so-to-speak, in the studio, being on staff for many years at a facility called Bearsville Studios. He met Natalie Merchant there and she lured him out to mix live for her, way back in 1998. "At the time, Graham Maby was playing bass with her," says Cowan. "He has been Joe's bassist for most of his musical adventures since the beginning. Graham introduced me to Joe in 2003, and I've been mixing for Joe ever since."
‡‡         Staying Focused
There's a lot of gear involved, but Cowan focuses on getting a clean sound. "When I'm mixing Joe, my goal is to present the listener with the best-sounding balanced mix possible so that what the artist is doing reaches the audience with fidelity and real impact. That quest requires good tools. Starting and ending with well-chosen transducers and utilizing great sounding, 'in-between' equipment. We're not carrying a P.A. on this tour, however we do request the best — d&b, L-Acoustic, etc. — in our rider."
In any situation — studio or live — Cowan feels good engineers must understand the technology at hand, and equally important, must have good musical taste. "That is, an ability to produce a mix that not only they enjoy, but has most people agreeing. Almost anyone can plug in mics and push faders," he notes. "The skill is in deriving results that everyone enjoys. I find myself listening for anything I hear that I don't like, and then go about doing whatever it takes to eliminate those unwanted attributes."
After that point, his focus changes. "Once you find that happy balance, you'll find that subtle moves are really effective. Both situations, live and in the studio, require similar skills, except that live mixing steps away from the tightly controlled atmosphere of a well-designed studio control room into the challenges inherent with dealing with the acoustics of the space and managing a P.A."
By the time the band takes the stage for sound check, Cowan has worked out the room tuning and tested the boundaries. Subsequently, sound check is usually short and painless, he says, noting it's mostly a quick shakedown cruise enabling the band to fine-tune their monitoring and adjust to the new space.
‡‡         The Onstage Angle    
In 1997, Jackson decided to use custom Future Sonics Ear Monitors, model MG4+, for the Sony Classical project Heaven & Hell. He found the clarity and audio quality was far superior over conventional monitor speakers and has continued wearing IEMs to this day. Over those ensuing 22 years, Jackson updated to Future Sonics model MG6Pro (around 2009) and 10 years later, (at the show we covered) Jackson went to the new fit and technology of Future Sonics MG5HX earpieces.
Jackson plays a Roland RD-800 and Yamaha MX61 through an onstage submixer. He's played many keyboards throughout his career, yet prefers using an actual acoustic piano. "I guarantee we would be using a real piano for this tour if he hadn't discovered the RD-800," notes Cowan. "Over the years, since digital pianos began to appear, he would try and ultimately reject them due to their shortcomings. The Roland was the first digital piano he found to be acceptable. It's uncanny how great the piano sounds are. It also has some of the more subtle attributes that a pianist playing a real concert grand has grown accustomed to and thus requires: a hammer-action keyboard, realistic sustain, damper noise, string resonance, key-off resonance, hammer noise, etc. It's heaven-sent for me, as I no longer have to mic up a concert grand every night and deal with the leakage and feedback issues. The Yamaha MX61 is a versatile, ultra-lightweight synthesizer that also sounds great. It's serving as his go-to keyboard when a song calls for alternate and simultaneous sounds such as woodwinds, organ, and percussion instruments."
‡‡         "No-Monitors" Monitoring
Next to Joe's piano on stage is a rack consisting of two Midas DL16's, two Behringer X32 Core and a Midas M32C. "The rack encompasses the elements needed to meet the requirements for inputs, control and monitoring," says Cowan. In order to reduce the stage volume and improve the stage sound, Jackson requested that they eliminate using stage monitors and the band was happy to comply. "Joe had been introduced to using a personal mixer in the studio and wanted to do the same live. This led to eliminating the necessity of a monitor engineer."
After doing some research, Cowan built the system around the Midas/Behringer family to utilize the P16 personal mixers. For system flow, the mics and DIs are patched into a Midas DL32 stage box. "Two X32 cores organize and sub-mix stem feeds to the P16's. Each is connected to an IP network for control, allowing them to be operated remotely using a laptop and X32 Edit software. The DL32 stage box has two AES-50 multi-channel digital outputs, A and B. The A feed connects to the primary X32 core and the B to the secondary X32 core. With the primary, I control the mic pre levels, route the audio to FOH and use the mixer software to feed Joe's personal mixer. Joe has some very specific likes with regards to EQ and so we have dedicated the primary X32 for his use alone. I use the secondary to feed the remaining P16 mixers used by the other band members. I also take the output of Joe's P16 and send it to FOH so that I can solo up and hear what he's listening to with my headphones."
The primary also houses a 32-channel Klark Teknik Dante card that connects to two 16-channel Audinate Dante cards in the Yamaha DM2000VCM at FOH via a 250-foot Cat-6 snake. Just in case, the stage rack also contains spares — two DL-16s if the DL-32 should fail and a Midas M32 core should either of the X32 cores quit.
‡‡         Kudos to All
Cowan says it's a privilege to be entrusted with mixing such a great show. "Producing such a show requires the energy and talent of many. We have a terrific team. Our stage manager and tech wizard, Victor Munoz has got my six and I'm grateful to have him on the other end of the snake. Our lighting director Charles "Chaz" Martin does a terrific job and doesn't hesitate to help with the audio elements during setup and tear down. Our tour manager Keith Andersen keeps all our comings and goings running smoothly, and of course Joe and the band are kicking ass and taking names everywhere we go."
Joe Jackson "Four Decades" Tour
CREW
FOH Engineer: George Cowan
Stage Manager/Tech Wizard: Victor Munoz
Tour Manager: Keith Andersen
Lighting Director: Charles "Chaz" Martin
P.A. GEAR
System: Venue Provided
FOH GEAR
Console: Yamaha DM2000VCM
Outboard: Universal Audio Apollo Quad 8; Waves Y96K Card
Plug-ins: Universal Audio, Waves, Yamaha (onboard)
MONITOR GEAR
Console: Midas M32C; (2) Behringer X-32 Cores, P16s
IEMs: Future Sonics MG5HX earpieces
Mics: Earthworks SR40V (vocals); Audio Technica 450 (bass amp); Cascade Fathead (guitar amp); Shure Beta 91A (kick); Sennheiser e903 & e904 (snare); Sennheiser e904 (toms, timbale); Blue Microphone Dragonfly (cymbals); Blue Hummingbird (hi-hat); AKG C-414 ULS (xylophone)
BAND
Joe Jackson: Vocals, piano
Graham Maby: Bass, xylophone
Teddy Kumpel: Guitar
Doug Yowell: Drums
More photos of Joe Jackson's "Four Decades" tour by Steve Jennings:
JOE JACKSON © Steve Jennings
JOE JACKSON © Steve Jennings
JOE JACKSON © Steve Jennings
JOE JACKSON © Steve Jennings
JOE JACKSON © Steve Jennings
JOE JACKSON © Steve Jennings
JOE JACKSON © Steve Jennings
JOE JACKSON © Steve Jennings
JOE JACKSON © Steve Jennings
JOE JACKSON © Steve Jennings
JOE JACKSON © Steve Jennings
JOE JACKSON © Steve Jennings
JOE JACKSON © Steve Jennings
JOE JACKSON © Steve Jennings
JOE JACKSON © Steve Jennings
JOE JACKSON © Steve Jennings
JOE JACKSON © Steve Jennings
JOE JACKSON © Steve Jennings
JOE JACKSON © Steve Jennings
JOE JACKSON © Steve Jennings
JOE JACKSON © Steve Jennings
JOE JACKSON © Steve Jennings
JOE JACKSON © Steve Jennings
JOE JACKSON © Steve Jennings
Leave a Comment: