Jeff Lynne's ELO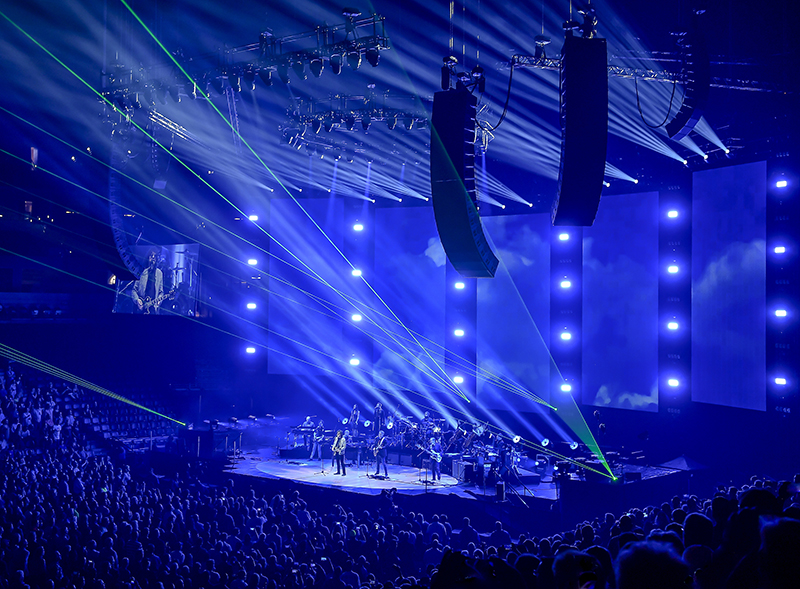 This year, Jeff Lynne's ELO embarked on a limited 10-date North American arena tour. It's the first U.S. tour featuring this founding member of Electric Light Orchestra in more than 30 years. Lynne, known for such '70's hits as "Evil Woman," "Mr. Blue Sky" and "Strange Magic," was a key member of the original ELO until it disbanded in 1986 and he started getting busy with various other projects including the Traveling Wilburys super-group.
The tour supports Lynne's 2015 album release, Alone in the Universe, which features music performed almost completely by Lynne himself (except for some background vocals and percussion) at his home studio in Los Angeles, Bungalow Palace. It continues Lynne's successful return to the live stage since his appearance at the BBC2's Hyde Park show in London —much to Lynne's surprise — drew 50,000 fans in 2014.
For this article, FRONT of HOUSE spoke with studio recording/mixing engineer Steve Jay (Longview Music Productions), Lynne's regular engineer at Bungalow Palace (See sidebar, page ??). Then on the road, we followed up with tour FOH engineer Gary Bradshaw, monitor engineer Steve Lutley, system engineer Joachim Dewulf and FOH assistant/SL tech Onno Ooms.
For the 2018 shows, FOH engineer Gary Bradshaw mixes on a DiGiCo SD7, where he says first and foremost the audio quality of DiGiCo desks are second to none. "The way the desk is laid out makes it very easy and quick to navigate through the different layers and banks. Also I have used DiGiCo all the way from D5 onwards so the whole system is very familiar."
‡‡         No Effects, Please
The first time Bradshaw met Jeff Lynne was at Cato Music rehearsal studios in London prior to the big Hyde Park show. "Lynne came into the room where my FOH was located, and the first thing he said was, 'Can we have no effects on anything please, particularly no reverb on the strings. I don't want my strings to sound like Mantovani. I've got nothing against Mantovani… I just don't want my strings to sound like his.' Then he said: 'Hello, I'm Jeff, nice to meet you.'"
So Bradshaw has no reverb generated at FOH, or on any guitar or keyboard patches on stage. "It took a little bit of time to get used to this arrangement, but it does produce a clear, uncluttered mix. There are a couple of spin delays on vocals on two songs, mimicking the original songs, but that's it."
The only plug-ins Bradshaw uses are compressors. He has Waves dbx 160 across the drums subgroup, a CLA 3A on the bass guitar group, which is a blend of DI and 421 mic on the bass guitar cabinet. There are CLA 2A comps on acoustic guitars and a CLA 76 Blacky (blackface) on the Duesenberg electric 12-string used in the Traveling Wilburys song "Handle With Care." Vocal and strings compressors and de-essers are all DiGiCo internals. "I have 71 inputs coming into my SD7. Matrix outputs are main L&R, sub lows and front fills."
‡‡         Meanwhile, in Monitorworld
Mixing monitors for Lynne and the band is Steve Lutley on an SD7, which he says is a great sounding and very user-friendly digital console, noting features such as "Alternative Input" which gives you a second head amp on the same channel strip, which for a monitor console he feels is imperative. "You could never expect to update a spare channel to all mixes for all snapshots. The "Control Groups to Aux Sends" is also a great function; it basically allows you to use the Control Groups, VCAs for each mix as if it were in "FOH Mode," which is great for sound checks in new venues."
Lutley takes in just over 100 inputs, which includes all band and crew talk-to-stage and shout microphones, as well as a feed to Jeff's guitar tech's Turbo Tuner, so he can tune guitars without having to remove his in-ears. Lutley mixes 13 band mixes, Lynne's mix and five tech mixes, all are stereo, they also have three dedicated spare stereo IEM transmitters which are a soft patch from the console. There is one mono mix for a drum thumper. There are no plug-ins, everything is contained within the console.
"We use the Sennheiser IEM systems, SR2050 dual transmitters, EK2000 receivers, we split it so we have eight transmits in the AW range and eight in the BW range with spare Sennheiser AC3200-II combiners within the same rack," notes Lutley. "All vocal mics are Shure SM58s and all band members are on IEMs (Jerry Harvey Audio and Ultimate Ears) — no wedges in sight."
The drum kit mics consist of a Shure Beta 91A on kick, Shure SM57 on snare, Neumann KM184 on hi-hat and ride, Sennheiser 904s on toms, internal mount Shure B52 on gong and AKG 414s on overheads.
‡‡         The System
Based in Newbury, about 60 miles east of London, sound company Skan PA Hire has built a global reputation as a specialist in large-scale touring, festivals and conference work, but also offers design consultancy and sales. Bradshaw notes the tour is using the new d&b GSL system provided by Skan. They looked at using a U.S. company to provide racks and stacks, but in the end, decided to ship the whole package from the U.K. All the control equipment went straight to Burbank, CA for band rehearsals, while the speaker system was shipped to Oakland, CA for the first show at the 19,600-seat Oracle Arena.
System engineer Joachim Dewulf explains that the P.A. consists of d&b's new GSL rig as a main and side hang. The main hang is 18 deep, with GSL12's on the bottom of the array. Side hang is 16 deep, all GSL8. The 270 hang is 12 V12 boxes, with 10 J-SUBs on the floor and eight Y10P as front fills.
According to Bradshaw, "previously, we used d&b's J series with ELO, but for this 2018 run, we opted for the GSL system but with the older J subs. With the new system, there is no need to fly sub lows. The low-frequency response from the GSL 8's and 12's gives enough sub punch to make flown subs unnecessary. The sub lows on the floor are regular J subs, which I think are more suited to this sort of music. The other feature of this new system is the lack of bleed from the rear of the flown array, back onto stage."
Dewulf does all the time alignment and tuning of the P.A. before handing it over to Bradshaw. Time alignment for subs to the main hangs are done first from the rack PC. After that Dewulf aligns sides, 270 and fills from a tablet, which is a remote desktop from the rack PC. "After that I use one song to tune the P.A. from FOH and another song to walk around the whole venue. The complete process usually takes me about 25 minutes depending on the size of the venue. After that its over to Gary who has his own bits he listens to."
Dewulf looks after the d&b R1 software, which controls every amp. All the time alignment and EQ is done in the amps.
"I monitor the amps individually on a regular basis during the show, checking levels, incoming power, temperature, at the same time I have Smaart running as an analyzer, both for myself and Gary," notes Dewulf. "A Dante controller is always running in the background, to keep an eye out for possible errors. All data and signal is distributed in a fiber loop. Early morning, Liam Tucker (crew chief and RF tech) and I come in at rigging call. While I measure the venue and make the P.A. design he gets involved with tipping truck and overview of our part of rigging world. At about 9 am, the rest of our team comes in, including Finlay Watt my main P.A. tech and Onno who looks after FOH after flying P.A. stage left."
FOH assistant Onno Ooms started working with Gary back in 2015 on a Take That tour. He says he tries to be Gary's second pair of ears, where Gary is behind the desk and he walks around the venue. "I know what the normal mix sound is like and I tell him what the offsets are in the arena where we are on that particular day," says Ooms.
"While Joachim does system design and tuning, I listen to coverage of course but mainly to the mix. My daily routine is that I start building FOH and run the multi's. After that, my P.A. SL motors are in and start with putting the amp cart in position, build the cable bridge and fly the three hangs of P.A. on SL. I make sure all the recordings are running at the top of the show but Gary is always on it, so I am there to make sure the lovely SD7 is happy as always, set up ambient mics for the recordings and make Gary white tea with one sugar. On this run, Liam Tucker (employed by Skan PA) is the crew chief. But when he is out doing Muse or other touring bands, I'm head of the department."
The run of U.S. dates, all during the month of August, included shows in Oakland CA, Los Angeles, Denver, Houston, Dallas, the Chicago area, Detroit, Toronto, New York and Philadelphia. In September and October, Lynne brings his music back to across the Atlantic for 19 more shows in the U.K. and Europe.
Jeff Lynne's ELO 2018 Tour
CREW
Sound Company: Skan P.A. Hire
FOH Engineer: Gary Bradshaw
System Engineer: Joachim Dewulf
Monitor Engineer: Steve Lutley
Crew Chief/RF Tech: Liam Tucker
P.A. Tech: Finlay Watt
FOH Assistant: Onno Ooms
Studio Engineer: Steve Jay
P.A. GEAR
Main Hang: (18) d&b Audiotechnik GSL12/side
Side Hang: (16) d&b Audiotechnik GSL8/side
270 Hang: (12) d&b Audiotechnik V12
Subs: (10) d&b Audiotechnik J-SUBs, ground
Front Fills: (8) d&b Audiotechnik Y10P
FOH GEAR
FOH Console: DiGiCo SD7
Plug-ins: Waves dbx 160, CLA 3A, CLA 2A, CLA 76
System Software: d&b Audiotechnik R1; Rational Acoustics Smaart
­­­­
MON GEAR
Monitor Console: DiGiCo SD7
IEMs: (8) Sennheiser SR2050 dual transmitters, EK2000 receivers; Jerry Harvey Audio and Ultimate Ears IEMs.
Antenna Combiners: Sennheiser AC3200-II
Wireless Mics: (2) Sennheiser EM 3732-II
Wired Mics: Vocals: Shure SM58; guitars: Shure SM57s, Sennheiser MD-421s; bass: Sennheiser MD-421; drums: Shure Beta 91A (kick), SM57 (snare), B52 (gong), Sennheiser 904s (toms), Neumann KM184 (hi-hat, ride), AKG 414s (overheads).
At Home in the Studio: Steve Jay and Jeff Lynne
Steve Jay and Jeff Lynne were introduced to each other during a casual dinner in Los Angeles back in 2008, which led to an invitation by Jeff to go over to his studio and help him finish up a mix he had going on for a song on the 2012 album of re-recordings Mr. Blue Sky: The Very Best of Electric Light Orchestra. Ever since that session, both have continued to work together steadily.
Jay has engineered and/or mixed various artists, among them working with Jeff Lynne are albums by Bryan Adams, Joe Walsh and Regina Spektor. He's been the main engineer for Jeff Lynne/ELO projects such as reissues of Armchair Theatre & Zoom. He engineered "Alone In The Universe" in 2015 and was involved with ELO live recordings such as Jeff Lynne's ELO album, Wembley or Bust, released last fall. From an early age Jay's love of music, listening to U.S. radio was immediately influenced by Lynne's songs and production. As a result, he became a longtime ELO fan.
"Going to dinner with one of my record-making idols back then was very exciting. Working with Jeff has been nothing short of amazing! Following Jeff's career throughout my life, I had learned that Jeff is a consummate musical artist, and as his engineer it's been my job to understand that and help facilitate his sonic vision. Working with an artist I respect and one on Jeff's caliber is no doubt a highlight of my career and an honor I'm very grateful for. The Hyde Park concert was another great highlight. I think that whole evening was a celebration, a special moment for a great artist to receive from his fans."
Having worked with Lynne on Mr. Blue Sky: Best of in 2012, Jay was reacquainted with all those songs he grew up listening to and that process prepared him for the work he would do for Lynne during his live performances. "For the Hyde Park show, I was in the recording truck directing/co-mixing the broadcast mix while Gary Bradshaw was at FOH mixing the show. All the sound engineers during that show were very helpful supporting the needs of ours that night and I think celebrated the moment too by being at the top of their game. Jeff and I went on to mix that for the Hyde Park Concert Film release."
In the studio, Jeff's process is somewhat methodical to a certain extent, says Jay. "I think most people are aware of that by now. I think every artist applies some method to their craft, or it wouldn't be recognizable as their own. Being that Jeff plays all his own instruments, to approach it technically… It sort of needs to be methodical to at least create the foundations of his recordings, After that, I think he then lets the song guide him through the rest. I think we both have pretty laidback personalities, so we get along well and have fun. Our workdays are pretty short, but intense because of our passion for the craft. That's what we mostly have in common — the love of the process of producing music."
At Lynne's Bungalow studio they use a 1980's Raindirk 40-input console with Pro Tools as the recording platform. "We mainly use Adam Audio S3X and A5X monitors and for computer speakers we use old tiny Apple G4 spherical speakers. Jay has named these the "iballs." Jay notes that as an engineer, it's great to have access to Lynne's collection of vintage gear. Essentials Jay uses to track are API 512b mic pres, UREI 1176s, Universal Audio 1176 and Neumann U87s. Inside the box, he's found several plug-ins he likes, UA's Studer A800 tape emulator, UA Fairchilds and UA 1176s.
"While we're tracking, we are always mixing. When we've mixed one song, we move on to another and maybe come back to remix it later. Jeff is constantly changing things and working on ideas, so it's always a work in progress until we're mastering it for release. This can be challenging for an engineer, as computers have given artists unlimited choices and tools, so keeping organized and always thinking ahead of Jeff is crucial for going back and forth between versions and takes. One day he might like an edit we did a week ago, and since we've been working on other things I'll have to be able to make that update happen immediately upon request."
Lynne's desire for separation and control of tracks is priority one, notes Jay. "As Jeff has explained throughout his career, tracking instruments individually is his go-to method for achieving that. Also Jeff's house/studio is all wired up. Every room is connected to the control room. This allows for some pretty interesting spaces to record musical instruments and for interesting effects. Although Jeff is a fan of dry instruments, he also enjoys using natural ambience. My techniques recording Jeff are relatively straightforward, I like things printed pure and simple. For instance, when I track any instrument I pretty much record a room mic or two at the same time, ensuring we have flexibility to decide after. This is how I approach recording Jeff's guitar amp: a Sennheiser MD-421 close and a U87 (cardioid) several feet away in the room facing the opposite direction giving it a slight delay from the amps mic. In the mix, I pan those two mics opposite ways in the stereo field creating a nice wide image. See nothing special, just pure and simple. Artists that come over to record guitars express how they like that sound as well."

More Tour Photos of Jeff Lynne's Electric Light Orchestra 2018 Tour by Steve Jennings:
Jeff Lynne's ELO © Steve Jennings
Jeff Lynne's ELO © Steve Jennings
Jeff Lynne's ELO © Steve Jennings
Jeff Lynne's ELO © Steve Jennings
Jeff Lynne's ELO © Steve Jennings
Jeff Lynne's ELO © Steve Jennings
Jeff Lynne's ELO © Steve Jennings
Leave a Comment: