Jack White 'Boarding House Reach' World Tour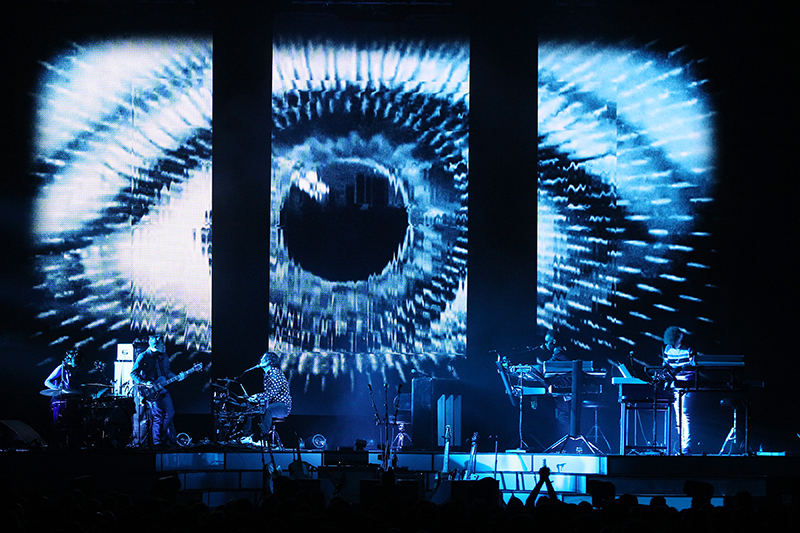 Cranking Out the Jams (Nice and Loud) in a Complete Analog World
Jack White's Boarding House Reach world tour always opens with a fun "countdown" to the show with a 1980s-style digital clock ticking on the video screen, which was shot in the artist's Third Man studio. White is seen onscreen messing with the clock to the delight of the crowd. Then there is the walk out music, which is always a recording of "Nightmare" by Artie Shaw, pressed in 1937.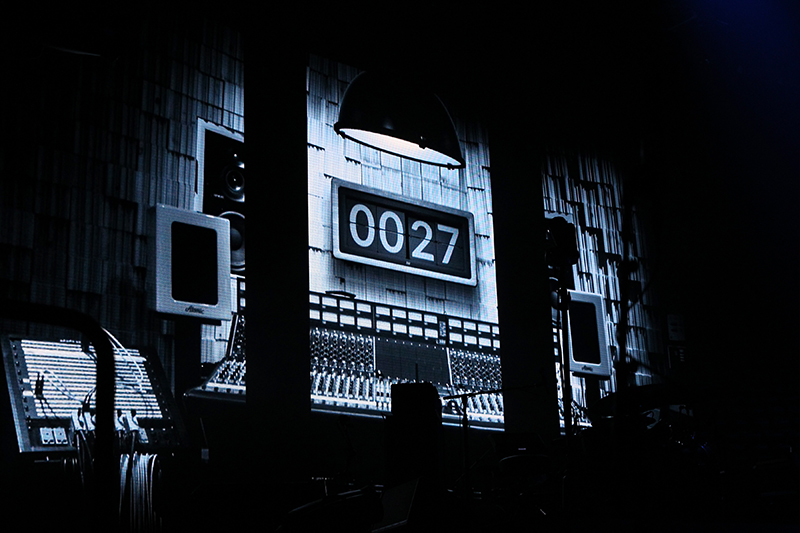 After that? No one, not even White, knows. He could start a song and decide the audience isn't into it that much and mash it into another. He'll start one that is bluesy and end it hard-rocking. It's all about the vibe, and the audio crew has to be on its toes. So do the band members (drums, two keyboards and bass), who never take their eyes off White.
But whatever follows, it's always big and loud. "This is a full-on rock 'n' roll show," says FOH engineer Brett Orrison. "It's raw, vulnerable and challenging. It makes for a lot of fun. I enjoy the no setlist vibe." Keeping with the "in the moment, just for you" spirit is a rule barring cell phone use during the show. Also, no wireless — White even plugs in his guitar.
Or digital anything. "Jack dictated the all-analog, because that's the sound, that's the feeling he's going for," states monitor engineer Marcel Cacdac. "There are occasions with a one-off in Europe where it's not feasible, and he is a smart man. When we absolutely need a digital board de jour he's not opposed. But his druthers is analog. Maybe it's a little harder, and maybe it requires a little more manpower to make it work due to the size, volume and time — but it's worth it. It's a hard work ethic mentality, but the reward is that much bigger."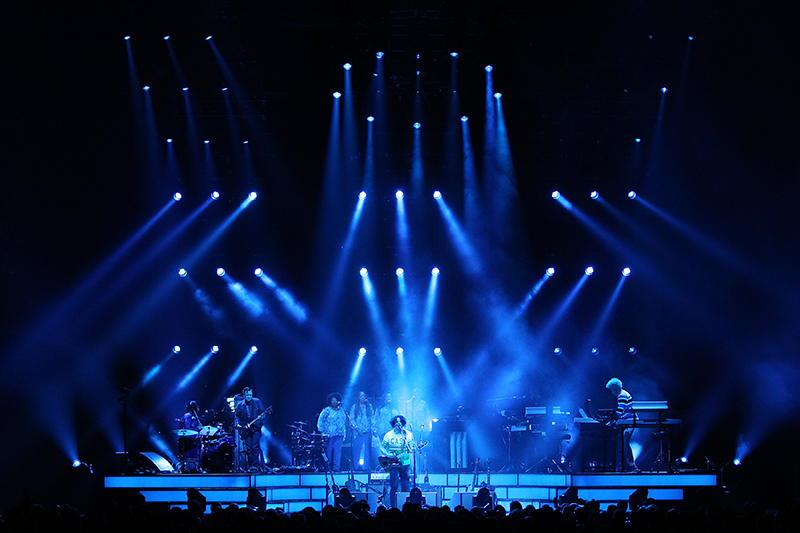 ‡‡         Intrigued
Orrison, from Ocean Springs, MS, studied audio at Full Sail in Orlando. From there he snagged work in New Orleans, principally at the House of Blues and some jazz clubs around town. He first toured with Galactic in 2006 and has been on the road ever since. "I joined Jack in March," he says. "I got a call from Jack's longtime production manager Kit Blanchard. Kit and I have worked many shows together with Widespread Panic and Blackbird Productions. His first question was 'Do you mind mixing on an analog console?' Needless to say, I was intrigued!" Orrison is using a Midas XL4. "The XL4 is the finest sounding analog console available. This one is 22 years old! Firehouse Productions provided two super clean and musical-sounding consoles. The XL4 has a mic/line button, which makes virtual playback possible. It's the best of both worlds."
Orrison keeps a pair of Genelec 8050A powered studio near-field monitors sitting on the console for playback. "We are recording the shows using Focusrite Rednet interfaces, which allows me to do virtual playback through the XL4. It's pretty amazing." The Midas is pushing a d&b audiotechnik J8 line array with array processing. Orrison is a also huge fan of that system.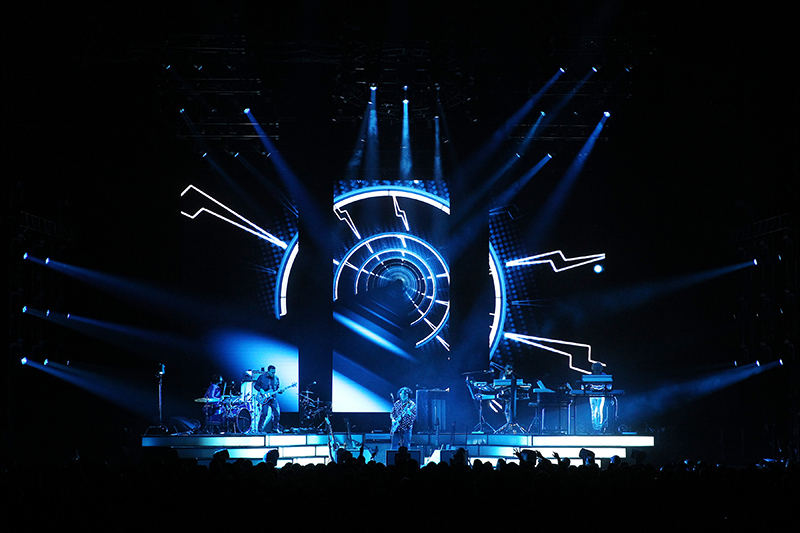 ‡‡         Outboard Galore
There's lots of outboard gear happening, primarily of the Rupert Neve Designs variety. "I use nine RND 5043 stereo compressors. These are placed in a five space rack. It covers my 18 channels of keys/synth. I have an RND Master Buss Processor on the FX vocal lines and the master bus. The RND Shelford channels are used on Jack's center vocal and Jack's piano vocal. I love these things! Shelfords have a killer compressor and an inductor EQ that is unreal."
Orrison is also using Alan Smart C1s on the snare top and bottom and the parallel drum bus. "One of my favorite pieces of gear is the UBK Fatso. I use one on the Coles 4038 ribbon mics under-head and one on both bass guitar channels. The Neve 33609 compressor is placed on Jack's guitar mics, and there is an 1176 on the acoustic guitar." He's back to basics for kicks and toms, using the Drawmer gate comps and also using Drawmer comps on background vocals. "Of all this great gear, my favorite outboard is my Roland RE 201 Space Echo and the solid-state Fulltone Tape Delay. I also have just a touch of digital gear — the TC 2290 delay and a Yamaha SPX 2000."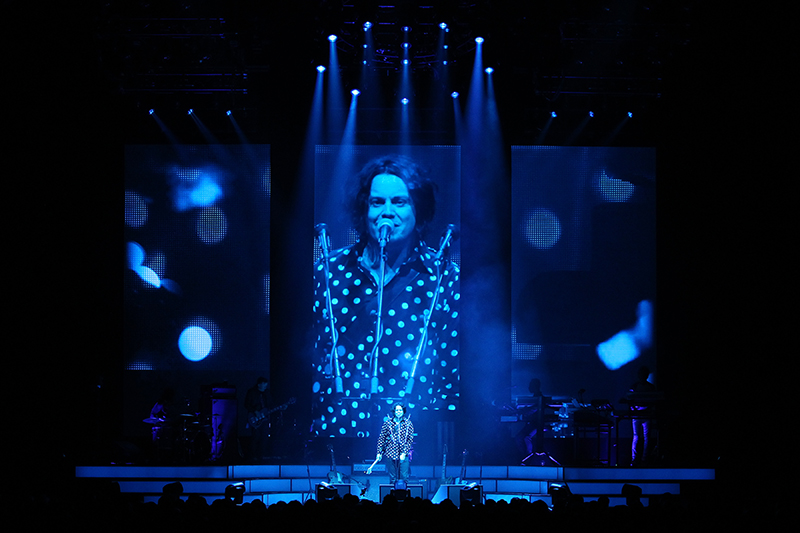 Something new he's using is the AEA R88 stereo ribbon mic, which is there to capture the live mix from FOH. "The thing sounds great!" Otherwise, he's using a AKG 414 TL2 for one of the guitar amps paired with a Shure SM57 on the second amp. "I'm using Coles 4038s as under-head/close room mics. This has worked out well. You can really hear the shell of the drums, which helps place them in the mix and makes the kit sound big, but very natural at the same time." Additional SM57s are on bass and the snare, and an Audix D6 outside the kick drum (no hole) and a Shure 91 mounted on the inside the kick. White's vocals are going through a Shure SM58 with Audix OM7 on both vocal FX channels.
The guy working the big, old-fashioned rock show with a lot of bass has a goal of a 101 dB limit in mind. "I find that too much volume kills the dynamics needed for a punchy rock show," Orrison says. "I'm paying close attention to the SPL averages each night to help this situation. If the mix is well-balanced and the P.A. is not pushing frequencies that are clouding the mix, you can achieve a perception of loudness without being super loud. This usually lands at an average of 100-101 dBs. This isn't possible in every room, of course. Sometimes the band is louder than the room or the room is so alive that the perception of volume is skewed."
‡‡         Monitor World
Monitor engineer Marcel Cacdac has been a touring sound engineer for over 20 years and hails from Terre Haute, IN. He too, ended up at in Full Sail in Orlando. He initially pursued a studio career, but when a friend asked him to come to Pro-Formance Lighting and Sound, he had an epiphany of sorts. "I walked into the shop and fell in love with everybody there," he says. "I took a job that day and started loading truss immediately." He quickly worked his way up, and you've likely heard of the first act he went out with as a monitor mixer: B.B. King. On that tour, King had guests like Dr. John, Storyville, Buddy Guy and Koko Taylor join him. Still surprised by it all, Cacdac emphasizes yes, his first tour was "working with all those names!"
This, too, is his first tour with White, and when he got the call from Blanchard and the discussion of working analog ensued, Cacdac was all in. "I hadn't toured with a Midas Heritage since 2007, so I thought, 'Okay, it's been a long time, and it's a lot of work and maintenance, but if that's what Jack wants, I'm happy to do it.'" He went to work right away, taking a "stab in the dark" of how many inputs he'd need and designed a nice package that worked out for everyone. "With the monitor rig, it's just adding a little color; otherwise, it's just about giving the band a linear representation of what is happening on stage. The show is about the vibe… how I translate that vibe back to him and the band is what it's all about."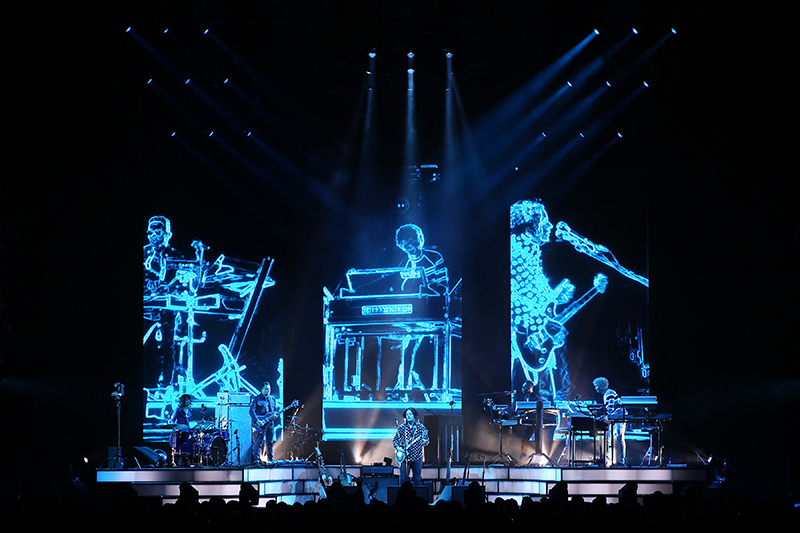 Most pronounced are the three vocal mics on Jack — the one stand with three booms reminds one of a tree. His main vocal mic is the SM58 and is a dry vocal. "The other two are Audix OM7s, one of which is a distortion, and the other runs through a multi-fx pedal board that Jack controls onstage. For the distortion, Brett and I each have an Avalon 737 at FOH and monitors for separate control. Our settings are quite similar, but highest gain-before-feedback in monitor wedges can be a real challenge! I use the 737 on an aux and return it on an open channel for flexibility. The return gets sent to the delay unit for a slapback effect. The combination in Jack's stereo wedge mix sounds huge!"
There are no IEM's, it's all monitor wedges, and thus for Cacdac, it's about "being able to move air on stage. It's loud, maybe a little too much, but we're in the rock business." Yet it's a remarkably clean-looking stage — by design. Lüz Studios in Montreal, working with Accurate Staging, created a semi-circle of stage risers that surrounds White, with the ability to attach wedges underneath for every show (and the whole set is on casters so it can roll on and off at a festival). The 12 d&b audiotechnik M2 monitors are attached and detached every night involving specialized rigging bar brackets, so putting those 90-pound speakers in and out is a chore — but like so much about this tour, worthwhile. White has another three of those M2's in front of him (hidden by tasty little boxes). The middle one is all White's vocal, with the other two being the band mix. Carla Azar, the drummer, gets two d&b Q-Subs.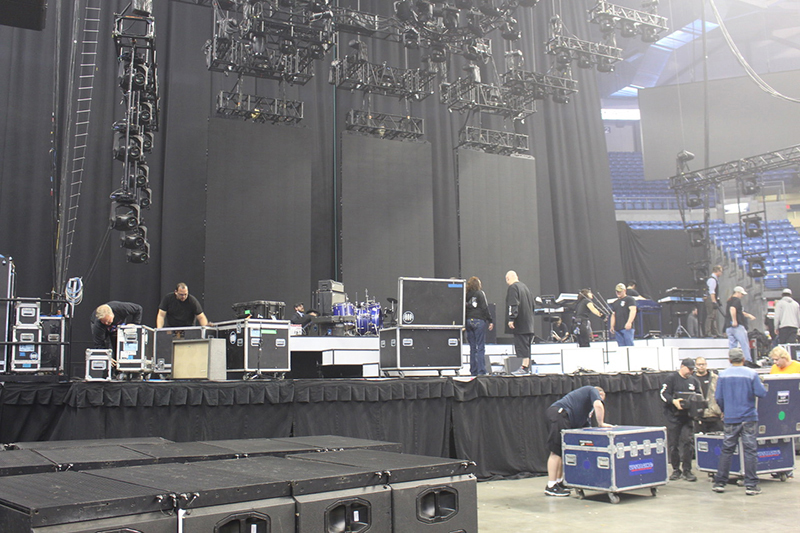 "The stage and risers are yet another challenge," adds systems engineer Taylor Nyquist. "The risers are 30-inches high and the M2 wedges are suspended under them on spay links and carabiners for a clean stage look. This also means that all the stage boxes and signal/power cable hang under the stage and attach via carabiners so the set can roll, while each riser is fully patched. Jack doesn't want to see any cable, looms, or wedges on stage. However on days with very limited time or stage size, we can cut down to an 18" stage and keep everything on top like normal."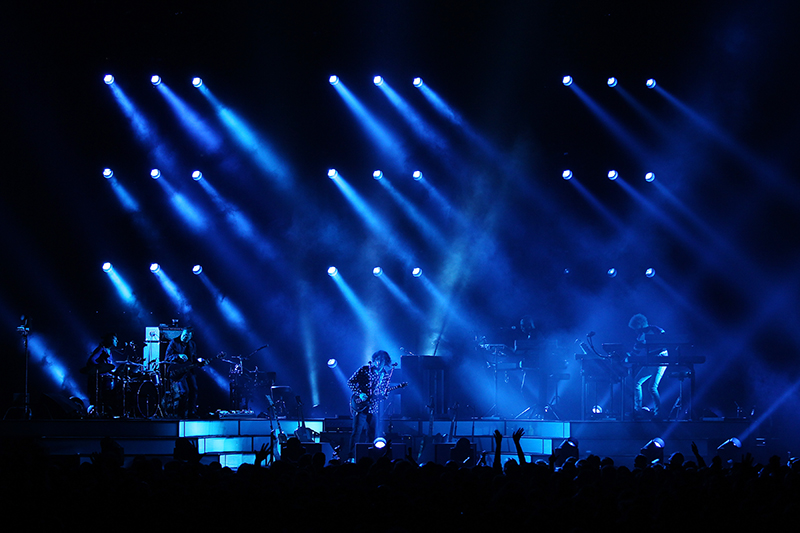 As for the "no setlist" thing? "It's an adventure every night," Cadcac says. "A complete thrill to do just be in the moment. Everything is an audible call, there is no snapshot, no programming, and it comes back to essentially being the truest sound." There's lip reading, there are visual cues, there's listening for what he's saying to the band. "The pressure is real, and I'm always on my toes."
Also challenging is the wide variety of places they play — an arena one night, a club the next. "I could easily be in a 10'x16' footprint every night, but in the smaller clubs, that's not possible," he says. At a club in Dallas, Cadcac had to scale back and was still forced off to the stage, "I laid the console on the stage and dragged some of what I had off into the hallway, but it worked!" All of this is giving him a good workout — and not just his technical audio skills: "My body is pretty beat — this is a young man's sport!" he laughs. "I have aches and need time to recover, but I feel I'm a good fit for this tour and looking forward to a great year."
The arena one night, club the next is challenging for Nyquist too. "We have a dedicated P.A. truck that shows up only on shows where we can fly it," he says. "Otherwise it's house P.A. of the day, however most of the clubs/festivals we've played thus far have had d&b or L-Acoustics for us. The challenges of
changing venue size every day are hard because I don't think we've flown the same rig twice. It affects lighting and video more than us, but we've had to develop our club, theater, amphitheater, arena and festival game plans which are all slightly different."
‡‡         The Vibe is the Only Constant
Nyquist hails from Rockford, IL and mixed local school bands and musicals before moving to Nashville in 2003. He graduated from Belmont University and got a house gig at Rascal Flatts' Jay DeMarcus' studio. "Slowly I started doing weekend warrior work on the road with my friends' bands, returning to my first love, live engineering," he says. His first international tour was with The Civil Wars as FOH/PM and "I was hooked." He next was a fly tech for Kenny Chesney. There he wanted to learn system engineering to be a better FOH engineer. "I spent a lot of time doing the PM/FOH thing for bands like Old Crow Medicine Show and St. Paul and The Broken Bones, but in between anchor gigs, I went out as a systems engineer working for Spectrum Sound in Nashville for tours like CMT Tour with Thomas Rhett and Brett Eldredge and Electric Daisy Carnival Las Vegas." On this gig, his first with White, he works directly for Firehouse.
"The stage changes from day to day as well. On arena days we use a local rolling stage, which is super-helpful for rigging/lighting/video. That also means that the monitor wing must be built detached from the stage and butted into place after the stage rolls. There's nothing like seeing a fork lift raise up your H3000 up six feet in the air and place it on your EZ tilt on the monitor wing. It also means that any cross stage cables must be run upstage and not underneath."
And venue-changing keeps Nyquist thinking two steps ahead. "One day, maybe we have an additional truck and two extra fly guys, and the next we're squeezing into a tiny club where the FOH footprint is as big as the stage! That, in turn, affects the load-in and load-out: docks versus ramps/forks, how to fit FOH and MON footprints in — especially in festivals and clubs — and truck packs
changing constantly. Also, getting a 1,000-pound XL4 out to a festival FOH tent in the mud can be challenging. I watched them pick it up from the stage and then place it over the barricade and through the opening at FOH. It was skillfully done, but still scary!"
Like the rest of the audio crew, Nyquist rolls with the space and the system they end up working with, though he's especially happy when he does get to use the designated d&b rig: "It's a great match for Jack and a big ole rock show. The J is a great sounding box and has gotten better with the d&b audiotechnik's D80 and Array Processing [AP]. There are other great boxes out there but where the J really shines is rock and roll. It's super punchy in the subs, warm in the low mids, smooth through the midrange and natural on the top. AP has been a game changer coupled with predictability in Array Calc. I know that if the promoter didn't sell past the 180-degree mark, that I can stop coverage there and keep the energy where it needs to be. Same with the vertical coverage, AP can cut off the coverage where the seating ends up in the 300 level and avoid blowing unwanted energy into the roof. The best part is that I can predictably cover all the seats in the house and they all sound the same. There's no sacrifice in sound quality just because you bought a cheap seat."
Once it's all loaded in and ready for show, it becomes simple: "The number one rule is 'don't kill the vibe'," Cacdac says. And that vibe is all-encompassing, and it starts with the crew taking their position dressed for success. See, White has his crew in "uniforms" with suits and skirts in black and blue and hats. "I believe it's Jack's idea to have us looking dapper," Orrison says with a smile. "It's great to dress up because it shows we mean business. It's a unifying theme and very cool," Cacdac adds. "Doing this all in a three piece suit and still looking sharp is the biggest challenge of all!" Nyquist says. Otherwise, the audio crew is enjoying the challenge, according to Orrison: "My favorite part of working with Jack is the intensity of the mix and the creative exploration of his music. It's a dream job!"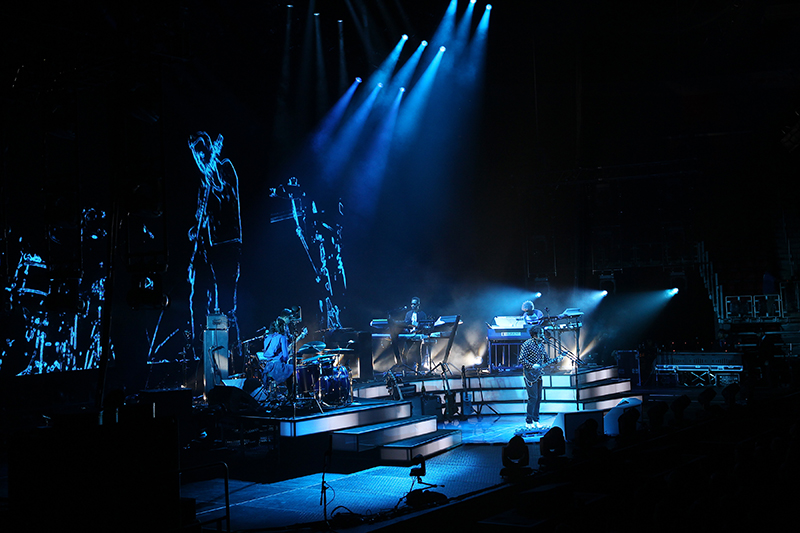 Jack White Boarding House Reach World Tour
CREW
Sound Company: Firehouse Productions
FOH Engineer: Brett Orrison
Systems Engineer: Taylor Nyquist
Monitor Engineer: Marcel Cacdac
Monitor Tech: Rob Gil
P.A. GEAR
Mains: (16/side) d&b audiotechnik J8 over (4) J12s w/Array Processing
Side Hangs: (16/side) d&b J8s w/Array Processing
Subs: (18) d&b J-Subs in Cardioid Sub Arc
Fills: (8) d&b Y10P, L-Acoustics 108P punter speakers
Amps: (44) d&B D80s
FOH GEAR
FOH Console: Midas XL4
FOH Nearfields: (2) Genelec 8050A
Outboard: Universal Audio 1176, (2) Neve P2MB Portico II Master Buss, (2) Drawmer DL241, (2) Drawmer DL441, (2) Neve 5035 Shelford Channel, AMS Neve 33609, Demeter RV1 spring reverb, Yamaha SPX2000, TC Electronic 2290, GML 8200, Avalon 737sp, Focusrite Octopre Mkii, (2) Lake LM44, (2) UBK Fatso, (9) Neve 5043V Duo comp, Alan Smart C1 comp, Fulltone Tape Echo, Roland RE101 Space Echo
Measurement System: iSEMcon EMX 7150 mic, Lectrosonics R400A wireless, Sound Devices USBPre2 preamp
MON GEAR
Monitor Console: Midas H3000
Monitor Speakers: (15) d&b M2 wedges; (2) d&b Q-Subs
Outboard: Avalon 737 (for vocal distortion), Yamaha SPX 900, TC Electronic D2 Delay, Lexicon PCM70, Lexicon PCM 96, (2) Meyer CP-10 Parametric EQ, (16 channels) BSS FCS 960, (2) BSS DPR-901 II comps, (2) Drawmer DL251 comps, (4 channels) dbx 160A comps, (4) Empirical Labs EL-8 Distressors, (2) BSS DPR-404 comps, (4) Drawmer DS404 gates, (2) Little Labs IBP Jr.
Leave a Comment: