Drake & Migos "Aubrey & the Three Migos" Tour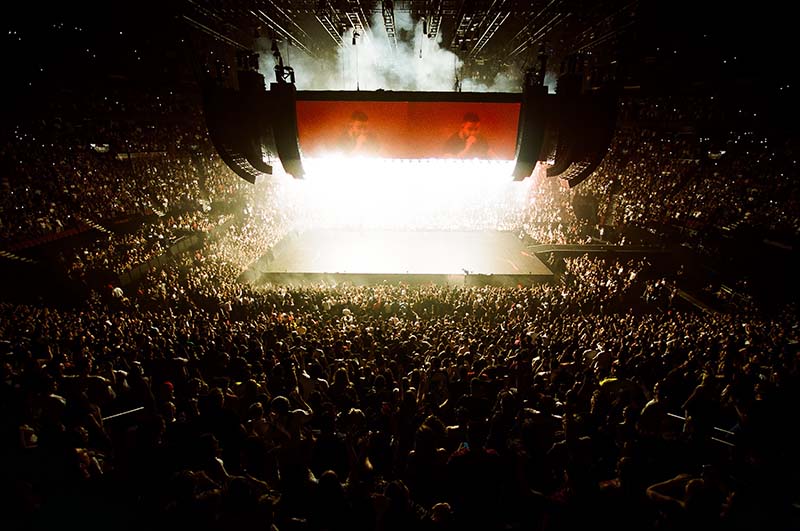 To refer to Drake and Migos simply as two of the hottest commodities in contemporary hip-hop is an understatement. As two of the biggest acts on the global music map these days, it's understandable that fans were worked into a frenzy when the announcement came in May 2018 that the 6ix God and Versace-clad "Bad and Boujee" boys would be crossing the continent together on the "Aubrey & the Three Migos" tour for a good chunk of the year.
The high-profile co-headliner outing kicked off in Kansas City on Aug. 12 and ran for over three months, closing Nov. 18 with the third of three dates in Atlanta – a homecoming of sorts for Migos members Offset, Quavo and Takeoff.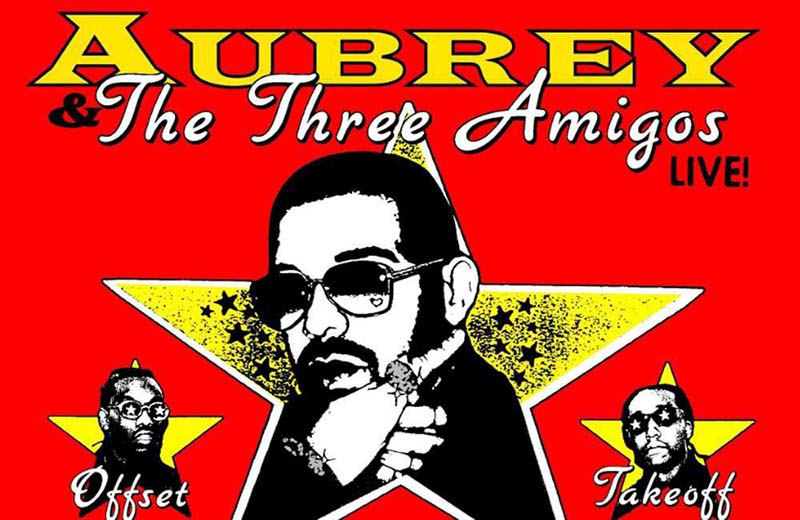 Of course, a massive tour with megastar headliners calls for an equally massive production, and neither Drake nor Migos planned to disappoint their followers.
The 50-plus dates on the trek featured a colossal boxing ring-style stage in the middle of the arena in a 360-degree configuration. The entire surface of that stage was comprised of LED video panels displaying some truly spectacular custom content. That is supported by the four faces of the "video border" surrounding the overhead rigging and augmenting the onstage visuals while also displaying some I-Mag footage for good measure.
To ensure the aural experience matched the caliber of the visuals, the tour featured a substantial 360-degree audio system made up of over 250 cabinets from Adamson Systems Engineering's flagship E-Series and S-Series, all provided by Eighth Day Sound.
"The way the stage is designed, the rig has to be enormous just to cover that whole room, but the number of cabinets has more to do with dispersion and good coverage than just volume," begins Demetrius Moore, Drake's FOH engineer, about the system under his control. "It sounds big, it sounds powerful, but it doesn't hurt, and that's always the goal – a big, clean sound that's not just there to blow people away with everything in the red."
When Moore was first presented with the preliminary floor plan and stage design, he consulted with Adamson's director of R&D, Benoit Cabot and product manager/senior applications engineer Brian Fraser, to develop an initial system design. System tech Chris Fischer from Eighth Day Sound also offered input throughout the process.
Through several stages of revisions, the solution started to take shape. From the outset, the idea was to configure the "array groups" above each of the four corners of the stage, with each group including main, side and 270-degree hangs.
The final configuration features four main hangs of 18 Adamson E15 three-way, true line source enclosures firing behind the goal ends of the arena floor; four side hangs of 12 S10 two-way, full range cabinets below four S10ns, which boast the same specs as the S10 (save for a narrower dispersion of 80 x 10 degrees instead of 110 x 10); and four 270 hangs featuring 15 E15s atop four S10s.
The design – and the simple fact that it includes so many individual cabinets – offers a unique challenge for Fischer and the crews he oversees. "I've done a 360 rig before, though the big challenge here is that this stage is a lot bigger than most 360-degree stages, and we've had to basically add an extra hang to each corner to ensure even, consistent coverage." He adds that there's more splay to each array as they're closer to the sectors they're covering than would be the case with a proscenium-type setup or smaller in-the-round rig.
‡‡         Subterfuge!
The most significant revisions throughout the process involved the sub configuration. Initially, the plan was to load a complement of more than 70 E119 subs around the stage in stacks of two, with S10 front fills atop every second stack. However, Moore explained that as the entire stage is covered in LED video panels, they wanted the audio system to be as unobtrusive as possible.
"That's when we decided to put all of the subs in the air," states Moore, pointing to the eight hangs of nine E119 subwoofers. "We didn't want any boxes blocking that video, so now we've got eight sub arrays and the flown P.A. has to cover from the very edge of the stage all the way up to the top of the upper bowls." As such, they only have 10 front fills – Adamson IS7p point-source cabinets – on any given date.
Moore admits the final design is atypical for a hip-hop tour, yet noted that it's the perfect one-of-a-kind system for this one-of-a-kind production.
"We're on a tour – a hip-hop tour – with no subs on the ground. That's pretty much unheard of," says the man who's also mixed genre staples Lil Wayne and Nicki Minaj from FOH. "And the sub coverage is great. Whether you're standing front-row or up at the back, you're getting nice, clean, but still high-impact bass. It's not your typical rap show where you go and stand in front of the subs and just get pounded."
‡‡         Kudos for Top-End, Too
Moore credits the Adamson E119 for enabling this design in the first place. He's long been a fan of the company's products, having used Adamson for several recent editions of Drake's OVO Fest in his hometown of Toronto, however, this marks the first time he's had them out on tour.
"I love it," Moore says of his "Aubrey & the Three Migos" P.A. "The high-end is very natural, crisp and clean, and you really can't ask for a better low-end."
Speaking to the E119s specifically, he says: "The fact of the matter is that, with any other system, we wouldn't have been able to do what we're doing with all of the subs in the air. Other brands have subs you can fly, but here, the subs I'd be using on the ground, we've got in the air, and they go up without issue. You couldn't do that with another system at this level."
A complement of nearly 70 Lab.gruppen PLM 20K44 amplifiers drives the system, with processing courtesy of three Lake LM44s. Everything runs over a Dante network.
The sheer number of cabinets going into the air makes Fischer particularly glad that they're using Adamson. "It's a nice-sounding system, and the rigging is just incredible – it goes up and comes down so easily," he says. "It's just one move and the cart's off."
The veteran systems engineer adds that he's also getting good mileage out of the company's Blueprint AV system design and simulation software. "I think Blueprint is much easier to use than other programs I've had in the past when it comes to analyzing the room and fine-tuning the system deployment," Fischer offers.
Fischer and Moore each report that they've developed a good synergy on this outing. "He trusts me to get the rig up and sounding exactly like it did the night before, which is what I'm here to do," states Fischer. "When the show's on, he can just look at me and I've got a clear idea of what he's after. We kind of feed off of each other that way."
Moore echoes the sentiment: "He's one of my favorite techs to work with by far; I never have to worry about a thing."
‡‡         The FOH Perspective
At FOH, Moore mixes the show from his trusted DiGiCo SD7. "It's my console of choice – very clean sound and it gives me everything I need," he says simply. "No matter which tour or artist, that's my go-to."
The desk's onboard MADI interfacing is a big draw considering his workflow. "I like to record every show for virtual sound check and archive purposes, so I need as many [MADI] BNCs as I can get. Each of the four BNCs handles 32 ins and outs, so using just three, I'm at 96; that fourth BNC gives me 32 channels of effects, so that goes straight to my computer where everything runs off of Ableton Live."
There's also a DiGiCo SD12 at FOH for Migos and opener Roy Woods, plus any special guests that Drake or Migos might invite on stage from city to city. So far, that list has included the likes of Post Malone, Cardi B, Travis Scott, Meek Mill and many others.
Each night, Woods opens the show before Drake takes the stage and launches into "8 Out of 10" from behind an Austrian curtain. After the curtain drops and the star is revealed at center stage, he goes through nearly two dozen favorites from his five studio albums and beyond before Migos joins him onstage for their collab "Walk It Talk It" and then launch into their own set. Drake re-emerges after a handful of Migos tracks and closes the show with a string of hits, including rap bangers like "Controlla" and "Nonstop" alongside R&B hits like "One Dance," "Hotline Bling," and closer "God's Plan."
Another first for Moore on this run is the fact that he's exclusively using UAD plug-ins, triggered through Live, with just a pair of physical outboard units: an Avalon VT-737sp channel strip and dbx 120a subharmonic synthesizer.
Moore says his affinity for UAD began after he got his hands on the AMS RMX16 expanded digital reverb plug-in. "I first got it for the drums, then started using it on vocals," he says. "I liked what I was hearing, so I started buying delays and other 'verbs through UAD. They make some really solid, clean-sounding effects."
Drake's typical set for this run includes a mix of tracks and live instrumentation. "We're doing 18 channels of tracks, and then there's a keyboard player [also the musical director, Dalton "D10" Tennant] plus a drummer and a DJ."
The band isn't onstage, and is instead positioned on the opposite side of the arena from the FOH mix position, so Moore doesn't even have a clear sightline. That said, he wants the audience to recognize that there's live instrumentation when they do come in, typically for the more R&B-flavored tracks.
"I mix the show dynamically so that you know when the band is playing," he shares. "Even though a lot of people can't see them, you know they're there. I'm giving them a huge presence – a big, live band feel. It's really about adding some color and layers to the familiar tracks, but it's not like everything is down the center; things are moved around in the stereo field so that everything has its own space and comes off nice and clean."
One of the cooler parts of the show takes full advantage of the audio and visual systems in a scene where a sports car emerges and races around the set before crashing within the song. Using Ableton Live's panning functions, Moore orients the sounds of the engine pans across the various arrays as the corresponding visual rips around the set before the crash.
"I recorded the pattern that I wanted with a panning tool, and then I hit play when the car comes up and the effect is going out of the console, into Ableton, and then Ableton shoots it to the different zones of the P.A."
‡‡         At Monitorworld
In addition to his sales role with Eighth Day, Sean Sturge has been Drake's monitor engineer since 2013 and says that the "Aubrey & the Three Migos" run maintains the same positive work environment as those before it. "It's been a family out here since I started, where everyone knows their part," he says. "And it's a two-way street. When you have an artist that works hard, you want to work hard for the artist. As you can tell from his music, he puts a lot of effort into staying on top of his craft, and one of the things he's always said to me is, 'Make sure you have the best for me, Sean,' and that's what we're doing out here."
Sturge sits behind a DiGiCo SD5 at the monitor position. He's been a loyal DiGiCo user since the days of the D5, and says the SD5 suits his workflow perfectly. "We're running everything at 96k Hz on this run," he points out, "so the most important thing on this tour is that everything is on the 32-bit cards on the DiGiCo, which really enhances the overall sound."
Sturge is running a pair of Waves SoundGrid servers, though only to take advantage of the C6 compressors; otherwise, he's using the SD5's onboard effects exclusively.
The entire show is pre-programmed and SMPTE-driven, meaning the application of effects – specifically as Drake switches from singing to rapping – is totally automated. "Without that, I'd have a lot of work to do hitting buttons," Sturge says with a laugh.
On that note, his "secret weapon" on this run is his Rosendahl Mif4 MIDI time code interface, which fires his snapshots.
‡‡         Problems and Solutions
The stage set-up on this run presents a few unique challenges for Sturge. "One of the main things out of the ordinary is that the artist is surrounded by the audience, which means, in comparison to the more standard single-ended stage, you have audience noise coming from every direction."
Drake's vocal mic is a Sennheiser MD 9235 capsule on an SKM 9000 handheld transmitter, and Sturge says the gain structure on the mic itself is critical to their success. "The microphone is at 0 and the high-pass filter is at 120, which cleans up the mic a lot in comparison, because onstage, before he even says anything into that microphone, it's pretty much an audience mic."
He also mentions a bit of give-and-take with the low-end situation. "Because all of our subs are flown and there's nothing on stage, it's a major challenge getting the desired low-end to the performer, but then the coverage in the room is better, so I'm happy about it. I'd prefer to have the subs in the air than a rattling stage."
A unique aspect of his workflow that has more to do with the artist than the set-up of the tour is Drake's dynamic skillset. "He goes from being a full-on rapper to a full-on singer," Sturge points out.
Being that the goal was to keep the stage virtually bare, Drake, Migos, Woods, and their guests are all on IEMs. Sturge has "been a Sennheiser guy since Woodstock '99," when he was first introduced to the 5000 Series.
On this run, he's using the company's new Evolution Wireless G4 packs and receivers. "Sennheiser did a great job of eliminating the RF noise floor with the G4," Sturge says, "and when you put it all together, it's a great combination."
That could just as easily be said about the group of audio professionals that took part in this substantial outing.
‡‡         Close-Knit Group
"It's really a family-type situation out here," Sturge reinforces. "Drake is more approachable than the average artist. He holds everyone accountable for their position, and that makes everyone proud to deliver on the service they provide him."
Moore takes that idea a step further: "We're a square – me, Chris, Sean and Drake. It's the four of us really working together to create the overall sound of this show, and it all flows together really well. It really helps with Drake being as consistent as he is every night, because when he's consistent, it makes it easy for us to be consistent."
Another thing that was consistent throughout this run of dates was the reception from the audience. The reviews have been favorable, but more importantly, the social media buzz from ticketholders has been beyond reproach throughout the tour, and it's fairly common for the volume at the FOH position to hit 110 dB based purely on crowd noise.
"The crowd is really into it every night, and they're getting loud," Moore says emphatically. "We know who and what they're there to see, and are just making sure that show sounds as good as it possibly can to deliver that experience."
"Aubrey & the Three Migos" Tour
 AUDIO CREW
Sound Company: Eighth Day Sound
FOH Engineer: Demetrius Moore
Monitor Engineer: Sean Sturge
Systems Engineer: Chris Fischer
P.A. GEAR
Main Hangs: (18) Adamson E15 (one at each corner of stage)
Side Hangs: (4) Adamson S10n, (12) Adamson S10; (one at each corner of stage
270 Hangs: (15) Adamson E15, (4) Adamson S10; (one at each corner of stage)
Subwoofers: (9) Adamson E119 subwoofers, in eight arrays flown around stage
Front Fills: (10) Adamson IS7p
Amplifiers: (69) Lab.gruppen PLM 20K44's
Drive Processing: (3) Lake LM44
FOH GEAR
FOH Console: (Drake) — DiGiCo SD7 Console; (3) DiGiCo 192k SD-Racks
Outboard: Avalon VT-737sp; dbx 120a subharmonic synth; Ableton Live (for FX w/UAD plug-ins)
FOH Console: (Migos & Roy Woods) — DiGiCo SD12; DiGiCo 192k SD-Rack
Outboard: Waves plug-ins
MON GEAR
Monitor Console: DiGiCo SD5
Outboard: (2) Waves SoundGrid Servers; Rosendahl Mif4 MIDI Time Code interface
Vocal Mic (Drake): Sennheiser System 9000 Digital Wireless SKM 9000 handheld with MD 9235 capsule
IEM Hardware: Sennheiser Evolution Wireless G4 (12 channels)
Leave a Comment: