Theater/Performing Arts Center Projects
The theater upgrading market is on the rise and audio seems to be a major consideration on the minds of venue operators, whether for converted environments, new construction or refurbishment of existing spaces. With that in mind, we present these recent installation projects. Each takes a different approach, proving there are numerous solutions to any audio challenge — large or small — for any performing space, either new or historic.
Portland Center Stage Theatre, Portland, OR
If there's a run-on riot for show tickets, the Portland Center Stage Theatre (PCS) will be ready to fend off crazed fans. It's located in the Portland Armory, built in 1891 to house the Oregon National Guard with such amenities as massive stone cladding and an underground firing range.
Named to the National Register of Historic Places in 2000, the Armory underwent a multi-year, $36.1 million renovation from 2002 to 2006, when it became the new home for the Portland Center Stage theater company, which had been operating as an offshoot of the Oregon Shakespeare Festival starting in 1988 and became its own independent company in 1993.
Located in Portland's Pearl District, the Armory's performance venues include the 590-seat U.S. Bank Main Stage and 190-seat Ellyn Bye Studio. Recently, Alpha Sound of Salem, OR was brought in to do a system-wide sonic upgrade for the facility, including paging gear and an upgraded P.A. for the main theater.
Alpha Sound opted to use Yamaha and Nexo components for the entire project. The auditorium is now equipped with a Nexo M6 line array and LS18 subwoofer system with Nexo PS15R2 center speakers and Nexo ID24 speakers. A Yamaha QL5 console and two MTX5 matrix processors run on a Dante digital audio network with a variety of Dante-enabled peripherals.
"The last installation phase tackled the building-wide paging system," says Devin Sheets, Alpha Sound's lead design and installation tech. "PCS has two fully functional theater spaces, several rehearsal halls, offices and workshops, and operates as an independent event venue, all simultaneously. With eight input sources requiring constant reassignments by various personnel to over 40 zones on four different floor levels depending on daily activity throughout the building, we chose the MRX7 matrix processor with three additional MTX5 units and a Tio16 stage rack to be distributed and connected via Dante. Customized iPad control with ProVisionaire Touch allows instant and intuitive patching and parameter changes to the more than 400 control options."
Resident sound designer and AV supervisor Casi Pacilio worked closely with the Alpha team. Pacilio, a Portland Area Theatre Alliance (PATA) Drammy honoree, has worked both on- and off-Broadway productions, touring internationally as well as serving PCS for the past 13 seasons. She credits Alpha Sound for being very responsive to the theater's needs through the years. "The Nexo and Yamaha systems are absolutely incredible, and we have had extremely positive feedback from guest engineers."
"The GEO M6 is deceptively loud and clear," adds Devin Sheets. "When we first installed the arrays, the guest engineer was worried about their small size and whether the rig would get loud enough for the rock musical they were doing. Upon hearing it for the first time, he could not stop smiling."
Portland Center Stage Theatre
Capacity: 590 (Main stage), 190 (studio)
Key Components: Nexo M6 line array and LS18 subs; Yamaha QL5
Designer: Devin Sheets
Integrator: Alpha Sound
Howden Park Centre, Livingston, Scotland
Howden Park Centre, located in Livingston, Scotland, just west of Edinburgh, is on the grounds of Howden House, an estate originally established in 1770. The estate's grounds were later established as a public park, and the original mansion, which had fallen into disrepair, was restored in 2012 and now used for five private residences.
Howden Park Centre, which started out as horse stables on the original estate, was converted into an arts center in 1972 by Scottish actor Andrew Cruickshank before being transformed by the prominent architectural firm Nicoll Russell Studios in 2009 with a 300-seat auditorium at its heart.
Eventually, the venue was due for an audio upgrade, according to Stephen Oakes and Cliff Carrie, who form the core technical team at Howden Park. "Our existing sound system was failing, and we secured finance for a replacement," they explain. "We demoed three major loudspeaker brands and decided we liked Adamson the best."
Oakes and Carrie credit the system as "clean, controlled and dynamic. It delivered constant sonic impact from low levels of sound all the way to the loudest level we can effectively operate at." In recent months, Oakes and Carrie note, the system "has been used for panto, theater and bands and it has performed wonderfully with many positive comments from visiting engineers and productions."
The setup includes Adamson's new IS7 line array components, and represented the first installation of that line array system in the U.K. Adamson certified re-seller Live Systems Ltd oversaw the project, making use of Adamson's Blueprint AV software to meet the audio requirements of the venue's varied agenda of theater, music and conference events.
The setup includes L-R hangs of six IS7 line arrays with an IS118 sub complemented by an IS119 sub per side built into the proscenium walls, with a P8 per side for front fills. All loudspeakers are powered with Lab.gruppen D-Series installation amplifiers running Lake Processing. The IS-Series packs tour-grade technology into sleek, architecturally friendly packages with robust but unobtrusive rigging solutions that were ideal for Howden Park.
"The IS-Series offers an astonishingly smooth and accurate frequency response so is perfect for the diverse needs of the Howden Park Centre," says Derek Blair of Adamson's U.K. distributor, The Warehouse. "This compact cabinet offers so much headroom and precise reproduction. You can hear every minute detail when mixing on this system."
Howden Park Centre
Capacity: 300
Key Components: Adamson Systems IS7 line array
Designer: Live Systems Ltd.
Integrator: Live Systems Ltd.
Lindenwood Theater, St. Charles, MO
Lindenwood University's J. Scheidegger Center for the Arts is a $32 million, state-of-the-art educational and performing arts complex. With its high interior and ceiling weight load restrictions, however, the 1,200-seat Lindenwood Theater can be a challenging acoustical space, and the school's ambitious theater program adds its own specialized requirements. To address both the acoustic and artistic demands of the space, St. Louis-based Logic Systems recently provided an L-Acoustics Kara sound system.
According to Logic Systems president Chip Self, the Kara system was both the venue's choice as well as his recommendation. "We have a longtime relationship with the school as their rental systems vendor, so we've been able to show them a number of different systems in the theater over the years," he explains. "When they heard the Kara, they knew that was the one they wanted to go with."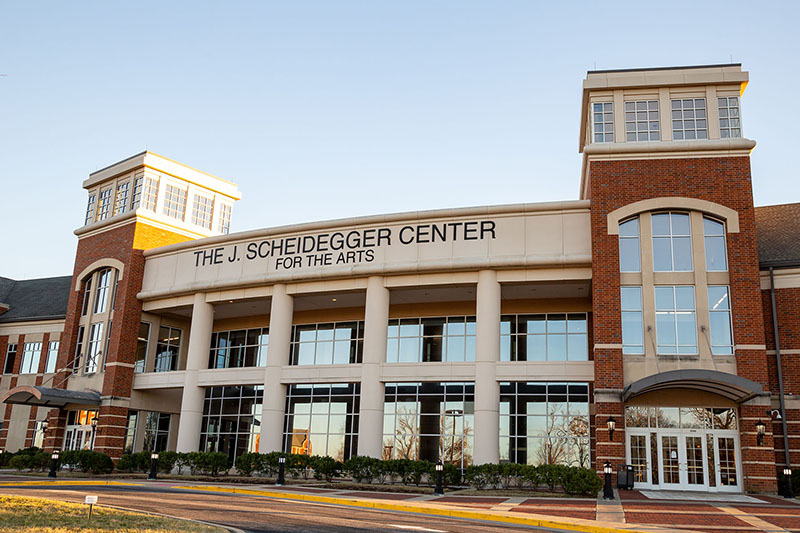 The new system consists of a LCR front array, with nine Karas topped by three SB18 subs for the left and right hangs, and six Kara topped by a pair of SB18 in the center, all powered by five LA8 amplified controllers. Designed to be a 5.1 system, the P.A. has two pairs of self-powered, coaxial 112P speakers as left and right surrounds for the balcony and the main floor areas. Ultra-compact 5XT speakers are used as front fills.
Brian Bird, adjunct professor of audio technology and sound design for the school's program, designed the venue's system to serve both as a teaching facility and as a roadhouse for touring artists. "I've toured with L-Acoustics in the past, so I knew we wanted that brand here, because it's rider-ready for touring artists, and because it exposes the students to the kind of world-class, state-of-the-art sound system they'll encounter when they graduate," Bird explains.
"Our scenic designer also loves that the system is so easily reconfigurable, because they are able to use set pieces that are very tall. In that way, the Kara system actually helps creatively, because it can adjust to their changing aesthetic needs." And with limited steel in the J. Scheidegger Center's ceiling, the weight that can be hung from it is restricted. "The Kara enclosures have enormous power for their size and weight, so we get all the power we need without overloading the infrastructure," Bird notes.
Self adds that the Kara's weight-to-output ratio also made installation and integration considerably easier. "Installation took all of one day for the entire system," he recalls.
But the Kara sound system also delivers the sonic quality the school demanded. "I used the Soundvision modeling software in the design of the system and it was incredibly accurate," says Bird. "The rooms can be pretty lively, with wood walls that can create a lot of reflections," he explains. "But the modeling was precise, putting the sound where we need it to go, and it sounds great. The administration is very happy with what we've done here with sound for the theater."
Lindenwood Theater
Capacity: 1,200
Key Components: L-Acoustics Kara line arrays
Designer: Brian Bird
Integrator: Logic Systems
Markel Auditorium, Hillsdale, MI
Part of the Sage Center for the Arts at Hillsdale College in Michigan, Markel Auditorium is a live performance venue with a 40-foot thrust stage and an orchestra pit that can be raised or lowered. Recently, the venue upgraded its modern 5.1 theatrical surround sound system with an Allen & Heath dLive S Class S5000 Surface and DM48 MixRack.
The auditorium's original audio system was an LCR design with an older digital mixer. To modernize their system, the theatre undertook a major audio upgrade that gave them 5.1 localization of theatrical effects with highly transparent and natural sound quality while being rider-friendly for the many touring acts who perform at the theater.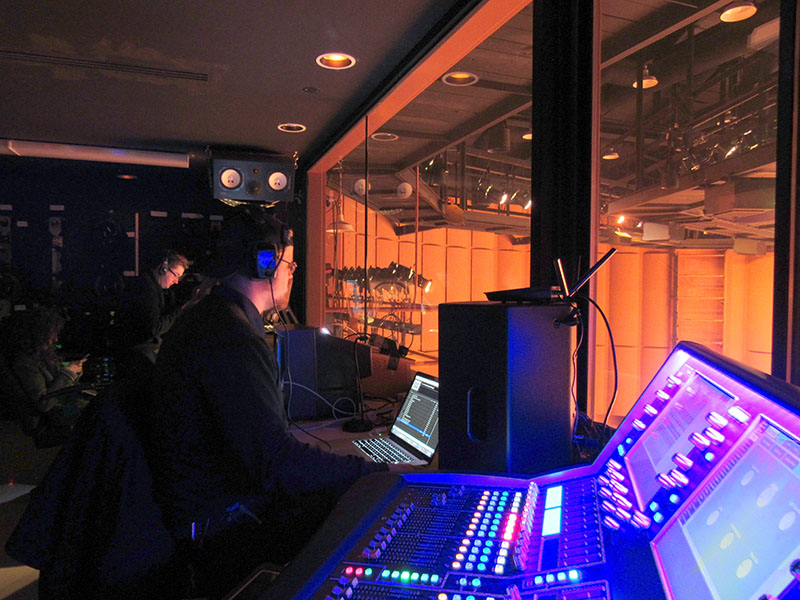 Design/build contractor Cory Champion of Fortress Productions recommended Allen & Heath's dLive S Class digital mixing system to Markel, which would integrate with QLab multimedia playback and cue-based software from Figure 53, to manage the theater's new system. Markel's dLive includes a DM48 MixRack in the theatre's sound booth and three DX32 Expanders which can be located where needed on the stage or in the orchestra pit to accept microphones and other sources and feed monitor loudspeakers. Champion installed a Dante card in the dLive, which connects to a Mac running QLab software. The dLive provides native 5.1 sound effects placement and panning under command from QLab, which takes theatrical cues from a director/producer in the booth.
A graduate of Hillsdale, Champion serves as sound designer for many college productions and mixes performances from touring acts. He says monitoring in the enclosed sound booth is very accurate and appreciates the added ability to mix on an iPad from a seat in the audience. When Champion introduced the retiring theater department chairman to the new system, "he was in sound effects heaven, being able to put things specifically where he wanted in the sound canvas of the space."
Champion also demoed the system for a music professor using the theme song from The Magnificent Seven composed by Elmer Bernstein. The professor commented, "This is phenomenal. Even though the level is low, I can clearly hear the percussionist, every cymbal crash and every bass drum beat as he hit that head." Champion concluded, "There is nothing else on the market that's as flexible and easy as the dLive with this kind of transparent and natural performance."
Markel Auditorium
Capacity: 353
Key Components: Allen & Heath dLive S5000/DM48
Designer: Cory Champion
Integrator: Fortress Productions
Leave a Comment: