Sports Facility Projects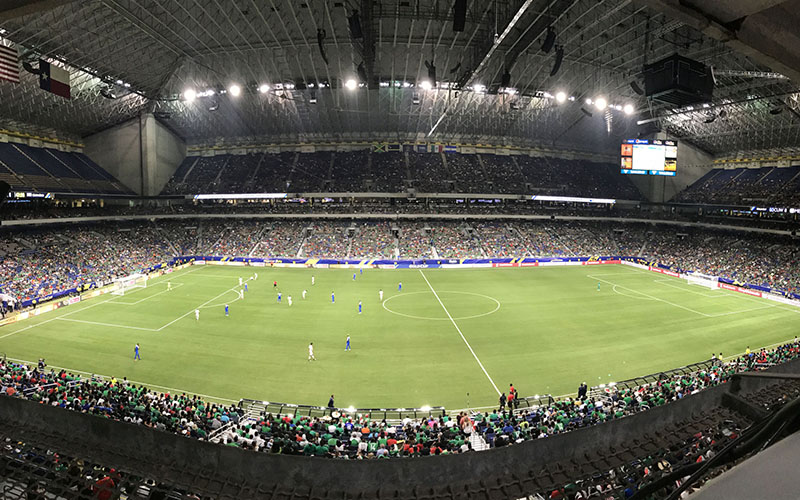 Sports Facility Projects
Recent Sound System Upgrades Score Points with Fans
 Sports-goers have embraced the fan experience in a big way, and ranging from high school games and NBA events to major league baseball, attendees have become accustomed to hearing music playbacks and play-by-play announcements with pristine clarity and intelligibility — all at rock 'n' roll levels, of course. Thankfully, the days of funky, underpowered arena center clusters or stadiums ringed by paging horns mounted on 20-foot poles are long behind us. Meanwhile, versatility is essential, as facilities of all types look to maximize an upgrade project's ROI by supporting the multi-use concept. Here, the sound system must be flexible enough to handle tasks that change on a day-to-day basis, whether a graduation ceremony, music concert, championship tournament or monster truck rally. With that in mind, we decided to look at a number of recent audio upgrade projects — each of which met success by applying the right gear in the right situation.
Pictured above: Idibri, which worked with LD Systems on the installation of an L-Acoustics K2/KS28 system at the Alamodome in San Antonio, TX, also worked with Logic Systems on Scottrade Center in St. Louis recently (see story, below).
Scottrade Center, St. Louis, MO
Home to the NHL's St. Louis Blues, the 18,724-seat Scottrade Center arena hosts nearly 200 events annually, including wrestling, boxing, basketball tournaments, concerts, ice shows, graduations and more, drawing some two million guests.
But like other venues of its vintage, the Scottrade Center's original sound system was not providing comprehensive audience coverage, full-spectrum music reproduction or excellent speech intelligibility. It now has that capability, thanks to an L-Acoustics Kara rig designed by Dallas-based consultancy Idibri and installed by local L-Acoustics Certified Provider, Logic Systems.
The new system, powered by 33 AVB-networked LA4X and one LA12X amplified controllers, has 90 Karas and 36 SB18i subs, in six equal arrays of 15 Kara and six SB18i. In addition, six ARCS II, configured in two clusters, are positioned facing straight down for ice coverage and special events.
The Kara design provides such even coverage of the bowl's seating areas that an option to add under-balcony speakers was abandoned the first day the system was turned on.
"L-Acoustics K2 was initially specified and provided 6 dB more SPL, yet Kara was eventually selected as it could meet actual SPL requirements for the arena and a tighter budget," explains Idibri's Ben Cating.
"The primary challenge was to place six arrays in precise locations in a building with asymmetrical steel and a labyrinth of 10-foot-diameter steel air ducts that always seem to be in exactly the wrong place," recalls Logic Systems president Chip Self.
The issue was solved by Kara's weight-to-power ratio. "It was lighter, more powerful, and required substantially less power than the other systems," Self explains. "As this project included a huge new scoreboard that weighs much more than the original, the weight savings did not necessitate the addition of any new steel."
The installation faced a tight timeline between sports seasons and other events. "We had limited access to the space," says Self. "Given lead times on equipment and the construction schedule, we had less than 60 days to complete the entire project. We did a great deal of pre-configuration and pre-assembly offsite, which made a huge difference in getting the project complete on time, and on budget."
In fact, recalls Cating, all of the Kara loudspeakers could be hoisted into place within a single day, allowing the crews to focus on wiring and tuning the system.
The result? "The final performance exceeded the predictions," Self observes. "If anything, L-Acoustics are conservative with predictions, which can't be said of all loudspeaker manufacturers. The intelligibility and directivity are spot-on, and there is headroom for days. Upon completion, the only change we've been asked to make is the installation of a 10Eazy SPL monitoring system to make sure it doesn't get too loud."
According to the center's group VP and arena general manager Alex Rodrigo, "Our fans and guests are now more engaged than ever and truly blown away by the difference that the new sound system has made."
Scottrade Center
Capacity: 18,724
Key Components: L-Acoustics Kara
Design: Idibri
Integrator: Logic Systems Sound and Lighting
Orlando City Stadium, Orlando, FL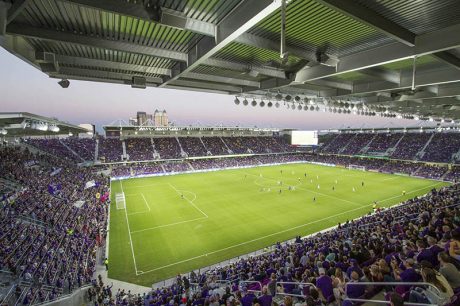 Built for fan comfort, engagement and convenience, Orlando City Stadium is the new home of the city's major league Orlando City Soccer Club. The stadium's 360-degree seating accommodates nearly 30,000 people with low-slung roofs shield fans from the Florida sun and rain. The roofs also purposefully amplify crowd noise to energize the game-day experience. A distributed JBL speaker system conveys announcements with intelligibility and music with fidelity and impact. Clair Solutions worked closely with all the stadium's design/construction firms to make its sound reinforcement system a success.
"WJHW [Wrightson, Johnson, Haddon & Williams] consultant, Gary White, designed the sound reinforcement, broadcast cabling, and video production systems," explained Clair Solutions project manager Tim Jacobs. Over the course of the roughly six-month installation process, Clair Solutions installed all of the audio for the building — including the bowl, VIP lounge, bathrooms, locker rooms and press area, as well as broadcast cabling and the video replay system. Working with Jose Sandoval, project manager for Barton Mallow, we were able to stay on schedule and deliver the finished product on time."
To ensure a smooth onsite install, the Clair team set up, programmed and tested the entire system under more controlled conditions at its facility in Manheim, PA. Dante digital audio and BSS HiQnet Audio Architect control are distributed from the mix booth to six separate amp rack locations over single mode fiber optics using Cisco SG500 switches. Harman BluLink distributes digital audio within each amp rack location, where Crown amps power the JBL Control 28T-60, AM7212/00 WRX, AW566 and PD6322/66 WRX speakers distributed throughout the facility.
A Soundcraft Expression 2 console is the main interface for the system, while a Soundcraft Si Expression 1 provides mixing in the video production booth. Extron switches and controllers link systems, and to save space within the venue, an externally positioned, stainless steel enclosure houses audio tie lines, Triax camera connections, fiber optic, data and video ties between the dock and camera positions around the stadium.
Orlando City Stadium
Capacity: approx. 30,000
Key Components: JBL Control 28T-60, AM7212/00 WRX, AW566 and PD6322/66 WRX
Design: WJHW
Integrator: Clair Solutions
Grant Fuhr Arena, Spruce Grove, Alberta, Canada
Sports are a big deal in the city of Spruce Grove, a thriving suburb of Edmonton, Alberta. A focus of that is the city's multi-facility "Agrena," which houses two hockey arenas and additional facilities. The complex's Grant Fuhr Arena and the Stu Barnes Arena are full-sized arenas available for ice sports in the winter and dry-land sports in the summer.
"It was time for new sound systems, not only because the old ones were worn out, but because people now expect better sound in their sports arenas," says the city's Craig Goebel. Edmonton-based AV systems integrator Production World brought a Bose Professional system design to the table. "We rely on professionals like Production World when it comes to technology," says Goebel, "but we certainly knew the Bose name and associated it with quality sound."
Over six days, the integrator removed the old components and installed the new Bose systems. In the Grant Fuhr Arena, the larger of the two venues, the sound system consists of four RoomMatch Utility RMU208 speakers for coverage of the rink area and eight Bose RMU206 speakers for coverage of the main seating areas. Eight Bose FreeSpace DS100F pendant loudspeakers cover the south end of the seating area. The RoomMatch speakers are driven by a Bose PowerMatch PM8500N networked amplifier, and a Bose FreeSpace ZA 2120-HZ powers the pendant speakers. System management is via a 12-in/8-out Bose ControlSpace ESP-00 Series II modular processor. The Stu Barnes Arena system has eight Bose RoomMatch Utility RMU206 speakers and a PowerMatch PM4500N networked amplifier.
Ken Greene of Production World, who supervised the bid and the sale, said the combination of RoomMatch Utility speakers and FreeSpace DS100F pendant speakers provided both venues with more precise coverage than they ever had. "The arena has a fairly low ceiling, so we couldn't use a big box loudspeaker or an array, but the Bose speakers fit the spaces perfectly. They're very compact, so you don't see them at all."
The install employed fewer speakers and amps than previously required. "We took out six amplifiers and were able to replace all of them with a single Bose PowerMatch PM8500N networked amp in the Grant Fuhr arena," says Production World's AV tech, programmer and project on-site foreman Matt Poles. "The PM8500N offers eight channels, so they can control the volume individually over the east/west bleachers and south side seating, as well as the front entrance area, the lounge areas, and directly over the ice, with the ESP-00 processor zoning all areas so each can be controlled separately. It's a very versatile sound system, but didn't require a lot of pieces."
The bottom line? "It sounds great, looks great, and it's much simpler to operate than what we've had before," says Goebel. "It's the ideal sound system for us."
Grant Fuhr Arena
Capacity: 1,259
Key Components: Bose RoomMatch
Design: Bose Professional
Integrator: Production World
Sun Devil Stadium, Tempe, AZ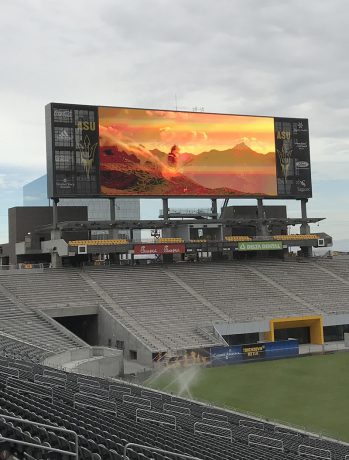 Arizona State University's "Sun Devil Stadium 365 Reinvention" project seeks to blend athletics, student life and the community into a multi-use facility that will be used 365 days of the year. To help accomplish this goal, the school called upon Wrightson, Johnson, Haddon & Williams (WJHW) to design a new sound reinforcement system with the flexibility the multi-use concept requires.
Mark Graham, audio consultant and associate principal at WJHW, designed an Eastern Acoustic Works Adaptive end-zone system that covers the 57,000-plus-seat facility with even SPL and extremely consistent intelligibility. Tempe, AZ-based Sound Image provided system integration and installation for the project
"We were familiar with Anya and confident this would not only provide the coverage the university required but also the flexibility to use the stadium for events that expand well beyond football games," adds Ben Davis, sales engineer, Sound Image. "They wanted a system that put sound only where it was needed. Not only would that help avoid unnecessary reflections, but it would be a far more efficient use of the system. Anya does that very easily. It was a perfect match."
Graham specified two Anya arrays, each hung to the left and right of the video scoreboard. Each array is made up of one main column of 16 Anya and an auxiliary column of eight additional modules — bringing the total to 46 Anya. Adaptive Performance manages coverage and directivity via Resolution 2 software. The combination allows the system to throw 650 feet from one end of the stadium to the other or scale it back for events that don't utilize the entire space.
Scoreboard underfill is covered by two more clusters — this each made of two QX544i and one QX564i speakers — hung under the main P.A. columns to ensure those directly under the end zone scoreboard have the same audio experience as everyone else in the stadium.
"There are a few seating areas with limited coverage due to structures that block sound," adds Davis. "In those cases, we are utilizing EAW MK8126i loudspeakers placed under the overhangs and directed to the far seating under the balcony so there's not a bad seat in the house. We also installed EAW CIS ceiling loudspeakers in the suites, restrooms, hallways and common areas, keeping the audio quality seamless throughout the space."
Davis concludes, "The client continues to be quite happy with the result. This has been a highly successful project for us."
Sun Devil Stadium
Capacity: 57,000+
Key Components: EAW Anya
Design: WJHW
Integrator: Sound Image
Hirsch Memorial Coliseum, Shreveport, LA
The Hirsch Memorial Coliseum had a reputation for being known for the worst sound for live concerts in the 1970's. Because of that, the renowned Texas trio ZZ Top used the venue for their tour rehearsals, knowing if they could get the sound good there, it could sound good anywhere they went.
The Shreveport Mudbugs, a new North American Hockey League expansion team, signed a 12-year lease agreement with the facility. As the new team prepared for their debut season, plans were put into place to upgrade the facility's audio system to increase the fan experience. Team owner Tommy Scott called on regional event production company Paxton Sound to explore and evaluate the best solution for the venue.
"After reviewing all of the options out there for this type of installation, I came to recognize RCF offered the best solution," says Paxton Sound principal Eric Paxton. The design for the 4,000 seat multi-purpose arena called for a center box truss system with four line array hangs, each comprised of five RCF HDL20-A dual 10" active line array cabinets complemented with a single HDL18-AS subwoofer.
"Usually a system like this gets hung for the first time, there is some minor angle adjustments and tweaking necessary," says Paxton. "With RCF's (Shape Designer) software, I found no changes were needed." The system called for two aiming positions, as the east and west arrays called for a longer throw in the rectangular shape of the arena. And, as reverberant as the building was known to be, "we only had to do some hard EQ on some of the low frequencies to tune the system."
In terms of vocal clarity and meeting the entertainment needs of the fan experience, "the system has exceeded our expectations," notes Mudbugs media manager Eric Tuxen. "It really sounds nice no matter where you are," adding, "The output capability, the strong range and with the absolute clarity, we're extremely satisfied with the system."
Paxton added "the system meets the performance needs, stayed within budgetary demands, and everybody is extremely happy with the results."
Hirsch Memorial Coliseum
Capacity: 4,000
Key Components: RCF HDL20-A Line Arrays
Design: Paxton Sound
Integrator: Paxton Sound
Mitr Phol Stadium, Huai Phai, Thailand
Mahajak Development recently installed a complete audio system by Harman Professional Solutions at Mitr Phol Stadium. Completed in 2016 and constructed to FIFA standards at the cost of over $9 million, this dedicated 10,000-seat soccer facility in Huai Phai, Thailand is the official home field of the Ratchaburi Mitr Phol football club.
To provide fans with an exceptional audio experience and clear intelligibility, team management hired Mahajak to perform its first stadium audio installation. Mahajak rose to the challenge, selecting a Harman system, including JBL speakers, Crown amps, BSS audio processors and a Soundcraft mixer.
"We required a customized audio solution for the new stadium that would deliver consistent coverage and vocal clarity for announcements and music performances," said Tanawat Nitikarnchana, VP, Ratchaburi Mitr Phol FC. "We're highly satisfied with the Harman system, which provides exceptional audio quality and perfect coverage, no matter where you are in the stadium."
The stadium's main P.A. features JBL Professional's PD500 Series, a line of horn-loaded loudspeaker systems with patented WRC weather protection and WRX extreme weather finish for outdoor stadium use. The respective 60° x 40°, 60° x 60° and 90° x 50° horn coverage patterns of the PD564-WRC, PD566-WRC and PD595-WRC speakers deliver clear and balanced coverage in the grandstands, the field and behind the goals.
Weather-resistant JBL AWC129 compact loudspeakers provide additional support for fans sitting beneath the roof of the upper deck. All system components are centrally controlled via BSS Soundweb London BLU-100 and BLU-50 audio processors, and HiQnet-integrated Crown CTs 1200 power amps. A Soundcraft M-Series analog console in the control room handles for live mics and music playback during matches.
Shure hardwired PGA58, SM58 and wireless UHF SLX24/SM58 mics are used for announcements, occasional musical performances and for the team's cheerleaders. RF distro is via a UA-844 antenna system with a UA830A in-line distribution amplifier and four UA8 ½-wave omnidirectional antennas.
Mitr Phol Stadium
Capacity: 10,000 seats
Key Components: JBL Pro PD500 Series; Crown CTs 1200 amps
Integrator: Mahajak Development
Golden Tornadoes Stadium, Union City, TN
The Golden Tornadoes football team of Union City High School started its season with a vengeance, with some help from a One Systems loudspeaker system designed and installed by Lowrance Sound Company, also located in Union City.
When the school chose to install a new video scoreboard, they decided it was time to upgrade the stadium sound. "The old system consisted of two speakers mounted to the press box on the home side," explains Lowrance Sound president Mark Lowrance. "The new scoreboard features a pair of One Systems speakers that cover both sides of the field effortlessly."
Custom Lowrance-designed cantilevered steel supports are welded to the top of the scoreboard where two One Systems Cross Field Array CFA-2/HTH loudspeakers were mounted to provide coverage for each side of the field. Two 118/HSB subs mounted to the bottom of the scoreboard add additional low-end output.
The CFA-2/HTH provides high intelligibility and acoustic output in long-throw applications. HF consists of two large-format compression drivers coupled to a two-inch constant directivity horn. LF is handled with four bandwidth-optimized 10-inch woofers in a 2 x 2 array.
The CFA-2/HTH and 118/HSB enclosures feature 316 (marine) grade stainless steel rigging; grills are 304-grade stainless steel covered in a newly developed polyester coating that lets the CFA-2/HTH be used in marine and inland direct weather environments.
"We had used the CFA-2's at Austin Peay State University last year and our experience was fantastic, so we knew they'd be ideal in this application," says Lowrance. "Plus, the system is driven by a QSC CXD-4.5na amplifier, which provides more than enough power to create tremendous SPL across the stadium. It's a great combination."
Golden Tornadoes Stadium
Key Components: One Systems CFA-2/HTH, 118/HSB subs
Integrator: Lowrance Sound Company
Śląski Stadium, Chorzów, Poland
Opening in 1956, Śląski Stadium (Silesian Stadium) in Chorzów was a symbol of Poland's post-war rebirth. Besides important and memorable matches, it has hosted concerts by bands like U2, AC/DC, Iron Maiden and The Rolling Stones. In 1993, the stadium became the home of the Polish national football team.
A long, difficult rebuild project began in 2009 and was completed in late 2017, with a current capacity of 55,211. The update also includes new stands, food facilities, lighting, video screens and sound systems.
Initial system design was by Dr. Piotr Kozłowski of Warsaw-based Acoustic Laboratory Pracownia Akustyczna, who approached Polish distributor Tommex to begin the gear selection. Local company NOMA2 handled the installation work.
The spec included an STIPA speech intelligibility of not less than 0.45 in an empty stadium. With a bandwidth of 60 Hz to 16k Hz, the system was required to deliver 105 dB at the stands and 95 dB on the playing field. And as an all-year venue, the sound system had to meet the IP55 enclosure weather seal protection and be up to surviving severe Polish winters.
The system designed by Tommex combined Dynacord electronics and Community speakers. The spectator stands are divided into eight zones, utilizing 119 Community R2-52Z three-way loudspeakers, supplemented by 40 R6-BASSHORNs. The raked seating creates theater-style balcony overhangs and the under-balcony seating/walkway areas are covered by 61 Community W2-2W8 speakers. The playing field is covered by four three-way R2-694Z speakers.
In the commentator room is a Yamaha CL1 digital mixer, Dynacord P64 matrix and Dante-to-MADI converters, with MADI as the format for linking the CL1 with TV or radio vans. A PC provides control and system management over optical dual-redundant Dante streams for audio and a third for IRIS-net communications to the speaker drive system. Amps include 40 two-channel Dynacord DSA 8209's and 47 four-channel DSA 8410's.
Both wired and wireless mics are used (with feedback eliminators). Zone microphones with automatic regulators adjust the signal according to the background noise level.
In addition to the main stadium systems, 80 Community speakers on pillars surround the facility, with 40 R.25-94Z's directed to the gallery and 40 ENT-FR columns serving the area between the stadium and the perimeter fence. Indoor rooms and public areas are covered by 108 Community I/O8 and 88 DS8 wall-mounted speakers.
A fully integrated audio warning system can take full priority and use the sound system for more efficient crowd control and fan evacuation in case of an emergency.
"We are very pleased with the sound system. It provides high intelligibility, great music quality and consistent coverage," says Marcin Zimny of Tommex. "It's also a system of which we can be proud, being the largest sound system installed in any sports facility in Poland."
Śląski Stadium
Capacity: 55,211
Key Components: Community R2-52Z (119) with 40 R6-BASSHORNs
Design: Acoustic Laboratory Pracownia Akustyczna
Integrator: NOMA2
Note this item got cut:
4 LUZ
Luzhniki Stadium, Moscow, Russia
Pics: 4-Luz folder
Pic: 4-1-Luzhniki.tif
Cap: The Luzhniki Stadium is one of Europe's largest soccer venues
Pic: 4-2-russian stadium crew 1.tif
Cap: Techs prepare one of the line array hangs
Built in 1956, Luzhniki Stadium is the national stadium of Russia, located in its capital, Moscow. With upcoming deadlines to host the opening (June 14, 2018) ceremonies and July 15, 2018 final game of the 2018 FIFA World Cup, a need for an equally world-class sound system was essential.
The newly renovated stadium is one of the largest soccer facilities in Europe with a seating capacity of 81,000 people. McCauley Sound, Inc. and its Russian partners completed the installation of a new ILA412/MLA3-2i system ahead of schedule.
Designed specifically for permanent installations, the ILA412 is a large-format, 3-way, axisymmetric line array system, each having four manifold-loaded 12-inch low-mid drivers, four 8-inch cone mids and six 1-inch exit compression drivers on a 80° x 10° slot-loaded waveguide. The MLA3-2i is a more compact dual-12 box with two 8-inch mids and a single 1-inch compression driver on a 90° x 10° horn.
Due to Luzhniki Stadium's open design, it was important to select a solution that was both weather-resistant and capable of providing seamless coverage and concert level sound to all seating areas. The installation consisted of 216 McCauley ILA412/MLA3-2i line array cabinets, the company's new ruggedized, weather-resistant, long-throw installation product.
The ILA412 / MLA3-2i was engineered to meet the strict FIFA intelligibility requirements, providing significant headroom above the crowd noise even with the largest audiences and designed to be capable of withstanding exposure to the extreme Moscow weather conditions for years to come.
Luzhniki Stadium
Capacity: 81,000
Key Components: McCauley Sound ILA412/MLA3-2i Line Arrays
Design: McCauley Sound
Integrator: McCauley Sound Russia Partners
Leave a Comment: