Five Club Projects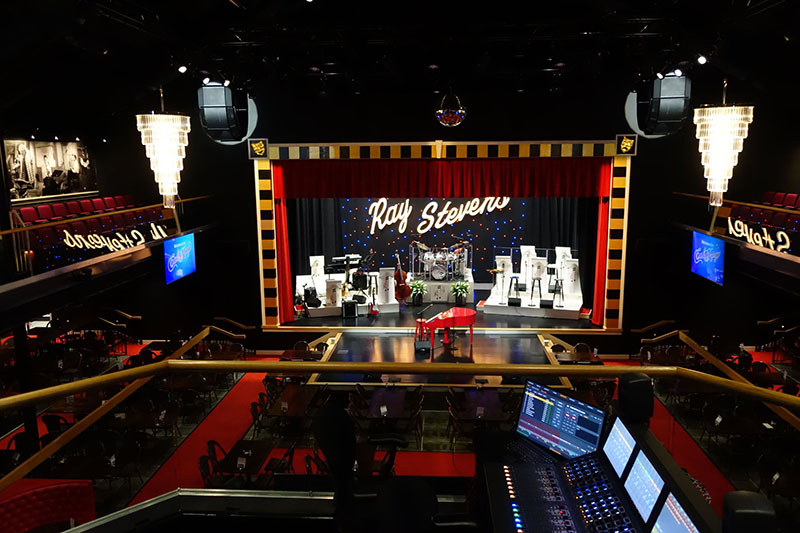 Recent Sound System Installs Take Nightspots to New Levels 
CabaRay, Nashville, TN
Singer/songwriter Ray Stevens has sold millions of records, from his comedy-centric hits like "Gitarzan" to serious work such as the classic "Everything Is Beautiful." He has a weekly variety TV show, owns recording studios and video facilities, and now the new CabaRay Showroom. It's a 700-seat venue in Nashville, with a RoomMatch sound system from Bose Professional.
Each side of the main stereo P.A. system uses one RoomMatch subwoofer atop a RoomMatch module and an asymmetrical RoomMatch module in an array at the top of the proscenium, with two more modules placed lower down at the balcony rail level on both sides. Two additional RoomMatch subs are beneath the stage thrust. Bose PowerMatch PM8500N networked amps power the main room system. Under-balcony areas are covered via 12 RoomMatch Utility RMU208 speakers as fills and delays, with four 12-inch MB12 bass speakers placed under rear balcony seats.
Bose FreeSpace DS 100F in-ceiling speakers — powered by another PM8500N — extend the audio reach into the foyer and public areas. Two Bose ControlSpace ESP-4120 engineered sound processors provide delay and other and speaker management.
The house console is an Avid VENUE S6L-32D-144, which is located in the balcony, but set sideways for a minimal impact on audience sightlines. Stage foldback is handled by 13 L-Acoustics X8 monitor enclosures, driven by three L-Acoustics LA4X 4-channel power amps. An Allen & Heath ZED-12FX analog console is available for utility mixes and/or submix chores.
The main audio system was designed by Steve Durr Designs LLC, the project's audio and acoustical consultant. "Bose RoomMatch has the ability to match the coverage pattern a room needs perfectly, without a lot of processing or electronics, because they can do it all through the loudspeaker waveguides," he explains. "You can hang a RoomMatch speaker on the wall, plug it in and it already sounds great."
Durr, who previously used RoomMatch on the Country Music Association's new world headquarters on Nashville's Music Row and Sony Music's Nashville showcase performance space, notes that the RoomMatch system is innately tuned for musicality. "RoomMatch crosses over at 500 Hz, well below the 1.1 to 1.5 kHz that most line arrays are set for, and that's right in the middle of the vocal range," he says. "That means RoomMatch has the clarity and intelligibility you need for music. You can hear and understand lyrics, so the emotion is always there."
CabaRay Showroom
Capacity: 700
Key Components: Bose Pro RoomMatch Line Arrays, Avid VENUE S6L
Audio/Acoustics Design: Steve Durr Designs LLC
Club XL, Harrisburg, PA
The newest and largest venue in south central Pennsylvania, Club XL, features a mix of live bands along with DJ's and EDM. The club features a complete light show, a high-energy sound system, LED video wall and video screens that simulcast the entertainment located throughout the venue.
Besides a large dance floor and elongated bar area an intimate VIP deck offers a luxury experience with comfortable couches and barrel chairs with superb sightlines to the stage. A patio area has seats beneath a 200-year-old tree, a stone fireplace, fire pits and views of the entertainment inside.
"Club owner Phil Dobson wanted a live music club with a full sensory experience," says Hershey Solutions owner Justin Hershey. Creating a hip club in an old warehouse space with cement floors, metal ceilings and glass garage doors was a challenge, and acoustic treatment was a key part of the design.
"The club owner was looking for a venue that could facilitate the needs of touring bands and DJs, while providing the audience with a Las Vegas club-style experience," says designer Justin Hershey, owner of integrator Hershey Solutions. When it came to choosing a sound system, Hershey teamed with local production company Alliance Audio, who recommended RCF. The design features 10 HDL20-A line array cabinets in left/right hangs, with four SUB9006-AS dual-18 subwoofers under the stage.
A provider of stages and systems for regional mid-size events, Alliance Audio owner Gary Greyhosky was aware of RCF's acceptance by national touring acts. "I knew RCF HDL20's were the right solution," Greyhosky says. "Plus, the low profile SUB9006's can fit under the stage and gave me enough low-frequency energy for EDM."
Greyhosky knows that sound is critical, yet "in this market we have to be conscious of inventory costs and event budgets. It's all about value." And with that, he simply stated, "RCF provides that answer, with enormous bang for the buck."
Club XL
Capacity: 700
Key Components: RCF HDL20-A line arrays
Designer: Hershey Solutions
Audio Integrator: Alliance Audio
Kuwa Nightclub, Las Vegas
Located inside the Fiesta Rancho Hotel and Casino, the Kuwa Nightclub is a new concept in Las Vegas where patrons can feel a Latin atmosphere combined with live and DJ-oriented music.
Los Angeles-based International House of Music (IHOMI) is a music/audio equipment supplier that operates an AV integration division. IHOMI was contracted to design and deploy the new sound system at the Kuwa Nightclub, along with lighting and video.
"The house mains consist of 16 Event 210A 3-way active line arrays, with eight enclosures each for the left/right hangs," says Oscar Naranjo Jr., IHOMI's sales manager and primary audio tech. "Positioned behind each of these clusters and slightly to the side, we placed D.A.S. Vantec 15A powered 2-way point-source enclosures to cover the outer edges of the balcony." Low-frequency support is provided by six Event 218A powered subs, with three cabinets each for the left and right sides — all positioned under the stage.
"For front fill," Naranjo continued, "there are two Action 8A powered point-source speakers. For the performers, there are eight Action M12A powered wedges, an Action 18A powered sub for drumfill and sidefill with two Vantec 215A powered 3-way systems over two Action 118A powered subs — one of each per side. Completing the entire system, the DJ's booth has an Action 8A as a monitor. A D.A.S. DSP-4080 4-in/8-out stereo/mono processor handles loudspeaker management."
Naranjo felt D.A.S. was ideal for the project. "The Event 210A line arrays' vertical and horizontal dispersion enabled us to provide even coverage throughout the nightclub — both the balcony and the main floor. Having all self-powered enclosures not only streamlined the cabling of the system and provided optimal power amplification for the various speakers. Their first-rate hardware simplified flying and mounting the various speakers and with a versatile DSP processor we ended up with one very potent, versatile system."
Kuwa Nightclub
Key Components: D.A.S. Audio Event 210A line arrays
Designer: International House of Music
Integrator: International House of Music
Elsewhere | Zone One, Brooklyn, NY
Pic: 04-DavidLevin.JPG
David Levin, technical director for the Elsewhere nightclub/performance space, selected a Waves eMotion LV1 live mixer for the venue's Zone One section.
Levin, who has worked as FOH engineer for such acts as Blood Orange, Nelly Furtado, Sofi Tukker and Icona Pop, spoke out about the console decision. "The main goals in choosing a desk for Zone One were sound quality, ease of use and flexibility. When I was introduced to the LV1, it took about three minutes to learn the basic functionality of the desk, and in under 30 minutes, I felt I had a full grasp of all its in-depth functions."
Zone One is a small, 250-capacity room and, "considering its price point, the Waves LV1 was the best solution," says Levin. "It accomplished our goals, and our engineers can choose from a huge sound palette of plug-ins that no other small frame console can provide."
Zone One presents nine shows and 27+ artists per week. "With a lot of touring guest engineers coming through, the console needs to be easy for them to become accustomed to. The LV1 layout is user-friendly and extremely intuitive, and the GUI is familiar enough so touring engineers can learn the basic workflow by the end of their first sound check on the system."
The plug-in availability was another plus, adds Levin. Genres of acts at Zone One range from indie rock to techno, to underground hip-hop. "The LV1 has all the tools we need," Levin says, adding that Zone One at Elsewhere is a monitor-from-FOH situation. "The LV1 has enough channels so we can dedicate some channels to monitors. This is particularly handy for things like vocals, where monitors call for a simple EQ with minimal processing, while the channel to the main P.A. could have well over four inserts. In addition, the ability to multi-track a show in-house has been great. The engineers are able to practice their skills with virtual sound check and really dig deep into all of the mixing options that the LV1 offers."
Perhaps most importantly, "the Waves eMotion LV1 sounds insanely good. The preamps are clean, and the summing is at the top of any class of console. This lets engineers create the vibe they want to achieve and explore all the flavor variations."
Elsewhere | Zone One
Capacity: 250 (Zone One)
Key Components: Waves eMotion LV1 Live Mixer
Audio/Acoustics Design:
Le Salon Daomé, Montréal, Canada
Le Salon Daomé opened in 2001 in a loft space that previously hosted dance classes. While the neighborhood became prized for its edgy vibe, complaints from newer residents about volume and traffic meant it was time to move. A Solotech team, led by audio technical advisor Patrice Lavoie, designed and installed an L-Acoustics system.
"It's a relatively simple setup driven by three LA8 amplified controllers, with four ARCS WiFo deployed as two Focus and two Wide per side with a center line of three SB28 subs," Lavoie says. "There is also a pair of X12 coaxials and an SB15 sub for the DJ booth, plus a couple of X8 deployed as delays. The room is pretty small and most club owners would have passed on the delays. But they help extend the same quality of sound found near the DJ booth all the way to the back of the room and the Daomé team was focused on having the best sound of any club of this type in the city."
Reliability is also crucial. "We're open six nights a week," says Daomé co-owner and DJ Nathan Burns, "and with this L-Acoustics system, we just turn on the amps and everything works every night." Lavoie agrees: "This system has to take a pounding pushing out that kind of music from the time the club opens until it closes. The fact that we can get the dynamic beat of the genres Daomé specializes in and still have the fidelity that L-Acoustics is known for made this a great combination."
"Things have been crazy here since we've reopened in our new location," Burns reports. "And a big part of the 'buzz' comes from the sound quality in the club, thanks to both L-Acoustics and Patrice's magic touch."
Le Salon Daomé
Key Components: L-Acoustics ARCS, SB15, SB18
Designer: Patrice Lavoie
Integrator: Solotech
Leave a Comment: