FOH Engineer Amanda Davis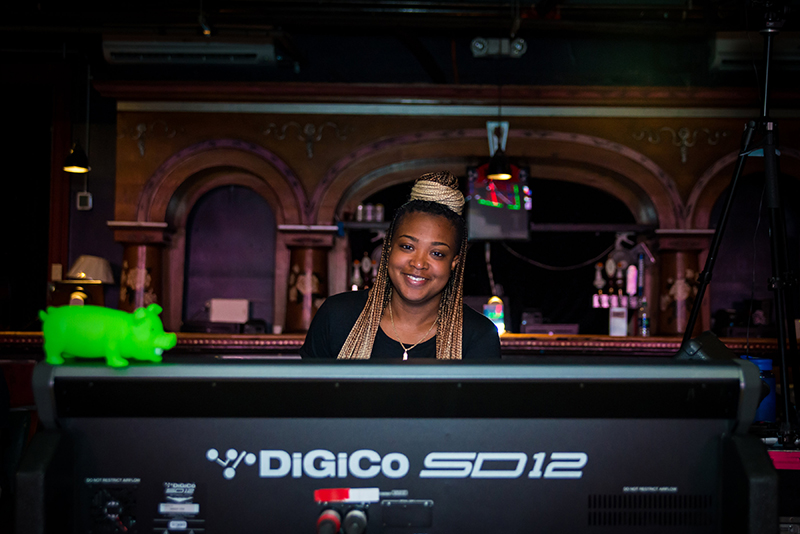 Amanda Davis is ready to rumble. We caught up with the 32 year old L.A.- based FOH engineer for Janelle Monáe, and quickly learned that while she likes to "sit in silence" prior to a show, she's not one to shy away from having the backs of her fellow tour mates. More on that later.
‡‡         The Artist
Janelle Monáe's ascension has been steady. From her Grammy-nominated first album, Metropolis: The Chase Suite (officially released in 2008), to her latest album Dirty Computer (2018), Monáe has been mentioned in the same breath as Bowie and Prince, two of her heroes. Her electrifying shows sold out across the country, from the June 11 Seattle date that began the tour to its conclusion at San Francisco's Outside Lands Festival on August 12, where she took the stage while battling a bad case of food poisoning. More recently, Monáe delivered another exhilarating performance — this time at the Voodoo Music + Arts Experience in New Orleans on Oct. 27. In terms of Monáe's impressive work ethic, Davis shared "She definitely inspires me to strive for greatness every time we hit."
‡‡         Beginnings
Davis' career has been nearly as meteoric as Monáe's, with whom she has worked with for five years. Born and raised in Memphis, TN, Davis was immersed in music from an early age. While R&B continues to be her "absolute favorite" musical genre, Davis attended college in Chicago with the goal of pursuing a career as an opera singer. Two years in, she discovered she didn't want to do it anymore, but did want to work in music. She took a "leap of faith" and went to SAE, focusing on studio engineering, later joining the faculty.
Following her graduation from SAE, Davis started doing live sound for a church. "That's how I discovered live sound — I just needed money," Davis laughs. "I was working at a Presbyterian church, and they know the music is important. It's part of the service and the experience, so they invest in it and invest in the people — the operators." Looking at it as both a way to make money and to learn, Davis recommended churches as a good way for aspiring FOH engineers to get their feet in the door.
Davis accepted a contract with a cruise ship and continued learning as much as possible. It was at the end of her contract that she got the call from Monáe's tour manager, Jeff Cohran, who remembered Davis from high school. "Jeff contacted me and asked if I'd be interested," says Davis. "Janelle is the first artist I ever toured with. I didn't know anything about touring. I was as green as they come, and just willing to learn and do whatever [was needed] to discover and grow."
‡‡         Life Lessons Learned
"All of my mentors were studio engineers, like Scott Kieklak, who mixed Beyoncé and Lil' Kim," says Davis. So when she got the Monáe call, Davis didn't have anybody to ask the basics like, "What should I get paid" or "what is touring like?" "I had to figure it out on my own and make mistakes. One thing Scott taught me is, if you don't know something and they call, always say yes, and then figure it out." The three most important things Davis says she has learned about touring are to "trust myself, pay attention, and don't over-pack!"
Davis credits her strong work ethic to her parents. She also credits her mother with her love of teaching and giving back to the community. Davis continues the practice modeled by her mother. She invites four to seven girls to shadow her and observe sound check throughout the tour with an initiative she originated called LineCheck! Women in Live Production. "The girls are able to see the behind the scenes of building a show. I'm able to take them onstage to show them how everything is set up. From audio to backline, they observe sound check followed by a Q&A." Davis says.
"Every time girls ask how to break in, I tell them that the main thing is to be nice to people," she adds. "We're in close quarters when we tour together and spend a lot of time together. The artist wants to know that you are easy to be around. They want to know what type of person you are, regardless of your talent." Davis credits her reputation for having both talent and being easy to get along with as major contributing factors in being hired for Tegan & Sara's tour. "I had worked with Anne-Lise Coulet two years prior on a Janelle show. She was my tech. We hadn't seen each other since and that's how Tegan & Sara found me — from that one time Anne-Lise and I worked together."
Another important thing Davis learned is how tight a crew becomes while touring together. "While on the bus after a recent show, someone yelled that the local crew was trying to pull something off our truck," she recalls. "All of us, including our stage manager, poured out of the bus." It turned out to be a simple misunderstanding. "Local crew thought we were trying to take their risers," Davis chuckled. "We all look out for each other, so we all poured out of that bus — the whole crew, and we were ready! Why do we need to steal some steps? Seriously? Is there a black market in steps? We rolled up like a schoolyard fight… all of us! It was so funny!" Fortunately, all was resolved without bruises or bloodshed, and no one got sent to the principal's office.
‡‡         Mix Philosophy
Davis was able to order the equipment she wanted this tour. "I had never toured with the DiGiCo SD12. It gives you so many options to lay out the console and it sounds good! I split my console in half with inputs on the left side of the console and outputs on the right. I live on my DCAs. I have a drum group, BGV group and vocal group," Davis says, adding, "I'm also using a Bricasti M7 reverb, Waves MultiRack SoundGrid, and Lake LM44 drive system. I don't go plug-in heavy, because I trust what DiGiCo is doing."
Davis notes that a technically challenging thing for her this tour has been "figuring out how the 737 really reacts," and she shares that the three indispensable items she will never tour without are "a USB with the Waves license, a USB with show files and a USB with backup show files."
Davis is mixing a five-piece band and is maxed out on inputs with 64. "I'm at 57 at FOH. I know there are bigger shows, but there's still a lot going on." She does not use a submix, saying, "I wanted control over all the keyboards. We have five keyboards and two keyboard players. The bass player also plays keybass. I didn't want to group anything. I wanted control over everything on stage."
As for mics, Davis is using the Lewitt DTP drum kit with a DTP640 on kick, MTP440 on snare, a DTP340 on toms, and for overheads an LCT340. Davis is very biased to drums, saying "I love a good crack of the snare and getting that kick to sit right."
Davis is sticking to Shure for backup vocals using KSM8 handhelds and a Sennheiser SKM 5200 with a 5235 capsule for Janelle Monáe. "I approach vocals how I think I would want it. I just hear it in my head as a singer," she says.
‡‡         Bumps in the Road
Touring without a P.A. is Davis' biggest obstacle. "Figuring out a different room every night can be a bit challenging," she says. When asked what her favorite venue has been so far, she cites a venue in Portland, OR. "We played Edgefield and that guy had his P.A. tuned so well, I didn't have to do anything." Noting that "I Got The Juice" and "Don't Judge Me" are her two favorite songs of the tour, Davis adds that she also loves when the crowd reacts to the dancers. "It's like, 'Oh yeah, this is a show!'"
Touring both as a woman and a woman of color can have some challenges. "I've been really blessed. I've only had one really bad encounter," Davis says. "The most challenging thing is when I walk into the room and they ask 'where's your Front of House guy?' and, 'Uhhhh, he doesn't exist.'" But she adds that the male crew members on this tour "have been very welcoming and happy that I am in the position I am in."
Davis credits her confidence and skills as an engineer as key to addressing challenges she may encounter. "You can't take on anyone else's issues. There is absolutely nothing I can do about the fact that I am a black woman. If you have an issue with that, we can't dwell on it, because that's not going to change. You need to figure out how to deal with it so we can get this show done. I know I can mix shows. I know I'm good at what I do, and I believe in myself. I try to express that any time a young girl comes up to me and says 'Oh my God, I've never seen a woman or a woman of color in this position.'"
‡‡         Smooth Sailing
Davis shares that she especially enjoys her time on the road. "I love mixing, so the show is my release. I get to create and figure out different ways to give the audience the experience they paid for." What about after the tour closes? When asked how she will spend her time, Davis replied, "I'll take a day and not get out of bed, then go find a mountain to hike and actually sit down and have a meal."
Bon appétit, Ms. Davis. Bon appétit.
Anthony Cavasin: The View from Monitorworld
Like Davis, Atlanta-based monitor engineer Anthony Cavasin started out performing before switching to engineering. Cavasin met Monáe early on, in a small club in Atlanta where she was performing in 2006. He joined Monáe as monitor tech in 2011 on a Yamaha PM5D-RH, before switching to a Yamaha CL5, which was better suited for touring. This most recent run, he's switched to the DiGiCo SD12.
"The entire band is on in-ears. We typically use Sennheiser G3's or 2050's," says Cavasin. He goes on to say that the musicians use a range of earpieces including UE, Westone and Sensaphonics. Cavasin taps Jerry Harvey Audio JH13's for himself, stating "I feel it's vital for me to have a neutral pair of buds."
Cavasin says he typically uses wedges and side-fills with Monáe, and usually runs a pair downstage center and uses a single wedge for guitar, and side-fills. However, on the Dirty Computer tour, they decided against wedges on deck for aesthetic reasons, and are only running side-fills to fill out the stage volume and "give some life to the deck."
Cavasin says they are using d&b and "they've been working out pretty well," and will be "trying ARCs on the Europe run to see if I like them better than the V8's for tops." Cavasin uses a dual-18 sub on either side to avoid competing with FOH and enjoys "experimenting with different configurations," switching it up to see if he can get better results. For Cavasin, it's all about coverage and clarity, so he is "a fan of d&b, Meyer and L-Acoustics. He has also used JBL and EAW.
Cavasin notes that his biggest hurdle on this tour has been consistency. "We strive for consistency on tour at all costs," he says. "Night after night, venue after crazy venue, regardless of the obstacles we face, from stage sizes, venue sizes, different rooms, clubs, nightclubs, theaters, SPL limits, curfews, different P.A.'s, local labor, union houses, gear breaking, malfunctions, injuries, sleep deprivation, language barriers, vehicle trouble, the list goes on and on. At every show, we need to coordinate our efforts, work as a team, know our individual roles, understand everyone else's job (and how we can help when needed), and when the doors open, we have to put on a successful show that represents our artist at their absolute best. No exceptions."
Janelle Monáe Dirty Computer Tour
Sound Company: 8th Day Sound
FOH Engineer: Amanda Davis
Monitor Engineer: Tony Cavasin
P.A. GEAR
Venue Supplied
FOH GEAR
FOH Console: DiGiCo SD12
Outboard: Bricasti M7 Reverb, Waves MultiRack SoundGrid
Drive System: Lake LM44
MON GEAR
Monitor Console: DiGiCo SD12
Side Fills: (4) d&b Audiotechnik V8s, w/B2 subs
IEM Hardware: Sennheiser 2050
Mics: Sennheiser SKM 5200 with 5235 capsule (Janelle vocal); (3) Shure KSM8 handhelds (BG vox); Lewitt DTP Beat Kit (drum mics)
Suzi Spangenberg is a freelance writer based in the San Francisco Bay Area.
Leave a Comment: