Product Hits of InfoComm 2018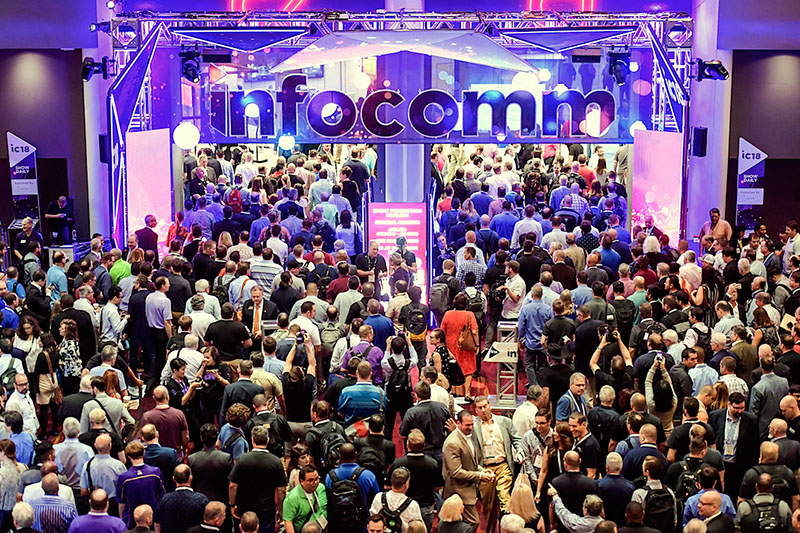 From June 2 to 8, 2018 A/V communications and systems contracting professionals flocked to the InfoComm show, which returned to the Las Vegas Convention Center for its annual expo. The turnout was high, attracting nearly 43,000 registered attendees — 10 percent more than the last time InfoComm was held in Las Vegas in 2016. To be sure, most of those convention goers were transfixed on the dazzling exhibits of video walls, hi-def projection systems, intercoms, automation panels and transducers — ranging from ceiling speakers to line arrays, but on the audio side, this year's technology push seemed to be centered on mixing consoles and loudspeakers. Let's look at a few examples of that trend.
Consoles Take the Lead
Allen & Heath's (www.allen-heath.com) 96kHz XCVI FPGA engine drives its new SQ-7, a 33-fader/36-bus digital console with 48 channels as 32 mic preamps and eight onboard FX engines with dedicated effects returns. For in-ear monitors, SQ-7 provides 12 stereo mixes (configurable as groups or auxes), while Automatic Mic Mixing makes it a suitable choice for conferences, panel talks and more. It also features a 32×32 USB record/play interface, AES output, 16 softkeys/eight rotaries (all assignable), 7-inch central touchscreen, 64-channel I/O audio networking port and more. In collaboration with Shure, Allen & Heath also released its dLive V1.7 firmware – a major feature upgrade for its flagship digital mixing system featuring support for Shure's Axient Digital ULX-D and QLX-D wireless systems.
Ashly Audio (www.ashly.com) is now shipping its digiMIX18 digital mixer, which features intuitive mix functionality that pros and beginners will appreciate – with real buttons and knobs, intelligent fader and meter bridge, a 7-inch touch screen interface, and has a free iPad app for wireless remote control. Additional features include 18 inputs, 12 output buses, comprehensive EQ and dynamics processing, two effects engines, auto-mixing functionality, optional Dante digital connectivity and supplied rack-mounting hardware. MAP is $899.
Avid (www.avid.com) was showing its expanded its VENUE | S6L family of live sound systems, with three new control surfaces, a new engine and two new I/O racks — all on a unified platform with 100% show file compatibility. Five available surfaces (with 16 to 48 faders) include the new S6L-48D, S6L-24C, and S6L-16C, which can be paired with a choice of three engines, including the new E6L-112, and connected to any combination of four I/O rack options, including the new Stage 32 (with Dante support) and Local 16. Shipping begins later this year.
Crest Audio (www.peaveycommercialaudio.com) launched its new XD-16 and XD-28 small format digital mixers. Available in 2-rackspace chassis, with 16- or 28-channel frames, XD Series offer optional 4×4 Dante networking as well as an integrated Wi-Fi module for remote control and monitoring from any Android, Windows or iOS device.
DiGiCo (www.digico.biz) is shipping its Quantum 7 software for the popular SD7 console. Based on 7th-generation FPGA devices, Quantum 7 expands an SD7 to over 600 channels of processing in 96k Hz operation and connecting to nearly 3,000 potential I/Os. The engine has eight assignable MADI connections and two DMI slots (DiGiCo Multi-Channel Interface) for AoIP and other connectivity options. Other enhancements include Nodal Processing (applicable to any node on the board's aux section) and True Solo that speeds managing the potentially daunting number of available channels and buses.
Dan Dugan (www.dandugan.com) proved that power can come in compact packages. The new E-2A automatic mic mixing controller incorporates 28 channels of processing (12 balanced analog plus 16 ADAT) and supports all Dugan algorithms — Speech System, Music System and Gain Limiting. A six-bus pre/post matrix mixer with 56×6 capability is also provided. Four switched Ethernet ports are available for control. A bright OLED display enables fast, easy setup from the front panel or use the included Dugan Control Panel for Java, or optionally — the Dugan Control Panel for iPad or tactile control via the Dugan Model K Control Surface.
L-Acoustics (www.l-acoustics.com) announced an AAX DSP version of its L-ISA (Immersive Sound Art) source control plug-in for Avid's VENUE | S6L console's control surface, allowing sound engineers an expanded range of consoles in which they will be able to use a familiar workflow to manage immersive environments easily and intuitively. This integration offers many benefits in terms of show portability and live interaction, and the L-ISA loudspeaker layout can easily be adapted to location changes, while maintaining the spatial properties of the mix. Not to be outdone, DiGiCo's SD range of mixing consoles offer native support of L-Acoustics' L-ISA, for versatile object-based mixing technology directly from the console surface.
PreSonus (www.presonus.com) showed its entire StudioLive console range (including the new StudioLive 24.4.2AI) and announced expanded StudioLive plug-ins. Four Fat Channel plug-in models of classic PreSonus hardware processors are free, while additional Classic Studio, Modern Classics and Vintage Channel Strips bundles may be purchased individually.
QSC (www.qsc.com) announced a free Version 1.3 firmware upgrade for its TouchMix-30 Pro digital mixers. Making two independent processors available to all of the mixer's 24 mic/line inputs, it now offers an easy-to-use Auto Mix function for advanced gain sharing capabilities for conferences, presentations, panel discussions and theatrical sound reinforcement. Available now, Version 1.3 is a free download at the company's website.
Radial Engineering (www.radialeng.com) is shipping its Presenter mixer. Designed for grab-and-go gigs, this compact unit combines a mic preamp and a USB program input intended for presentations such as school lectures or corporate audio. The USB input connects to a laptop for high-quality audio playback and provides power, eliminating the need to carry around a separate power adapter; a 3.5mm stereo input jack is also provided. The XLR mic input has low and high EQ controls and a low cut filter. The mic and playback signals are mixed to stereo XLRs, for connection to a P.A. or powered speakers.
Solid State Logic (www.solidstatelogic.com) expanded its Live series offerings with the new L100 console. The compact, 12 + 2 fader frame (plus 17" touch screen), is expandable with the new SSL Remote Tile, and more screen space can be added via an external touch screen and iPad/Android control. Standard are 96 audio paths, configurable with up to 64 input channels, 36 aux sends, 12 stem groups, 12 VCAs and four masters. A 4×32 input, 12-out matrix is always available. The L100 Live console offers showfile compatibility across the entire SSL range (and all of the same I/O options) and it's available now.
Studer (www.studer.ch) is shipping its Vista 5 Black Edition console. It's available in 22/32/44-fader sizes, and standard features include the Vistronics interface and FaderGlow technology, as well as Studer's Infinity Core's advanced capabilities such as Dynamic EQ plug-ins and full Core redundancy with up to 1,000 MEQs (Mono Equivalent Channels) and support for the Infinity Core 300, 600 and 1000.
Yamaha (www.yamahaca.com) unveiled Dante-equipped Rio3224-D2 and Rio1608-D2 I/O rack units for its Rivage PM Series, including the new Rivage PM7 digital mixing system, but also useable with its smaller CL and QL consoles. Yamaha also announced firmware updates for its CL and QL consoles that will increase the number of supported Dante devices, including a total of 10 products such as digital wireless receivers, microphone preamps, processors, and more, from Rupert Neve Designs, Sennheiser, Shure, Sony, Stagetec, Nexo and certain Yamaha speakers and matrix processors.
Speakers: Loud and Louder
Adamson Systems Engineering (www.adamsonsystems.com) showed its new IS7p and IS10p point source loudspeakers, which expand its IS-Series. The two-way IS7p has twin 7-inch Kevlar low/mid drivers and a 1.4-inch exit compression driver. The IS10p is also a two-way design, but with two 10-inch Kevlar woofers and the same 1.4-inch exit driver, with both speakers featuring new rotatable waveguides offered in 70° x 40° or 100° x 50° dispersions.
Anchor Audio's (www.anchoraudio.com) portable P.A. systems feature a new wireless platform and long-life, reduced-weight lithium-ion batteries. New 1.9 GHz AnchorLink RF systems feature automatic frequency hopping for clear operation. All P.A. systems can host two optional dual receivers, for up to four wireless mics.
Bose Pro's (http://pro.bose.com) expands its ControlSpace sound processor line with new DSP models and digital wall controllers. For small-to-medium applications, the CSP-1248 and CSP-428 serve as standalone DSPs in commercial applications, such as stores and restaurants. Bose also updated its ControlSpace ESP fixed-I/O engineered sound processors. The new ESP-1240A, 1240AD, 880A and 880AD variants use ControlSpace Designer software and offer options for Dante networking and Bose AmpLink connectivity.
Clair Brothers (www.clairbrothers.com) showed its 10SPOT, a compact speaker combining Clair's Curved Array Technology with its One Series coaxial horn. Wide bandwidth, wide dispersion and four integral mounting points make it suited for installs near ceiling-to-wall intersections in club/bars, performing arts centers, houses of worship, arenas and auditoriums.
CODA Audio (www.codaaudio.com) demoed its U Series, with three new multi-purpose subwoofers — the single-12 U12 and U12i (a slimline wall-mount version) and the compact single-15 U15 universal sub. All feature high power handling and ultra-low distortion woofers for tight, accurate bass. The new models complement the existing U4-SUB, a high-output double-18 box. Optional CODA Audio LINUS amps add DSP control, network remote control and diagnostics.
D.A.S. (www.dasaudio.com) demoed its birch ply Vantec-20A 1,500W curved source line array, designed for mid-size reinforcement and installs. DAScontrol offers quick array setups and easy alignment without external processing using presets from the 20A's rear panel. Options include rigging bumpers, transport dollies, protective covers, locking pole mount and the 2,000W Vantec-118A powered sub.
d&b audiotechnik's (www.dbaudio.com) next-generation, large-format GSL system made its InfoComm debut. The system is based around the SL line array, which has two (80- or 120-degree) 4-way boxes with dual 14-inch woofers, two side-firing 10-inch drivers, a horn-loaded 10-inch cone MF and three 1.4-inch exit HF drivers. LF is handled by flown and/or ground subs with two forward 21-inch woofers and a rear 21 to create a cardioid pattern. The company also had ongoing demos of its Soundscape immersive hearing toolbox, which operates on d&b audiotechnik's DS100 platform, empowering sound designers and engineers with multi-dimensional source placement, acoustic room simulation and signal matrix processor capability.
dB Technologies (www.dbtechnologies.com) expanded its ViO series with the ViO L208, a 2-way active line array with dual 8-inch neodymium woofers and a 1.4-inch neodymium compression driver, all behind a waveguide that creates a cylindrical wavefront for greater HF throw. Each ViO L208 module is driven by a Class-D, Digipro G3 900W amp module with FIR filters. ViO series options include single-, dual- and triple-18 subwoofers. Also on display was the latest version of Aurora Net — cross-platform software that allows complete real-time monitoring and control of dB Technologies' RDNETable sound reinforcement systems at a glance, with customizable DSP control and digital audio management over Dante.
Eastern Acoustics Works (www.eaw.com) unveiled the RSX212L line array and flyable single-18 RSX18F sub, which expand its popular RADIUS series of touring and install products. Both utilize EAW's Focusing and Dyno technologies to deliver clear impulse response throughout the coverage area, while the EAWmosaic application tackles prediction, control and monitoring. The two-way RSX212L line array has two 12-inch woofers and two 1.7-inch voice coil compression drivers. Onboard infrared sensor and accelerometers enable EAW's OptiLogic technology to pre-optimize the array to reduce setup/tuning time. The powered enclosures include Dante connectivity for single-cable audio and communications, while every RADIUS speaker has an integrated wireless router connection.
EM Acoustics (www.emacoustics.co.uk) unveiled its HALO-A large-format line array system with two 12-inch LF drivers and four 1.4-inch exit HF drivers on a 90-degree horizontal dispersion plane-wave array. Frequency response is 48 Hz to 19k Hz (±3 dB). The ported birch plywood cabinet is finished in textured tour-ready polyurethane (black, white or custom RAL colors) with biamplified Neutrik speakON inputs.
FBT (www.www.fbt.it) introduced new active column arrays — the VERTUS CLA 406.2A and VERTUS CLA 206A — both designed for both installations and fast setups in portable applications. Options include a flybar for easy hanging, a foldable floor stand offering a choice of angles from 0°-10°, and a bracket for coupling two enclosures at angles of 0°- 20°. The accessories connect via M10 screws for installs or quick-release pins for mobile use.
JBL Professional (www.jblpro.com) announced the VTX A8 dual 8-inch line array and companion B18 single-18 subwoofer, designed to bring its flagship VTX A Series technology to small- and mid-size applications. The VTX A8 has two neodymium woofers, midrange drivers with JBL's patented Radiation Boundary Integrator (RBI) and the same 2-inch compression drivers as the larger VTX A12.
Martin Audio (www.martin-audio.com) intro'd its TH Series all-horn, three-way vertical and horizontal systems designed to complement its CDD and Blackline X products for nightclub and large-scale installs. LF is based on a 15-inch horn-loaded driver with a water-resistant cone, a 10-inch aluminum cone MF and a 1-inch exit neodymium compression driver. It's shipping now. Martin also expanded the versatility of its O-Line micro line array with new iKON amplifiers and updated DISPLAY array optimization software.
Meyer Sound (www.meyersound.com) introduced the UP-4slim ultra-compact installation speaker, for applications that demand high performance and exceptional power-to-size ratio. The three-way system's all-aluminum enclosure has two 4-inch cone drivers, a 1-inch metal dome tweeter, 500W 3-channel amplifier and dedicated signal processing. Bandwidth is 65 Hz to 18 kHz. As with the other 14 loudspeakers in the IntelligentDC range, the UP-4slim receives balanced audio signal and 48 VDC from a remote, rack-mount power supply/signal distribution unit, so conduit for the cabling is not required in most jurisdictions. Connections are via a single 5-conductor cable with 5-pin Phoenix termination. An optional Remote Monitoring System provides a display of speaker operating status on a Win or Mac computer.
Peavey's Crest Audio Division (www.peaveycommercialaudio.com) made the North American debut of the new Versarray PRO powered 3,000W line array from Crest Audio. Designed for mid-sized applications (install or portable) the Versarray PRO VR112 line array element and the VR-PRO 215 sub feature integrated Dante networking, built-in DSP and innovative flying hardware — in a versatile, easy-to-set-up, networkable package.
RCF's (www.rcf.it) NX Series active 1,400-watt, two-way speakers share features from RCF's popular TT+ series, including the rigging points and FiRPHASE technology in a rugged, Birch ply enclosure. Designed for everyday rental/production use, the speakers can be used standalone, with a subwoofer or flown. The NX 32-A is a 12-inch two-way system for medium to large events; the NX 45-A is similar, but with a 15-inch woofer for deeper bass performance. RCF also showed updates for its VSA Series digitally steerable sound columns, including adding RDNet control. The multi-driver, multi-amplified VSA (Vertical Steerable Array) integrates DSP processing to control the vertical acoustic dispersion, directing the sound field to any specific listening area. Programming/steering can also be done through a VSA Smart IR remote control via an iOS or Android phone.
VUE Audiotechnik's (www.vueaudio.com) hm-115 high definition stage monitors are positioned within the company's hm-Class line between VUE's hm-112 and hm-212 product offerings. Features include precise, beryllium-infused HF transducers and a companion rack-mount V4 VUEDrive Systems Engine with advanced DSP capabilities. The hm-115 promises to serve as a fully integrated, electro-acoustic monitoring system with impressive output and fidelity for the most demanding fold-back applications.
Yamaha (www.yamahaproaudio.com) previewed new lines of powered (DZR/DXS-XLF) and passive (CZR/CXS-XLF) speakers and subs. Incorporating 96k Hz DSP and advanced FIR-X tuning, the DZR and DXS-XLF models will be available with Dante integration. The CZR and CXS-XLF series are designed for installs where power amps are used remotely. All feature plywood cabinets with flypoints for eyebolts and U-brackets for convenient flying and hanging. Shipping begins summer 2018 (regular models), with Dante-equipped models due in winter 2018.
Production Essentials
Audinate (www.audinate.com) — the folks who brought us Dante — were everywhere, and it seemed that nearly everyone is getting on the Dante bandwagon. Just about anywhere you looked, you could see companies simple adapters and breakouts to go from either Dante to analog or analog to Dante or both in a single unit. A counted at least a dozen or so products in this new category, from Amphenol, Focusrite, Neutrik (its new NA2-IO-DLINE is show here), ProCo, Sommer Cable — and even Audinate themselves! So I guess if you haven't gotten involved in Dante, this is your big chance. And as most of these are plug-and-go, there's no excuse to dive right in.
Countryman (www.countryman.com) launched the H7, a new headworn microphone offering a side-address capsule that's water resistant, and maintains a tight cardioid pattern that remains consistent across the audio frequency range, ensuring uncolored on- and off-axis response and broad reduction of feedback and surrounding noise. It weighs less than 7 grams (0.25 oz), easily adjusts to fit different head sizes and comes in a choice of four colors. MSRP is $599.
Hear Technologies (www.heartechnologies.com) is shipping its Hear Back OCTO. The next evolution of the Hear Back 8-channel personal monitoring system, OCTO is affordable and works with headphones, wired and wireless in-ear monitors and/or conventional floor monitors. The 8-channel personal mix modules are easy to use and a standard Cat-5e cable carries power and signal connections, with support of up to 128 channels.
Pliant Technologies (www.plianttechnologies.com) has begun delivering its CrewCom professional wireless intercom system, which can be simultaneously used in both 2.4 GHz and 900 MHz frequency bands. Its new technology platform offers high wireless user counts, long-range operation and versatile scalability for a wide variety of installation projects for live sound, broadcast, industrial, theatricals and more.
Rupert Neve Designs (www.rupertneve.com) is hardly an unknown name in the live market, but the company made its first InfoComm appearance to exhibit the new RMP-D8 8-channel remote mic preamp with Dante and AES outputs. We reviewed the RMP-D8 in this issue (page 38) and, given its excellent performance, look forward to more live-oriented RND products in the future.
Sommer Cable (www.sommercable.com) debuted the SYSBOXX, a modular panel system for rack, wall, floor, desk and duct installations. SYSBOXX features more than 100 modules to choose to create a personalized panel configuration. Connector modules use easy to install flat ribbon cables for simple internal wiring. A striking professional look is achieved through countersunk screw heads and an attractive anthracite coating.
Whirlwind (www.whirlwindusa.com) was showing its UL-listed PL-PM1RJ power meter, designed for monitoring voltage, current and frequency on 3-phase Y power with three 120 VAC legs — or single-phase AC with two 120 VAC legs. The PL-PM1RJ monitors line-to-neutral and line-to-line voltages and line current values, along with neutral-to-ground voltage and line frequency. You can also remotely monitor power distribution parameters from a laptop, tablet or any smart phone in real-time from any location or multiple locations simultaneously. The PL-PM1RJ can be used with both portable and permanent AC power distribution systems.
More To Come!
 We will be covering more new gear from InfoComm 2018, both online at fohonline.com, as well future print editions. Meanwhile, InfoComm 2019's exhibits return to Orlando from June 12 to 14, 2019. Order those Disney World passes now!
Leave a Comment: