See Factor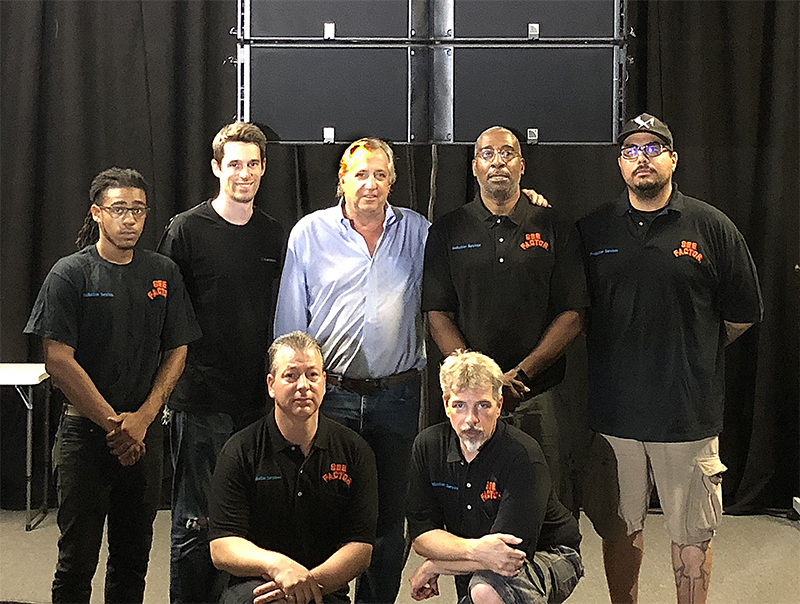 Legendary Company Makes Their Move and Plans for the Future
See Factor's new location at 30-30 60th Street in Queen's Woodside neighborhood is only a mile from the original site, which it occupied for most of the company's 40+ year history, up until January when the transition began. The new space totals over 50,000 square feet, plus an additional 5,000 square feet of office space upstairs, which includes 10 offices, a reception area and a conference room. This will provide additional space for See Factor and its indie contractors, as well as offices for strategic partners that will be using space there. The current staff averages about 40 full time employees, as well as a large number of top-notch New York freelancers.
‡‡         Efficiency is Everything
"Our attempt to make it as efficient as possible in every way has been a challenge," admits Mark Friedman, executive VP and managing partner of See Factor Industry, of this new warehouse. Headed up by Alban Sardzinski, See Factor's senior project manager, the staff plotted out the new layout.
"We're trying to be as vertical as possible and have as much open floor space as possible," continues Friedman. "We purchased various different electric warehouse lifts to make things as efficient as possible, so one person can go pull a few thousand pounds of cable down from a high shelf."
The concept of this central warehouse space is to feed everything from all four sides into one space in the center for prep. "It has proven to be really efficient."
‡‡         Expanding on Audio
See Factor's audio department provides equipment and services the concert, touring and corporate market nationally. Additionally, its installation division has designed, sold and installed audio systems in many prominent venues in the region including Webster Hall, The Hammerstein Ballroom, Terminal 5, Brooklyn Steel, iHeart Radio, Elsewhere and many more. See Factor has also excelled in some more specialized areas like providing audio for movie premiers in non-traditional screening environments. "We have designed and deployed 5.1, 7.1 and Dolby Atmos systems in venues ranging from Radio City Music Hall and Lincoln Center to the Jacob Javits Convention Center," says Friedman.
‡‡         Onboard with L-ISA
One of See Factor's flagship relationships is with L-Acoustics, whose L-ISA immersive audio concept is the next big project from that company's founder Christian Heil. "His first game changer in audio was designing the first line source array speaker, which completely changed the face of live audio," says Friedman. "Before that, there were scads of point and shoot boxes up there. Now you can't even remember what that looked like. Every concert you go to is a line source array."
Friedman believes that the L-ISA system will be Heil's next big contribution to the evolving world of live audio. With that in mind, See Factor has built an L-ISA programming room in conjunction with L-Acoustics. It is approximately 20 by 20 feet in size and features a 23.1 L-Acoustics system as well as all mixing and processing equipment needed to demo and create original multi-channel content. This will only be the third L-ISA programming suite in the world after the first one in London, where L-Acoustics developed the system, and in Westlake, CA, at its North American headquarters. "We've used it to create immersive audio out at the Coachella and Panorama festivals for the domes they built out there," says Friedman. "It was the first time it was deployed here."
Rockers alt-J played Forest Hills Stadium (Queens, NY) in June using the L-ISA system in a full 360° live sound show for the first time on a stadium scale with great success. "There were seven speaker arrays across the front of the stage to create a continuous sonic landscape that connects the audience to the artist in a fascinating way, as well as L-Acoustics SYVAs all around the stadium for a fully immersive surround experience," Friedman says. "All of it was controlled by the L-ISA processing system live during the show. It was incredible. This is the type of production — as well as Broadway and themed-entertainment projects — that we will welcome in the L-ISA studio for pre-show mix and content creation."
‡‡         Demo/Training/Rehearsal Space
Adjacent to the programming suite is a large rehearsal space with a full overhead rigging grid. It will be a space for training on lighting and audio consoles, video and media servers, along with L-Acoustics speaker demos and systems training. "I was just out at InfoComm, and there are a lot of people interested in doing product demos but also training on their new gear," says Friedman. "I think the more people and the more products you have passing through, the more interesting ideas can evolve from it. I think a lot of our manufacturing partners are going to use this for trainings and seminars and demos. It is a very good collaboration, and there is a lot in the pipeline already."
‡‡         Building a Community
The aforementioned office space upstairs, with its 10 offices, a reception area, and a conference room, will tie in with another plan for the new See Factor space. Friedman will be offering some space to others who could also plug into a larger network. One of those people is production and lighting designer Myles Mangino, whose company Highlt PDS Inc. occupies the nearby previz studio space.
"A big part of what I'm trying to do with See Factor next door is have a more collaborative, creative production community here," Mangino explains. "See Factor has this beautiful new building here, and are able to expand the company. They're bringing in some laser vendors, video content producers and video, and they have this incredible 3-D sound studio that's being built. I believe the previz studio can go hand in hand with that."
"We are really trying to curate an interesting bunch of people under this roof from multiple production disciplines, to create a little think tank," notes Friedman as we walk through the new office space. Even if people are working completely independently on their own projects, he feels the chance for cross-pollination of ideas between disciplines such as lighting, sound, video, automation and lasers could lead to easily accessible answers to the question, "What could we do to solve this problem?" Adds Friedman, "I'm hoping to create solutions to problems and concepts that we're not even thinking about, but it will evolve and be this amorphous process."
The goal in having all of this technology and access under one roof, Friedman explains, is "to have a nice cross section of well-seasoned veterans in the industry, from their respective disciplines, as well as people who are creating incredible content and ideas in their living rooms. I think very interesting things can happen."
By having the L-ISA suite tie in with the lighting, programming, previz and video content services that will be available in their complex, "it will be a great way to integrate them all at the earliest stages of conceptualizing something for a production, corporate activation or a tour."
‡‡         Continuing the Legacy
See Factor is now owned and run by Annemarie See and Mark Friedman. Friedman thinks that See Factor's late founder Bob See would approve of the conceptual direction he's taking the company in, noting the challenges of the past as well as the concept that one must change their business model over time. "You could say the same when Bob started," says Friedman. "He was an incredible innovator, because if you wanted or needed something, you had to make it. There was nothing off the shelf. Now anybody with some deep pockets and a little ego or a desire to get into the entertainment production business can go buy a bunch of gear and hire some people. And voila, you've got a production company — although not necessarily a good production company."
Friedman himself has adapted with the times. His first company, a small upstart called American Speaker Systems, which was renamed American Sound before merging with See Factor, started in the mid-1980s. "Things were going extremely well for American Speaker Systems, and then there was a void in the management on the sound side of things, which was still relatively new then at See Factor," recalls Friedman. "Bob's path and my paths crossed more and more in the New York production scene, and the collaboration made sense."
"Back when Bob started, there was nothing here," continues Friedman. "In those early days, first of all, you figured out what you needed. Then you had figure out how to make it right. Every little thing was a challenge. One of the things that we saved from back in the old shop is a welding jig for some of the first truss that Bob made back in the '70s. Now it's unheard of, making your own truss. You buy it from somebody." The piece hangs by the loading dock as a reminder of those innovative times. (Incidentally, it's fun to take a look through the history represented in the company's administrative offices, including an encased model of Billy Joel's fall 1978 tour set, and a collection of original hand-drawn lighting plots spanning Rush to the Rolling Stones and Lou Reed to Live Aid.)
‡‡         Into the Future — and Beyond
Asked what keeps him excited about the business after 35 years at See Factor, Friedman replies that doing something new like this transition and expansion is both tremendously challenging and gratifying. "I'm very excited about what we're doing here, not just on the level that we're talking about, but creating something that's fun and efficient. This kind of problem solving is challenging, whether it be making the warehouse efficient, making the warehouse energy efficient, or making everybody at work here happy. They're all tough problems to solve. Most importantly, See Factor has a fantastic, dedicated staff, many who have been here for years, and all are committed to our future and mutual success."
From problem solving to forward thinking, Friedman and See Factor have plenty on their plate. "This is the vision of what we'd love this to evolve into," clarifies Friedman. "We don't want to be the biggest rental company. We don't want to have the biggest inventory. But we would like to be the most interesting and creative."
Company Snapshot
See Factor
Contact Info: See Factor Industry, Inc.; 30-30 60th Street, Woodside, NY 11377; 718/784-4200; seefactor.com
Description: See Factor is a full-service production, sound and lighting rental company for film, television, video and live events. The company — founded by industry innovator Bob See, who started tinkering with lighting and staging solutions for bands performing at Bill Graham's Fillmore East venue from 1968-1971 — merged with American Sound in the mid-1980s. American Sound was founded as American Speaker Systems by Mark Friedman, who joined See Factor through the merger and now serves as the company's executive VP and managing partner.
For more on See Factor, visit www.seefactor.com.
Leave a Comment: