Top Tours of 2017: Metallica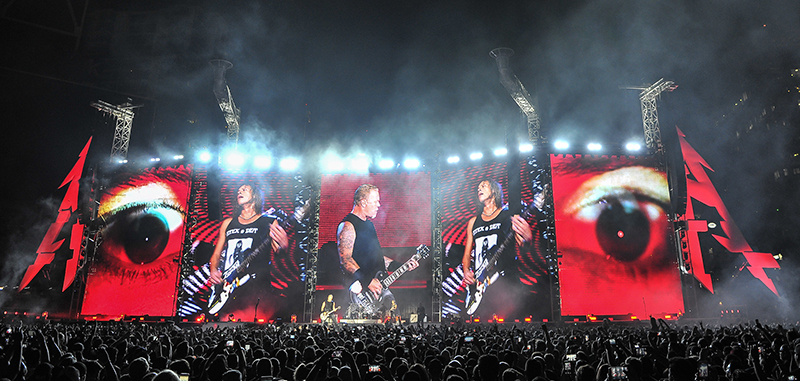 Tour:
WorldWired Tour
Sound Co:
VER Tour Sound
Crew
FOH Engineers: "Big Mick" Hughes, Jay Day
Monitor Engineers: Bob Cowan, Adam Correia
System Engineer: Chris Nichols (VER)
Assistant System Engineer: Justin Keasling (VER)
VER Audio Crew: Kevin Valind (Crew Chief), Justin Steipleman, Jess Hammersly, Logan Bell, Alex Pritchard

Gear
FOH
Console: Midas XL-8 (Metallica-owned) with outboard support from a TC Electronic D2 delay, a vintage Korg DRV 3000 (for "Master of Puppets"), and a BBE Sonic Maximizer (for toms).
Speakers: Mains: 36 (18 per side) Meyer Leo-M; Side Hangs: 40 (20 per side) Meyer Leo-M; Subs: 76 Meyer 1100 LFC's – 12 per side flown, 26 per side ground stacked; plus 68 (Metallica-owned) Meyer VLFC's, Front Fills: 20 Meyer Leopard enclosures; Delay Towers: 3, each w/ 8 Meyer Lyon-M, 8 Meyer Lyon-W, 3 1100 LFC, 3 Leopard units.
Speaker Processing: Meyer Sound Galaxy AVB processors (fiber-networked with AVnu-certified Extreme Switches)
Rigging: 26 2-ton CM 75' single reeve motors

MON
Consoles: Midas PRO9, Midas PRO2 (Metallica-owned)
Mics: Vocals: Shure Super 55 Deluxe. Drum mics for Lars Ulrich: An assortment of DPA, Audix, Shure and Audio-Technica mics. Guitar Mics: Fractal Audio preamp-processors.
Tour Notes:
Metallica's current "WorldWired" tour, in support of the band's HardWired…to Self Destruct album, released in Nov. 2016, included a few shows in early 2016 before launching in earnest later in the year, in both North and South America. Shows in Asia, Europe and the Americas followed in 2017, including a long string of stadium and arena dates in North America from early May to mid-August, 2017. More European dates followed from early September to November, with another European leg slated for February to May 2018. The 2017 summer tour kicked off at M&T Bank Stadium in Baltimore on May 10 and wrapped up at Commonwealth Stadium in Edmonton, Alberta on August 16. Of the tour's 26 dates, 12 are in stadiums that host NFL teams, with the remainder in baseball or soccer stadiums, at festival sites or in other 50,000+ capacity venues. The one exception is the Nassau Veterans Memorial Coliseum, a smaller arena where Metallica was part of the grand re-opening festivities that followed major renovations.
For more information on this tour, go to http://fohonline.com/news/16607
Leave a Comment: