Top Tours of 2017: Coldplay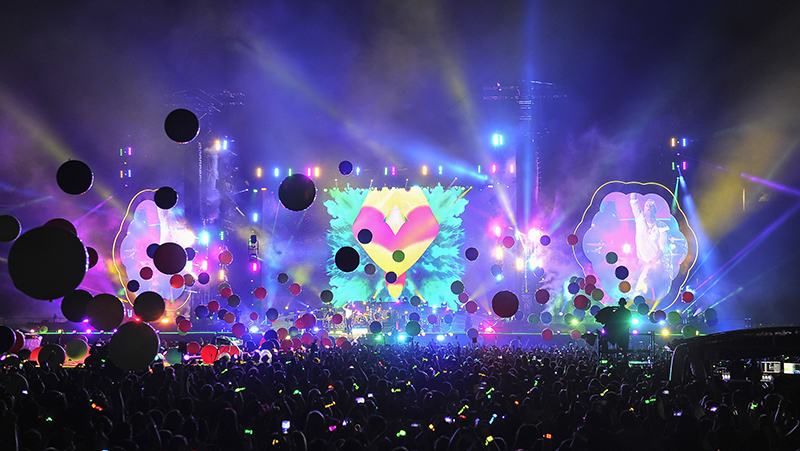 Tour:
A Head Full of Dreams Tour
Sound Cos:
Wigwam Acoustics/Firehouse Productions
Crew
FOH Engineer: Dan Green
Monitor Engineer: Chris Wood
System Designer: Tony Smith
Audio Techs: Nick "Mystic" Davis (MON), Ali Viles (RF)
U.S. PA Crew: Brett Taylor, Richard Cook, Joe Simmons, Tyler Clapp, Damian Burns, Peter Smith, Adam Bannister
Crew Chief: Nick Mooney
System Engineer: Jack Murphy
Firehouse Owner: Bryan Olson
Firehouse Technical Manager: Chris Russo
Wigwam Digital Design Specialist: Alex Hadjigeorgiou
Wigwam Account Manager: Chris Hill

Gear
FOH
Console: DiGiCo SD7
Speakers: d&b audiotechnik J Series enclosures
Main Hangs: 14 J8's per side, 4 J12's per side, 9 JSubs per side
Side Hangs: 16 J8's
Rear Hangs: 18 J8's for 270° coverage
Ground Sub Arrays: 16 JSubs, 16 Infra-Subs
Front Fill: 8 YP's
Delay Towers: Four, each with16 J8's, additional J12's.
Ring Delays: Eight hangs, each with eight V8's, plus two hangs of eight V12's.
Amps: 146 d&b D80 amplifiers
Processing: d&b ArrayProcessing
Networking: Optocore X6R-FX and X6R-TP interfaces for DiGiCo SD7 consoles; BroaMan Route66 AutoRouter . DirectOut: 1 M.1k2, 1 MADI.Bridge, 2 EXBOX.BLDS, 2 MADI.SRC, 2 Andiamo 2, 1 Andiamo.MC, 1 ANNA-LISA.
MON
Console: DiGiCo SD7 (140 channels in use, 5 spares)
Speakers: 2 d&b audiotechnik M2 wedges (for bassist Guy Berryman)
IEMs: Sennheiser SR2000 w/14 wireless channels
Mics: Shure UHF-R wireless system, Shure SM58 (4+ on stage for Chris Martin's vocals).
Tour Notes:
Coldplay's massive 2016-2017 tour, in support of the band's seventh album, A Head Full of Dreams (Dec. 2015) and 13th EP, Kaleidoscope, launched in March 2016, less than two months after the band's Super Bowl 50 Halftime Show gig, and include more than 120 shows around the world. Ticket sales totaled $523 million for the multi-year trek, putting A Head Full of Dreams third on the list of biggest money-making tours of all time, according to Billboard and Pollstar stats. (U2's 2009-2011 360° tour, $736 million; and Rolling Stones' 2005-2007 "A Bigger Bang" tour, $558 million; top the list).
For more details about Coldplay's 2016-2017 tour, go to http://fohonline.com/news/15297
Leave a Comment: