Katy Perry – 'Witness' the Tour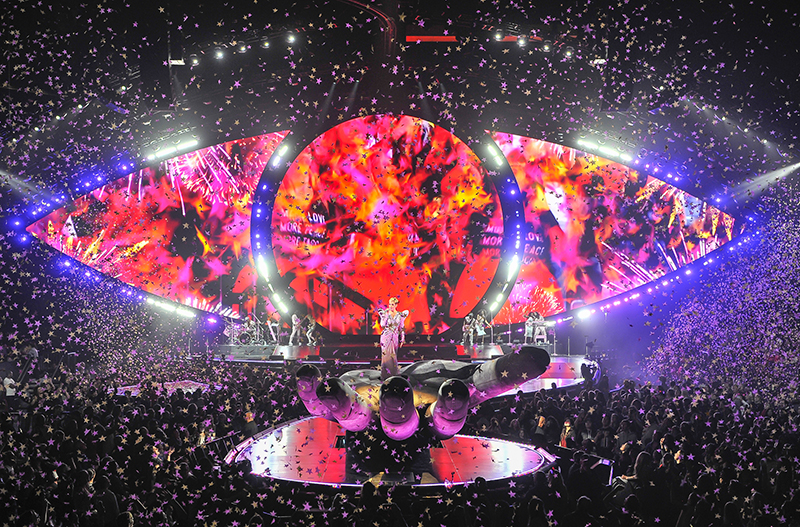 In early February 2018, Katy Perry was finishing up the North America segment of her Witness: The Tour trek, which kicked off Sept. 19, 2017 at Montreal's Bell Centre. This marked the completion of the first portion of this nearly year-long, seven-leg world tour, which is slated to wrap up in New Zealand on August 21, 2018. We caught up with the audio team to talk about the tour before they headed off for another 47 dates, which include Brazil, Japan, Germany, the UK and more, ending with six dates in Oceania. Mixing the tour at FOH is Toby Francis; Paul Jump is the FOH systems tech; and Dave Rupsch is handling monitors. Clair Global is the sound company supporting the production.
‡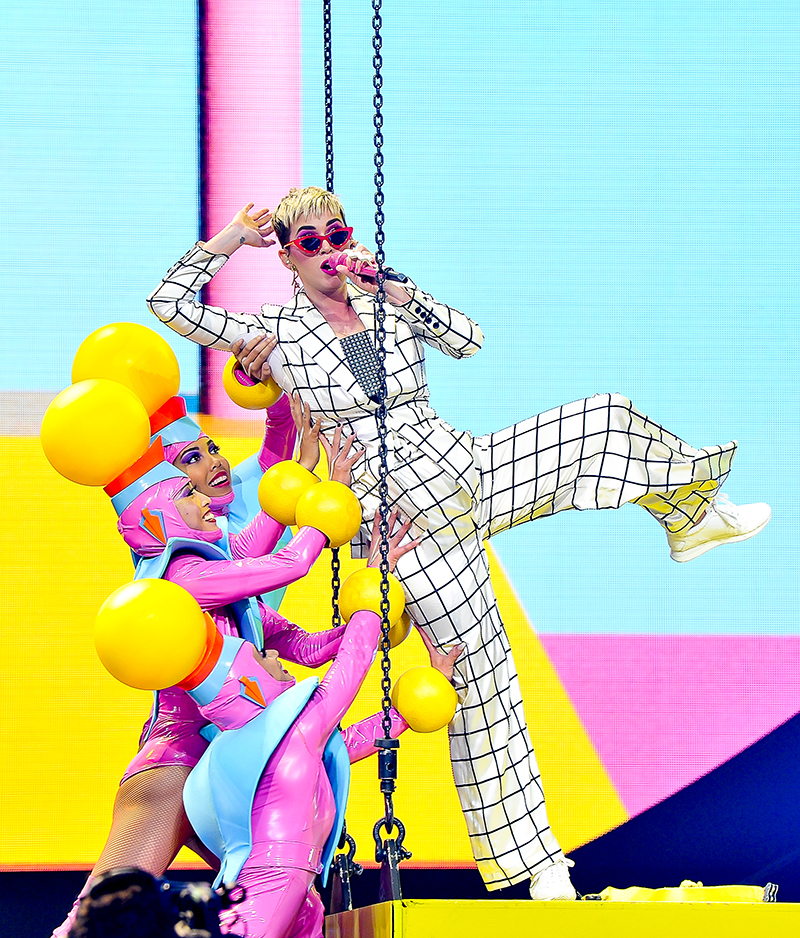 ‡ Mix Tools
Francis is mixing on a Yamaha PM10 Rivage with a total of 88 inputs. After using DiGiCo's SD7, 8 and 10 for most of the last ten years, he tried a few new offerings such as Avid and Solid State Logic. "Each had a 32-bit floating point processor, which greatly improves the overall sound of the desk. I like all three, but I was impressed by the PM10 as it had the feature set that appealed to me most," says Francis. "It offers four types of channel EQs before you get the plug-in options. Same with the onboard dynamics. And most of all, the Silk feature on the preamps really adds a more analog sound. Once the Silk is set, you find yourself EQ-ing less."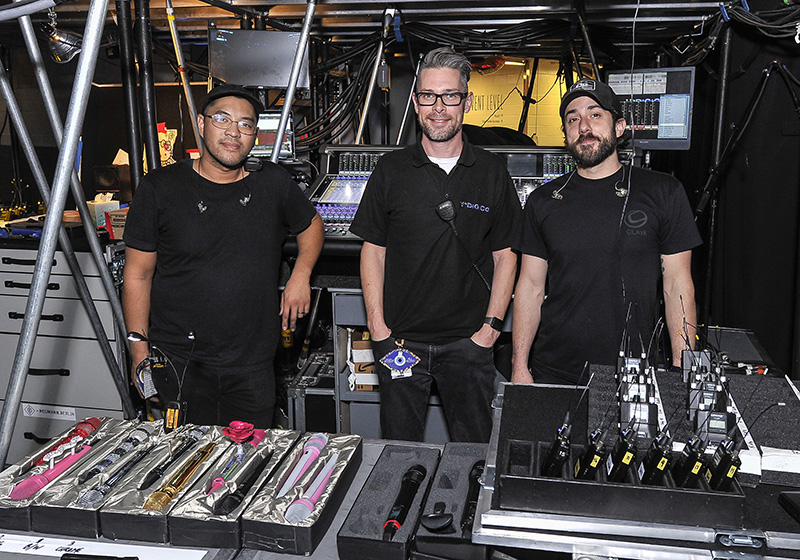 Francis uses the onboard Yamaha plug-ins — 1073's, 1176's, four-way dynamic EQ's, four-way multiband compressors and both Red and Blue Silk. "The Yamaha plug-ins are very true to the original hardware units they are modeled from, and react in a realistic manner. I use the drive on the 1073 and very little EQ, which gives the input more depth for a more musical tone in the mix. I use all onboard effects, which I had never liked doing with other consoles. There are many options, TC, every reverb the Yamaha has made over the years and even an [Eventide] H3000, and they all sound so true to the originals. I love the sound I get mixing on this desk."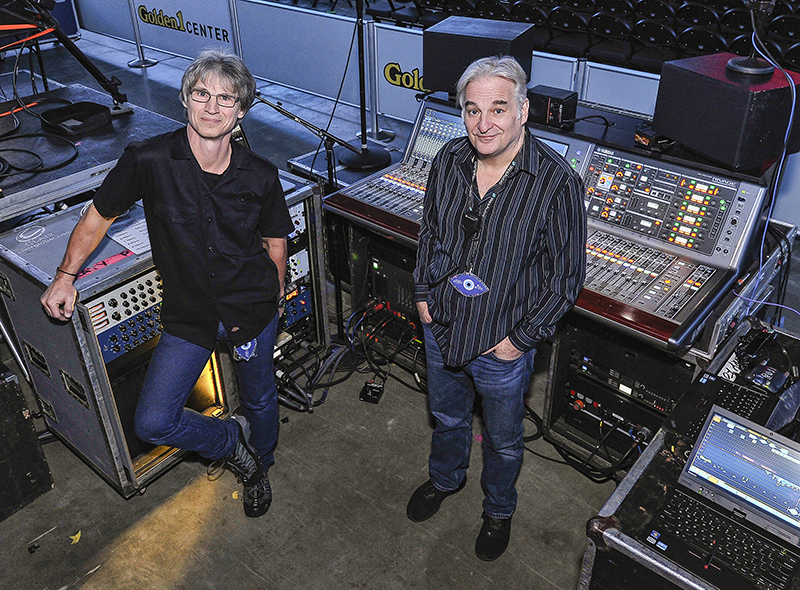 Physical outboard gear used for the tour includes a Rupert Neve Designs 5059 summing mixer, RND Master Buss Processor, Allen Smart C2, two Tube Tech SMC2B's, IGS Multicore, API 2500, RND 500 series 10 card frame with four Neve 542's, a 551 EQ, a WesAudio Dione bus compressor, two Mima compressors and a RND 543, a WesAudio LC Eq P (Pultec style), two Roger Nichols Digital Wendell Jr's and four Lake LM44s. "Working for Clair Global with its vast resources has put almost every option at my disposal and has led me to discover many of the outboard choices I've made. I listen and I compare side by side to help me truly understand each piece of gear and its potential. Being personal friends with several leading mixers is nice, as we all share our discoveries within our group. It pays to have talented friends."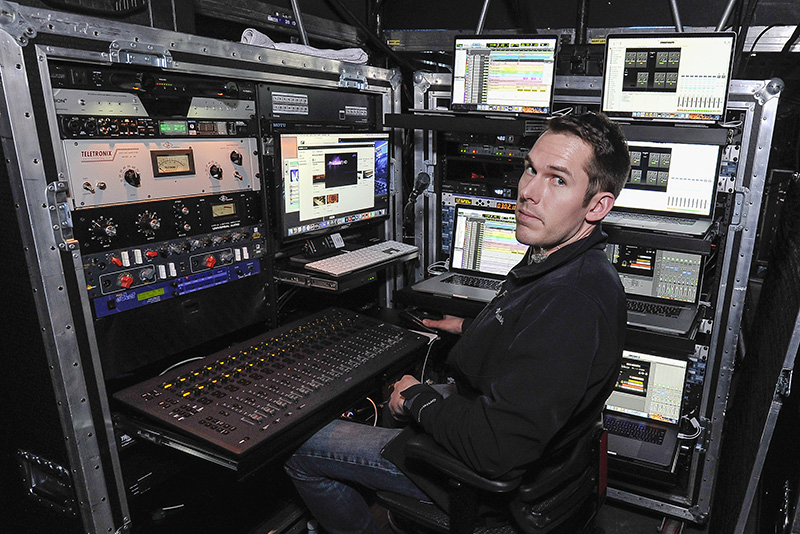 According to Francis, "Katy likes a record-style mix with extra dynamics. The older songs have a punchy low-end, the new songs have a more modern, extended low-end. The only challenge for me with Katy is she is often in front of the P.A. system on extended ramps, but she does sing at a high level, so it's easier than I had expected it to be. The PM10 seems to give me a couple dB of extra gain before feedback. I usually have three lead vocal input channels, so I can preset them for problem areas on the stage. With the PM10, I use one main vocal channel for the entire show. We rehearsed for three months for this tour, giving us the time to perfect every aspect of the show. Katy and [her musical director] Kris Pooley were involved in the entire process, and once we have it right, we replicate it night-to-night. This is an example of a true team effort from top to bottom."
‡‡ The System
"The Clair CO12 P.A. is my system of choice, as I get my best results with it and with a fraction of the effort," Francis states. "We use 12 total subs, half of what I used in the past due to the efficiency of the CP218. The three subs flown behind the main hangs do most of the work, with the ground subs filling in the floor area. The entire P.A. system, speakers, amps and all cables require less than 40 feet of truck space. Paul Jump is a master at making the system sound exactly the same day after day — and always on time."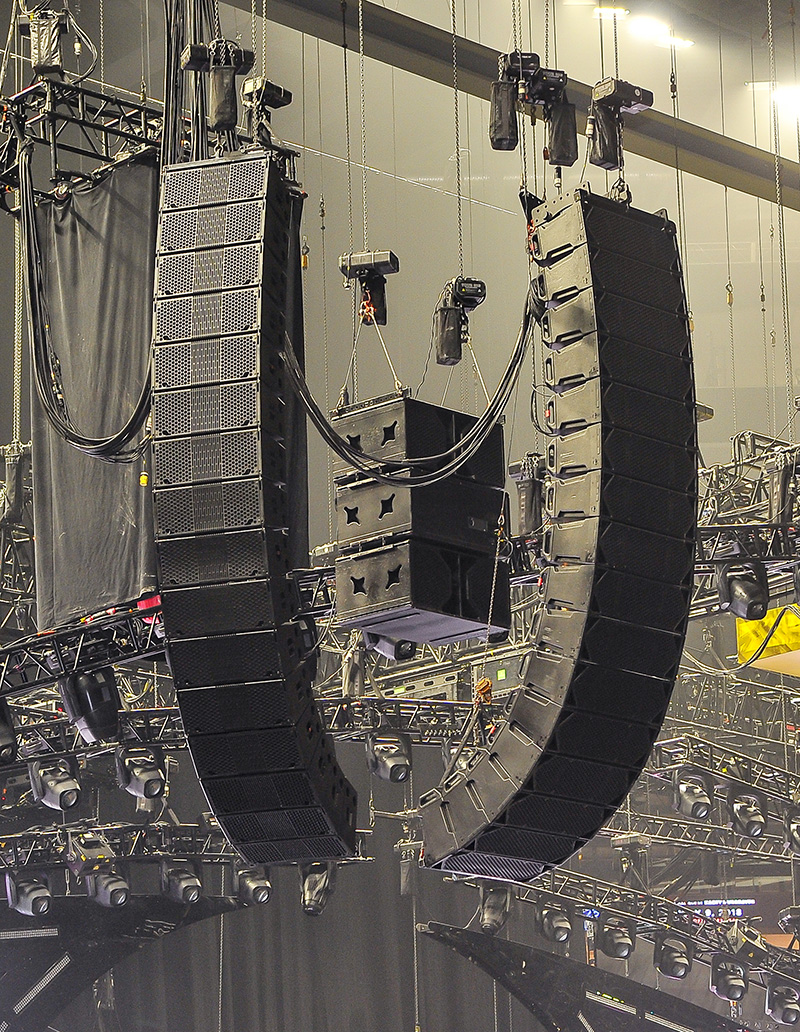 ‡‡ Jump on the System
Systems engineer Paul Jump has been with Clair Global the past 17 years and recently, his son even joined on. "It's a large company that has a family feel to it," he says.
The main P.A. hang is 16 Clair Cohesion CO12's with three Clair CP 2-18 Power Subs in a cardioid pattern flown behind the main system. Side hang is 16 Clair I-3 per side and six Clair CP 2-18 powered subs in the center. On the ground, a cardioid pattern with two single Clair CP 2-18 Subs are on the side of the stage. Front fills are five Clair FF2 speakers hanging under the front edge of the stage.
"Our Cohesion 12 is the best-sounding speaker system out on tour now," Jump explains. "The system works well together with the two different speakers that are in the air above the stage. Toby and I have been using this setup for many years. Productions love it for its quality of sound reproduction, but also for its size and for its weight for travel."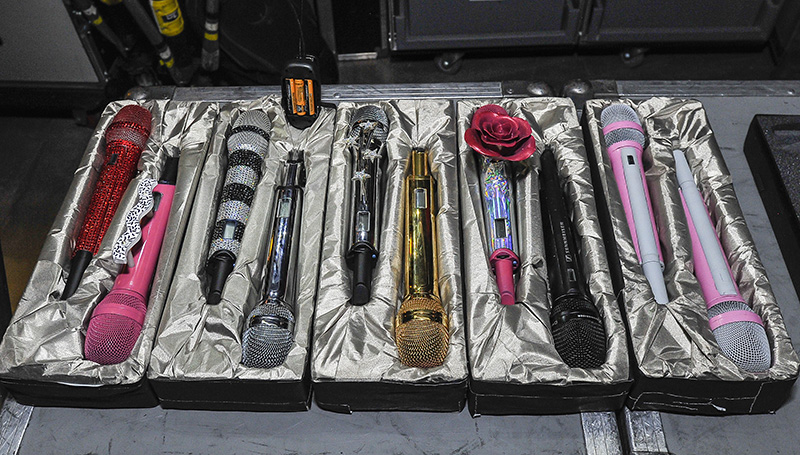 ‡‡ Teamwork
"Katy Perry gives 100 percent every moment, and her entire team are some of the nicest and most talented people I've ever worked with," says Francis. "Jay Schmit (production manager), Allen Doyle (stage manager) and Kim Hilton (production coordinator) are hands-down the best at what they do. The Clair crew — Paul Jump, Ben David, Andrew Kastrinelis, Jessie Cole and Justin Robinson — have been a joy to work with, every minute of every day. And finally, Cole Gion (playback), Lloyd Sagisi (guitar tech) and Gabe Monago (drum tech) — our backline crew — make sure everything from the stage is perfect for us every night. I haven't touched a drum EQ since early on in tour rehearsal. It's a total group effort with everyone involved doing their part to make Katy's Witness tour the success it's been."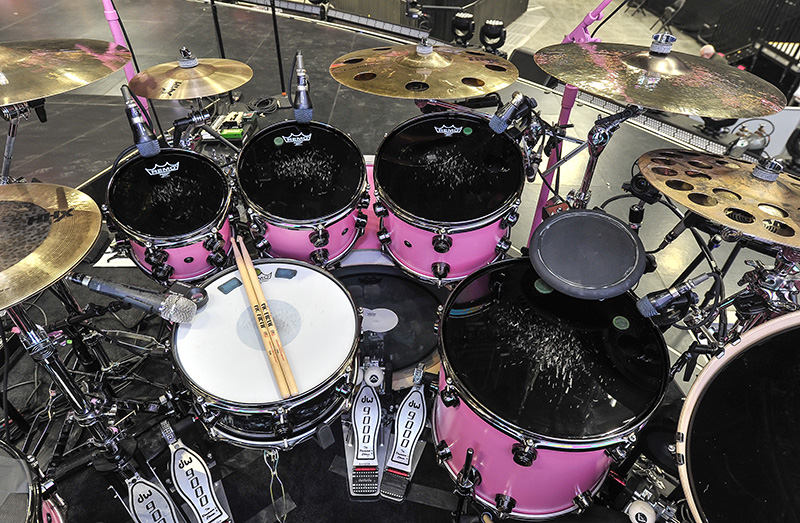 Francis and Jump listen to the room together as they both walk different parts of the venue. Jump time-aligns the system and then the duo tune it together.
"We have had a very consistent setup and get great results with our system," Jump says. "We use the Lake processors as our control system for all Clair tours, with Lab.gruppen amps powering the system. I use a wireless tablet so we can walk around different parts of the arena,
getting the best sound for the room."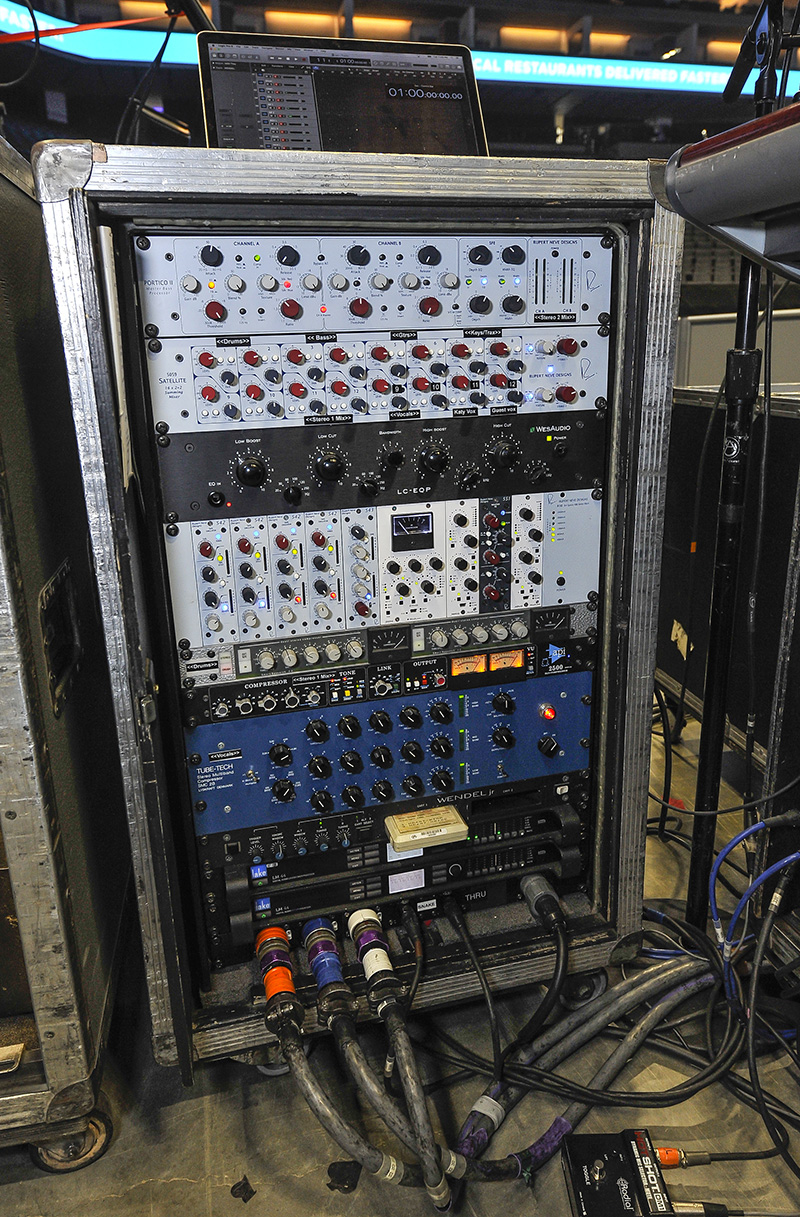 Normal audio load-in time is around 8 a.m. All cabling is hung on cable bridges above the large stage set for a clean look on the floor. These are the first thing in the air and last thing down at the end on the night. It wraps up every night around 1:30 am after Katy's two-hour show, with the last of the audio gear loaded into one of the tour's 24 semi-trucks.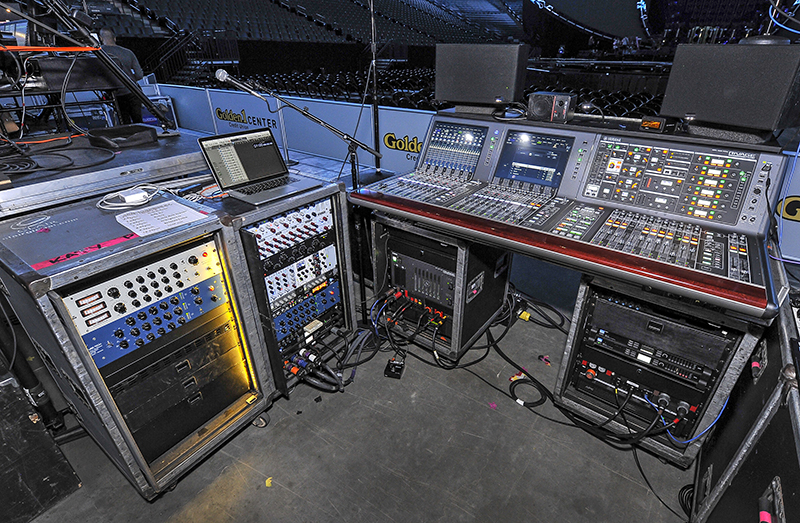 Clearly, this is a large tour with a lot of crew. "Everyone works well together in all departments, so it makes for a great working environment. Toby and I have a great relationship, both professional and off the job," notes Jump. "We trust and support each
other, so we talk about what is going on for the room and the system to get the best audio for the show each night. I love to get new equipment like the latest and greatest mixing consoles to work on. The Yamaha PM10 we have now is awesome. Sounds great and is laid out in a way that you can get a good mix going in half an hour. I've also mixed the opening acts for the tour. Those fun things, and meeting people from city to city, keep the road fun and exciting for me."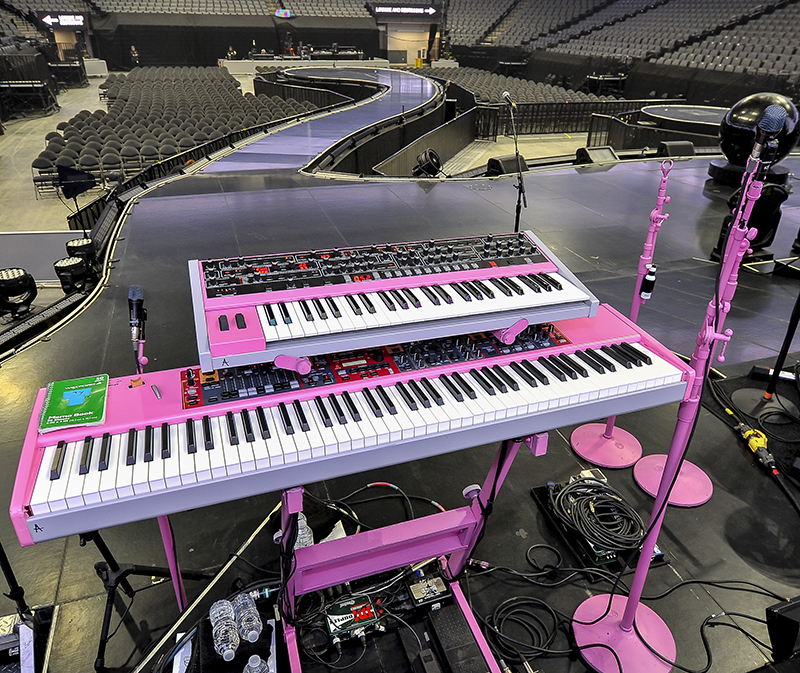 ‡‡ At Monitorworld
Dave Rupsch mixes Katy's monitors from under the stage on a DiGiCo SD-7 console using 80 analog inputs and 32 MADI/digital inputs. He has 40 outputs, 16 stereo IEM mixes, a hardwire IEM mix for the drummer and three stereo wedge mixes for the downstage edge and edge of thrust.

Rupsch does not use any outboard plug-ins at monitors. The DiGiCo SD-7 has all the features onboard he needs — dynamic EQ, multi-band compression and basic reverbs/effects. "Another reason I don't use plug-ins at monitors is to avoid introducing any additional latency and keeping the source material as accurate as possible in a stage monitoring environment."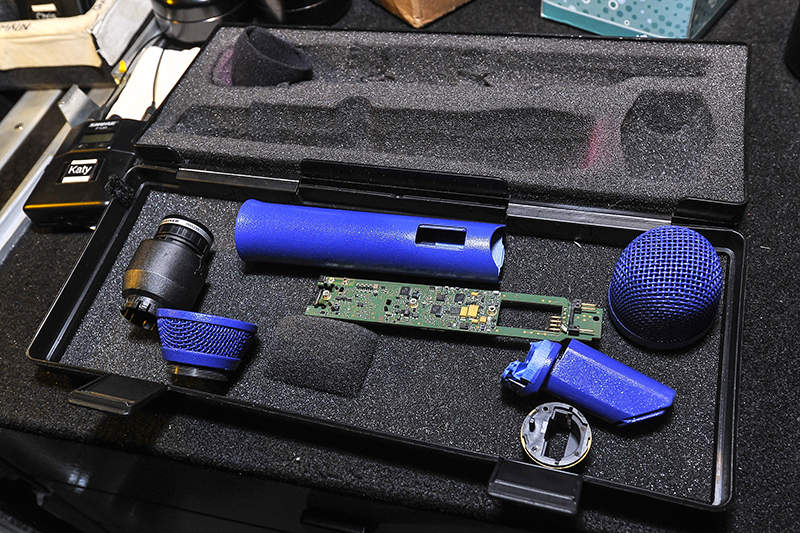 Rupsch does have a few must-have pieces of external gear, though. "I like my Reaper recording/playback system. This consists of a MacBook Pro and two DigiGrid MGB Coaxial MADI Interfaces. I find playback in monitors is useful to tidy up little things you can't necessarily do effectively when your artist is on stage, setting key filters on noise gates, fine tuning EQ filters, auditioning snapshots and automation — to name a few."
Shortly after Rupsch started working with Katy in 2009, Sennheiser sent some SKM-5200 series mics to try, and they fell in love with how they sounded on her vocal right away. "There are no modifications necessary, as they sound absolutely fantastic the way they are, and they are capable of taking a beating."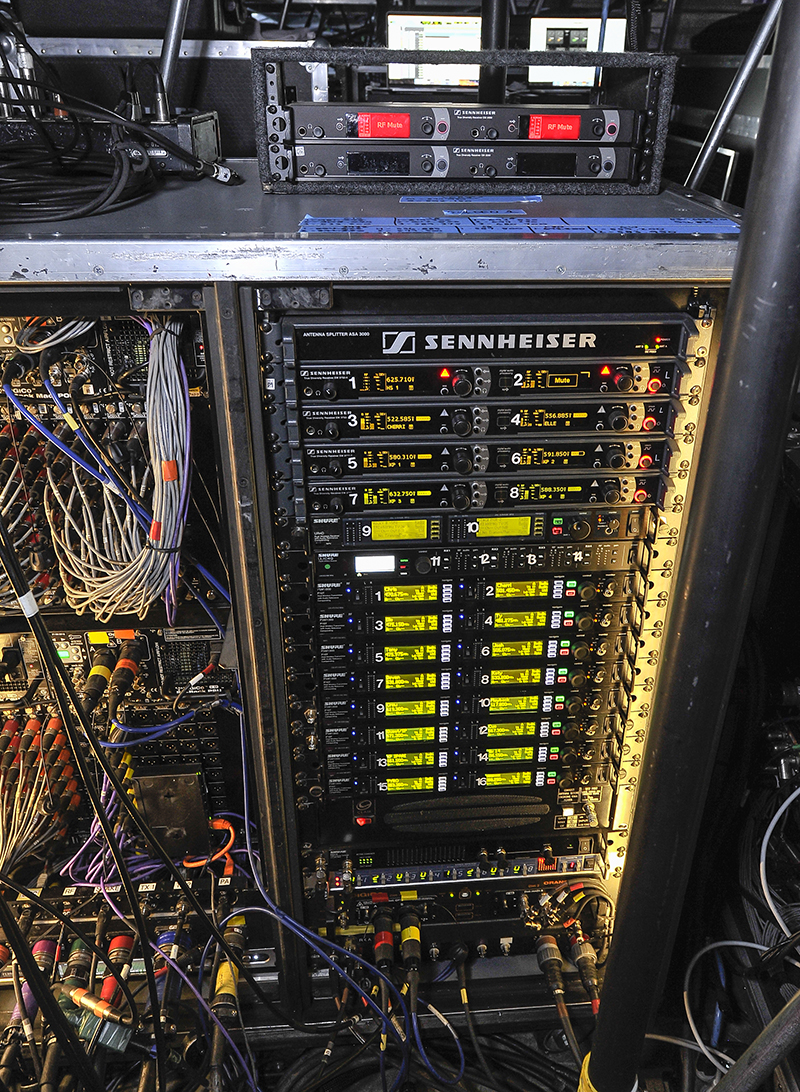 Katy uses eight different mics for this current show, and a few of them get untentionally smashed onto the stage multiple times nightly, yet have survived every attack. "Another benefit we began to see with the 5200 was how modular they were as far as being able to be disassembled and customized. She currently has a stock of about 40 custom-decorated mics. I also keep enough parts on hand that we could build new mics on the spot if needed (shells, capsules, chipsets in different frequency ranges, battery sleds, antennas, screw, screens, etc.). Needless to say, I have become very familiar with taking these apart and putting them back together again."

The silver material that lines the trays the Sennheiser mics are placed in is an idea from RF coordinator Justin Robinson. It is a Faraday RF shielding fabric. This gives similar results to what you would get by isolating an RF microphone by putting it in an aluminum bread pan. Using this fabric provides 80 to 90 dB of attenuation, allowing them to have all the mics on for line check without getting any intermodulation.
"It has been a lot of fun for me working with Toby," notes Rupsch. "He has a wealth of knowledge on mixing techniques and experience to draw from. Clair Global has provided a fantastic crew and kept everything running as smooth as can be."
Tour production rehearsals were done in Lititz, PA, where Clair Bros. service and resources were nearby. Rupsch works closely with monitor tech Ben David and RF/coms coordinator Justin Robinson, who have been critical to the sonic success of the show.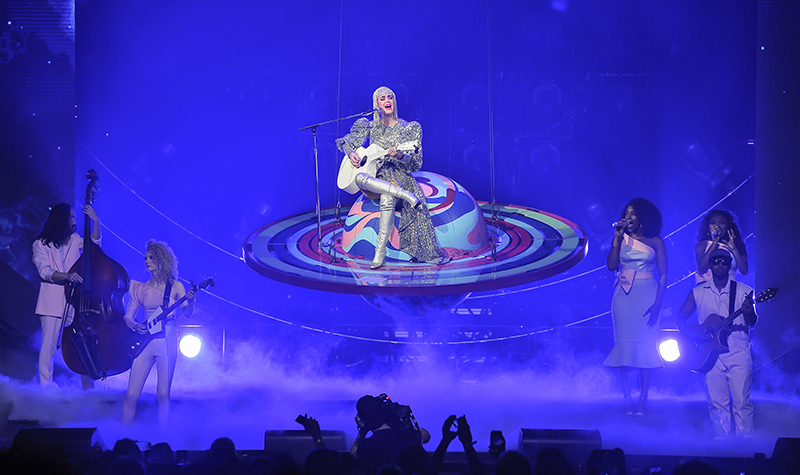 ‡‡ Clean, Clean Signal Flow
"During rehearsals we set up a nice system for our digital audio management," Rupsch notes. All of the backing tracks, keyboards, drum triggers and timecode is received from playback via MADI into an RME MADI bridge. From there, it's on to the DiGiCo Optocore via the Orange Box and to the Ferrofish A32 to convert to Dante for FOH. "All of our digital audio (playback, keys, triggers, monitors and FOH) are all set from an Antelope 10MX master clock. Adding the clock was really a game changer, as is the quality of the digital audio path. It's really stunning the difference it makes when you do an A/B comparison. Everything is clocked at 96 kHz."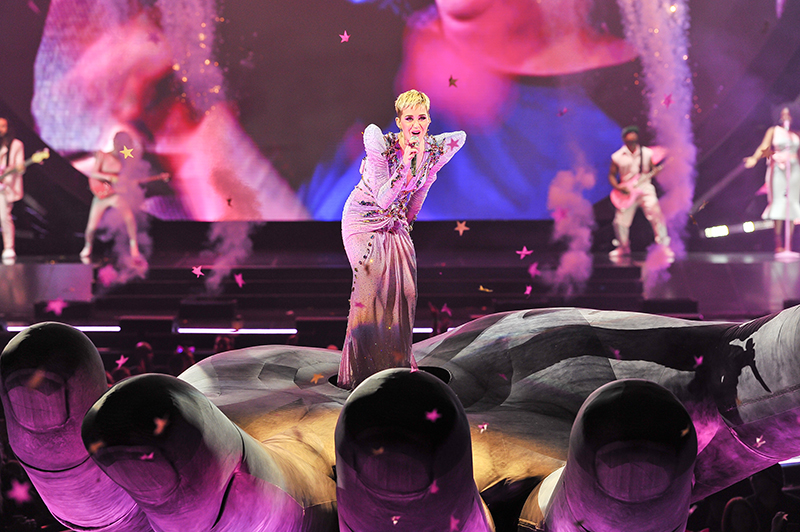 Katy Perry's Witness: The Tour
Crew
Sound Company: Clair Global
FOH Engineer: Toby Francis
FOH System Tech: Paul Jump
Monitor Engineer: Dave Rupsch
Monitor Tech: Ben David
RF/Coms Coordinator: Justin Robinson
Playback Engineer: Cole Gion
P.A. Gear
Main P.A.: (16) Clair CO 12 with three CP218 flown subs for each L/R hang
Side Hangs: (16) Clair i3
Ground Subs: (6) Clair CP218
Amps: Lab.gruppen PL20's
FOH Gear
FOH Console: Yamaha Rivage PM10
Outboard: Rupert Neve Designs 5059 summing mixer, Master Buss Processor; Allen Smart C2; (2) Tube Tech SMC2B; IGS Multicore; API 2500; RND 500 series 10 card frame, (4) 542, 551 EQ; WesAudio Dione, (2) Mima compressors; RND 543; a WesAudio LC Eq P, (2) Roger Nichols Digital Wendell Jr's
House EQ: (4) Lake LM44s
Monitor Gear
Monitor Console: DiGiCo SD-7, (2) DiGiCo SD Racks w/Optocore (56 in/40 out each rack)
Interfacing: (1) DiGiCo Orange Box MADI to Fiber I/O; RME MADI bridge; Ferrofish A32 MADI-Dante converter; Antelope 10MX Master Clock
Wireless: (4) Sennheiser 3732-II receivers
IEM's: (16) Shure PSM-1000 IEM
More Katy Perry 'Witness' The Tour photos by Steve Jennings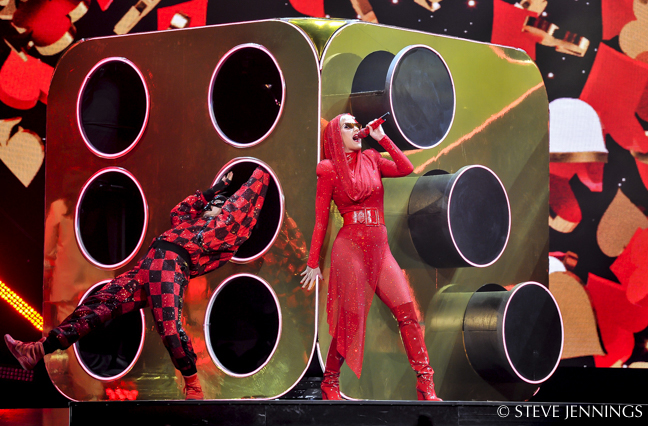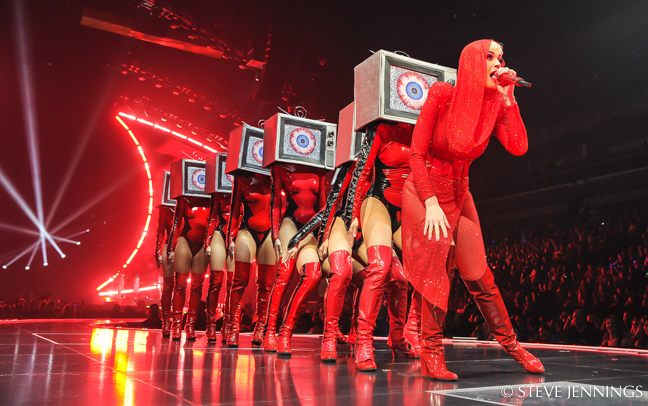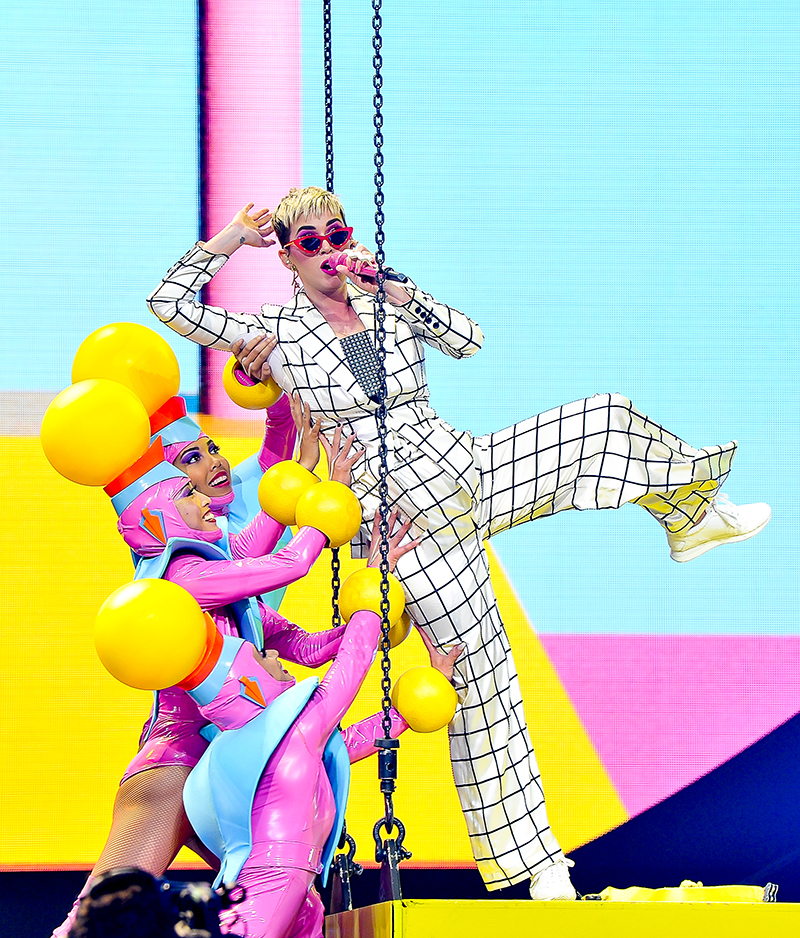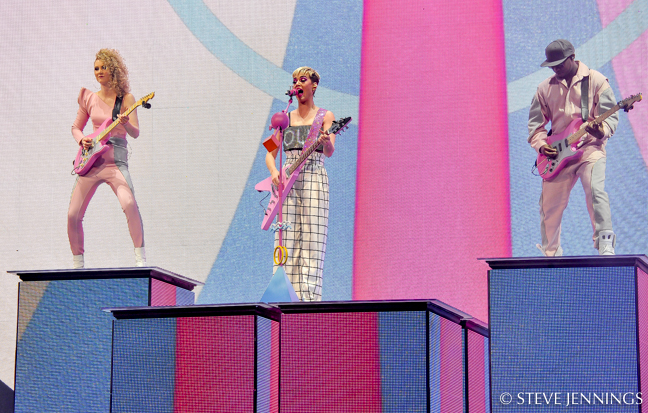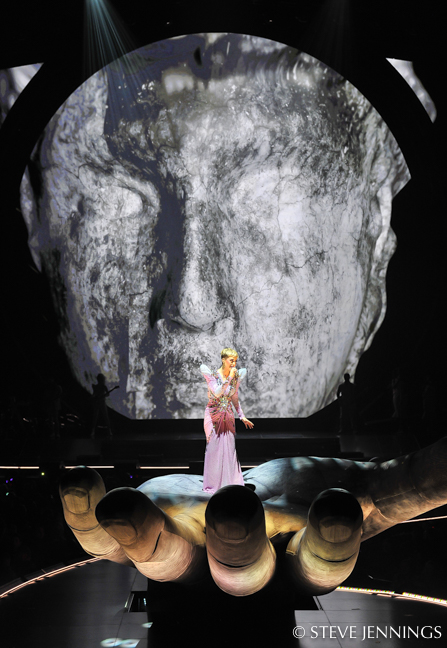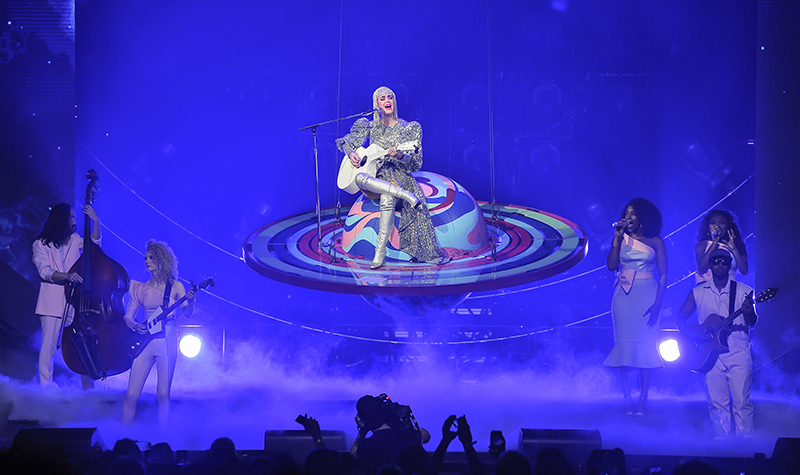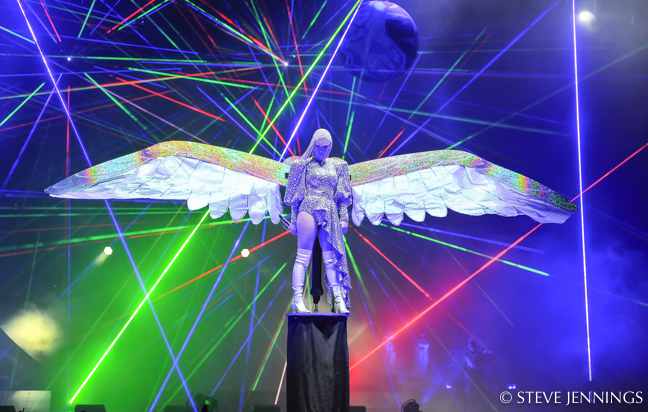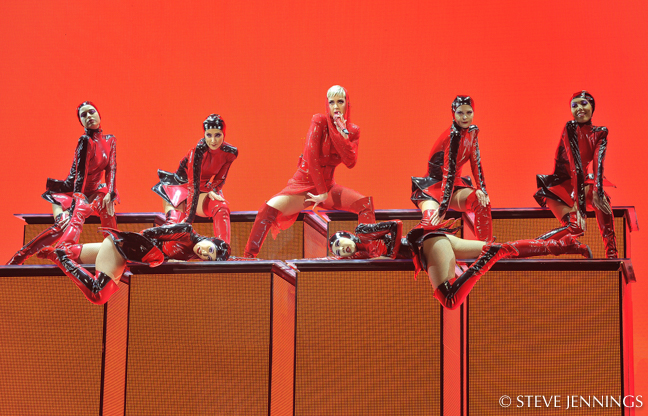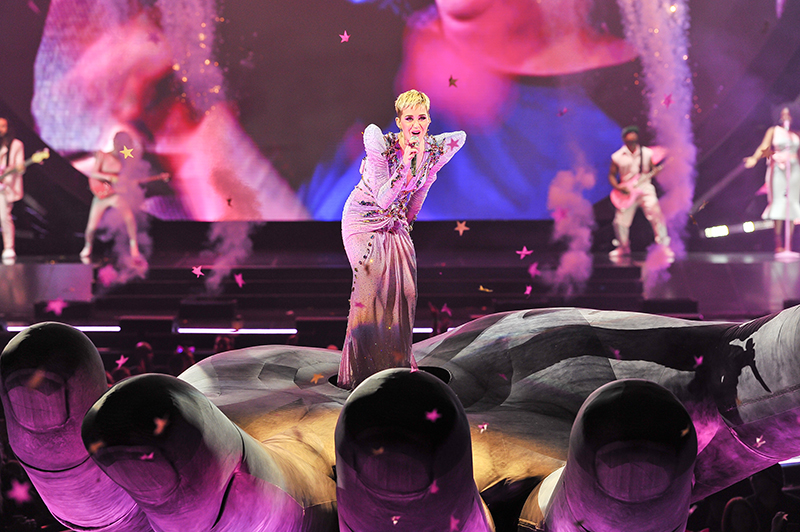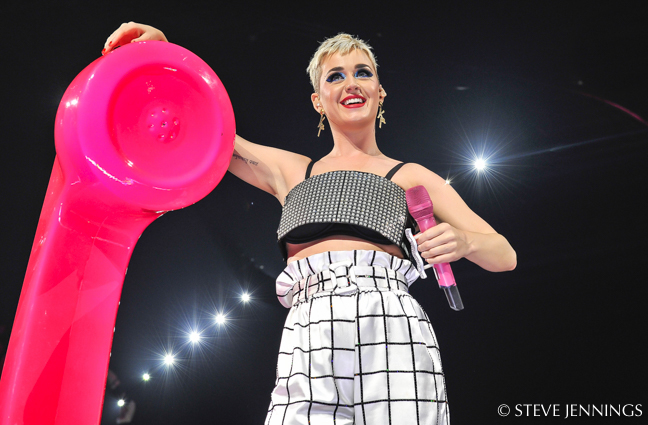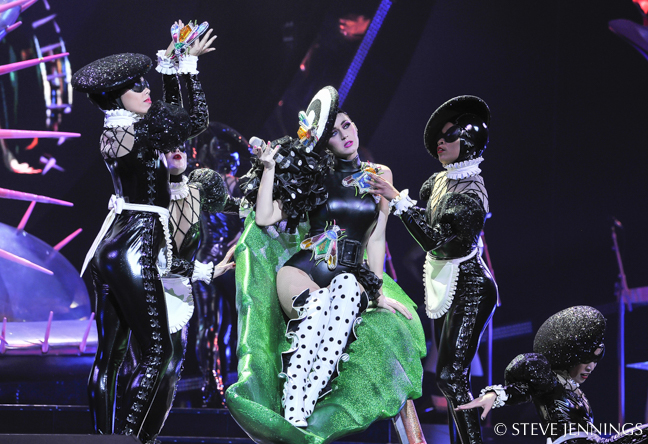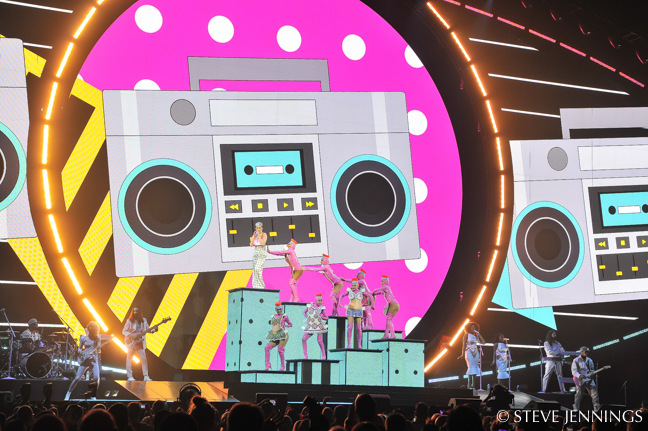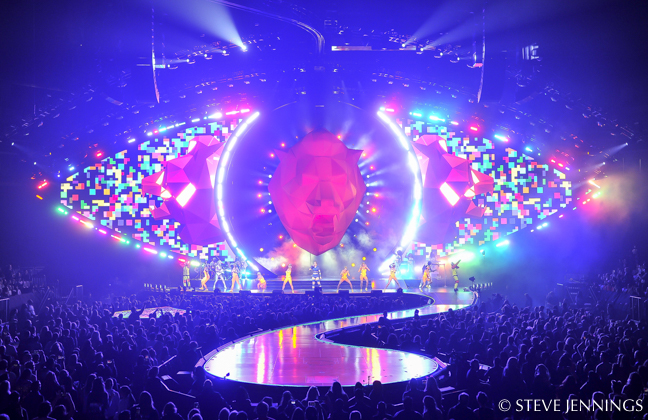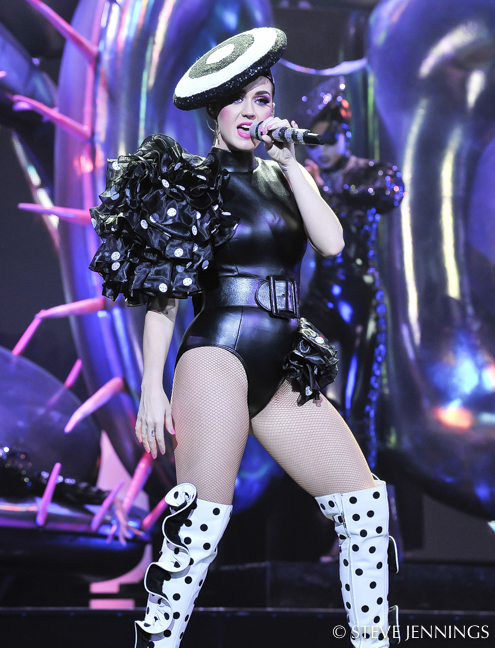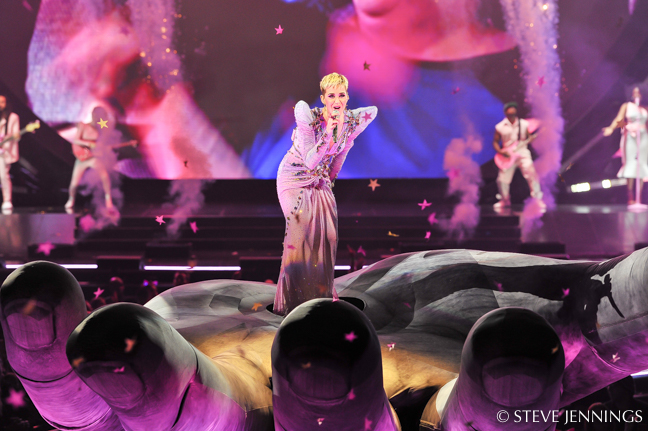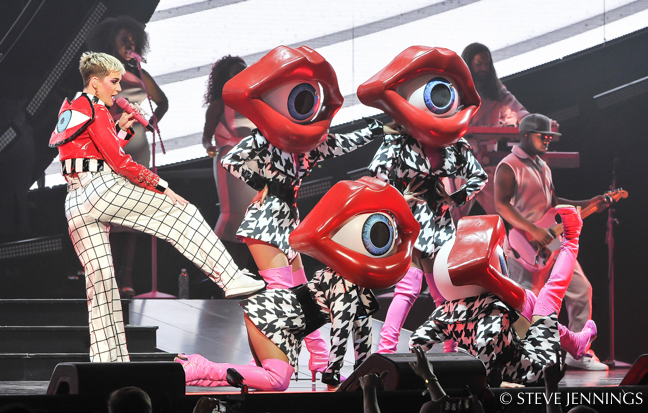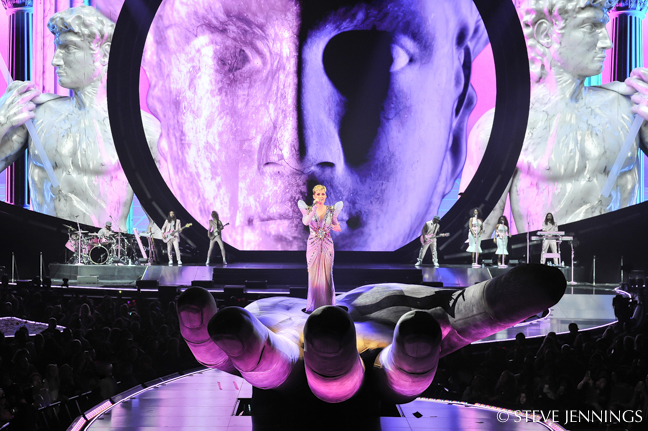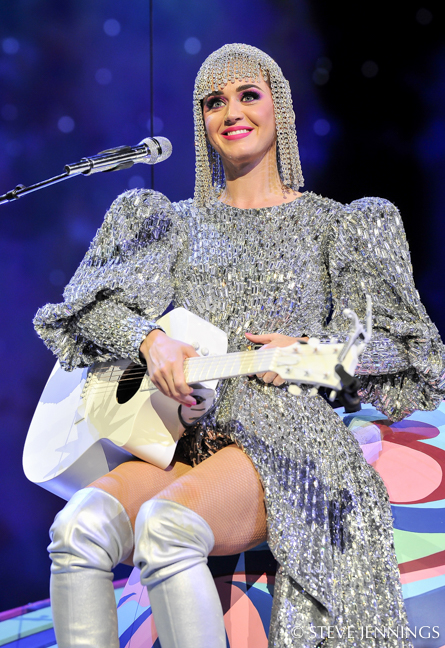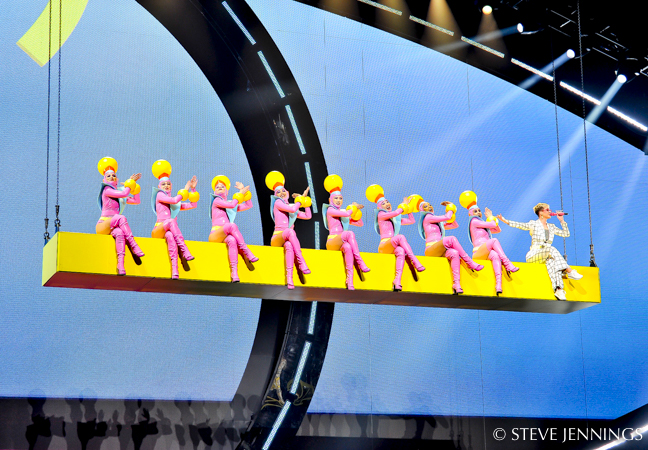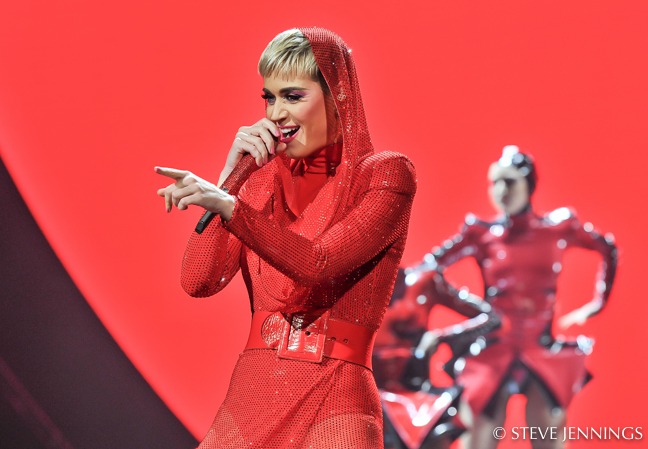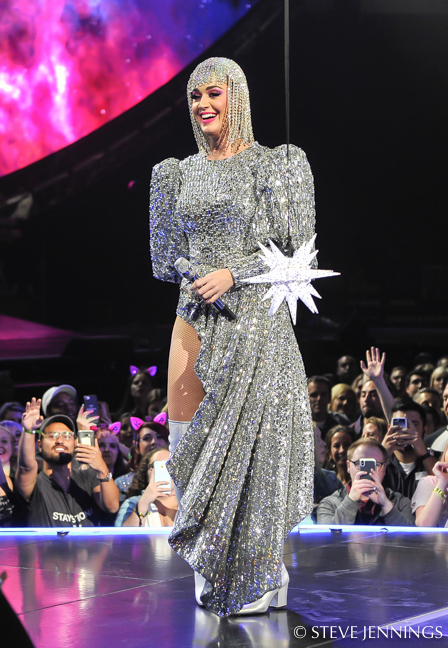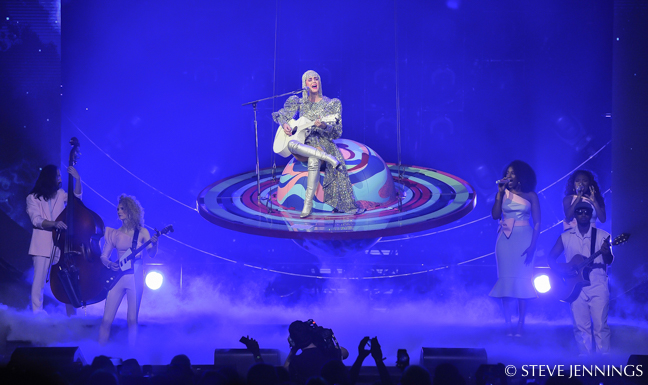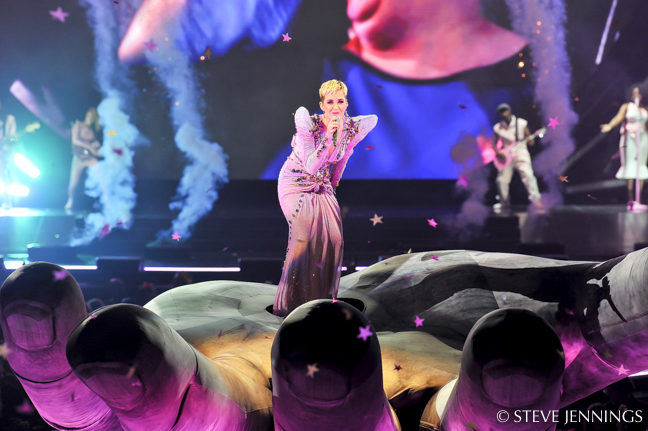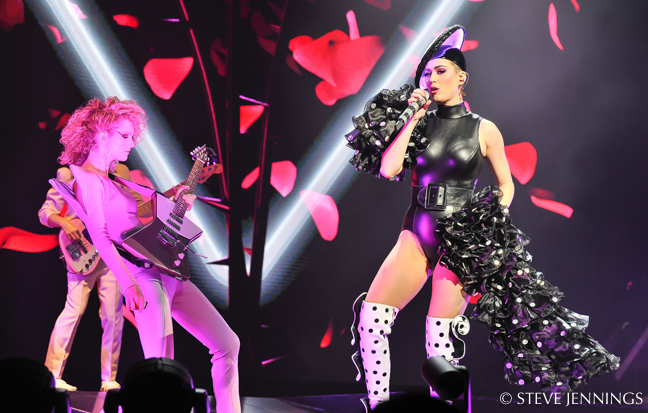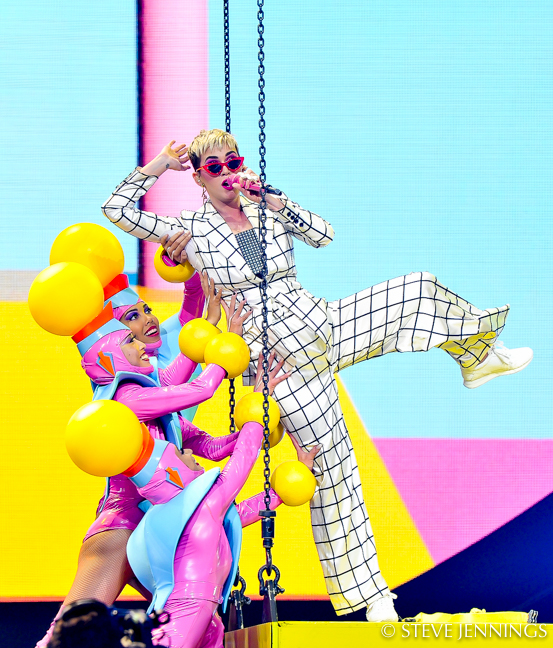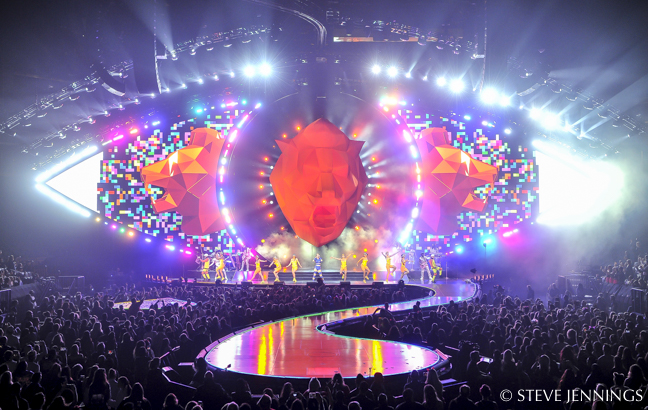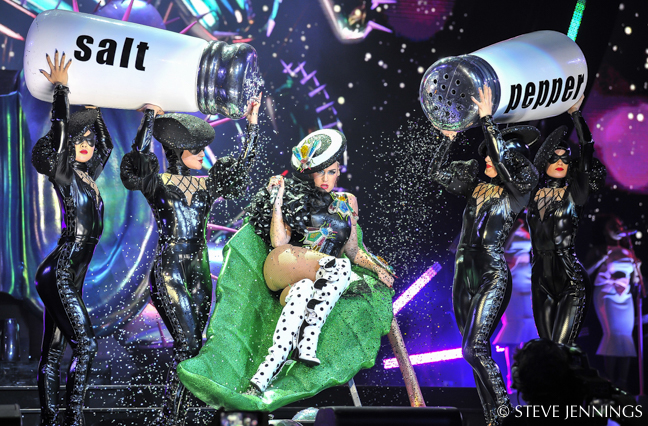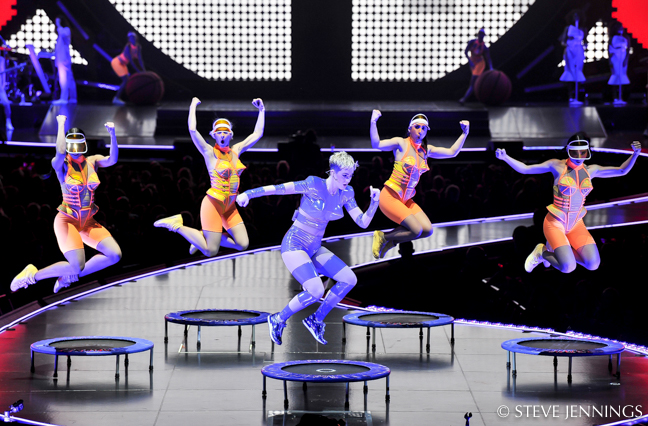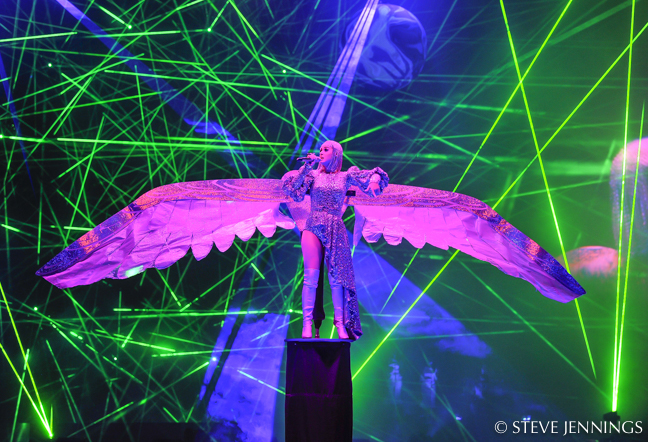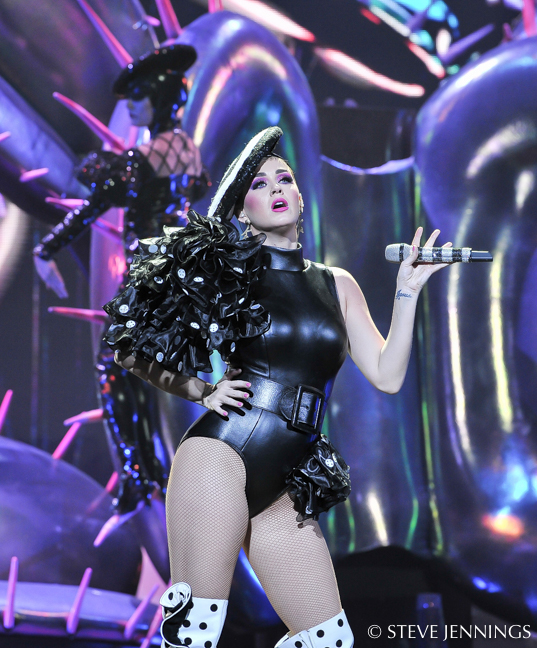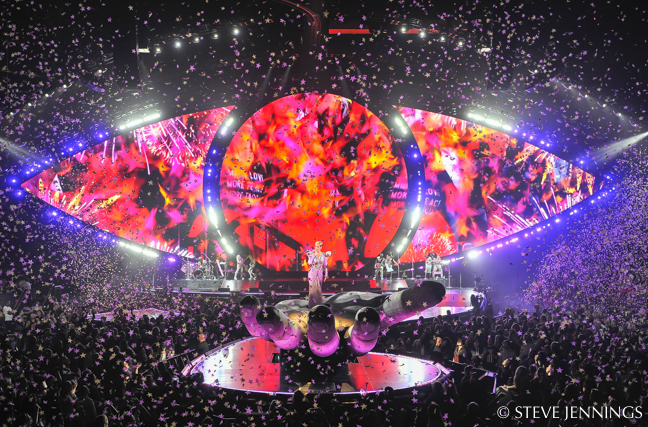 Leave a Comment: